Sibiricaxanthone B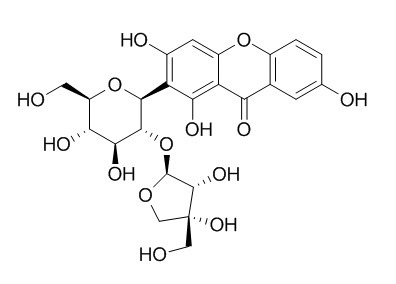 Sibiricaxanthone B is a natural product from Polygala tenuifolia.
Inquire / Order: manager@chemfaces.com
Technical Inquiries: service@chemfaces.com
Tel: +86-27-84237783
Fax: +86-27-84254680

Address:
1 Building, No. 83, CheCheng Rd., Wuhan Economic and Technological Development Zone, Wuhan, Hubei 430056, PRC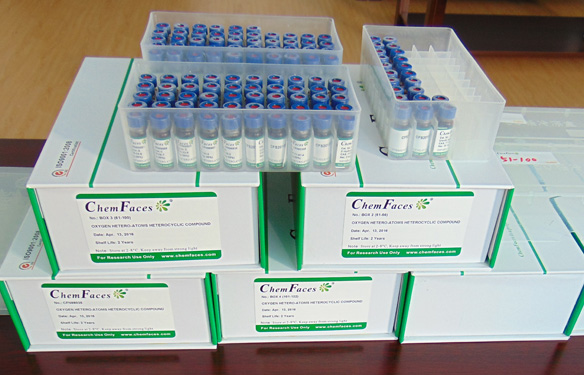 Providing storage is as stated on the product vial and the vial is kept tightly sealed, the product can be stored for up to
24 months(2-8C)
.
Wherever possible, you should prepare and use solutions on the same day. However, if you need to make up stock solutions in advance, we recommend that you store the solution as aliquots in tightly sealed vials at -20C. Generally, these will be useable for up to two weeks. Before use, and prior to opening the vial we recommend that you allow your product to equilibrate to room temperature for at least 1 hour.
Need more advice on solubility, usage and handling? Please email to: service@chemfaces.com
The packaging of the product may have turned upside down during transportation, resulting in the natural compounds adhering to the neck or cap of the vial. take the vial out of its packaging and gently shake to let the compounds fall to the bottom of the vial. for liquid products, centrifuge at 200-500 RPM to gather the liquid at the bottom of the vial. try to avoid loss or contamination during handling.
RSC Adv.2018, 32621-32636
Pest Manag Sci.2019, 75(9):2530-2541
Molecules.2019, 24(16):E2985
BMB Rep.2018, 51(5):249-254
Br J Pharmacol.2016, 173(2):396-410
J of the Korean Society of Food Science and Nutrition2016, 45(7):1017-1025
J Food Compos Anal2017, 62:197-204
Korean Journal of Pharmacognosy2018, 49(4):349-361
Toxicol In Vitro.2018, 52:94-105
Front Pharmacol.2019, 10:1226
J Sep Sci. 2017 May;40(10):2131-2140.
Ultra-fast liquid chromatography with tandem mass spectrometry determination of eight bioactive components of Kai-Xin-San in rat plasma and its application to a comparative pharmacokinetic study in normal and Alzheimer's disease rats.[Pubmed:
28342292
]
A method of ultra-fast liquid chromatography with tandem mass spectrometry was developed and validated for the simultaneous quantitation of eight bioactive components, including polygalaxanthone III, Sibiricaxanthone B, tenuifolin, sibiricose A5, sibiricose A6, tenuifoliside A, ginsenoside Re and ginsenoside Rb1 in rat plasma after oral administration of Kai-Xin-San.
METHODS AND RESULTS:
The plasma samples were extracted by liquid-liquid extraction using digoxin as an internal standard. Chromatographic separation was performed on a Venusil MP C18 column (100 mm × 2.1 mm, 3 μm) with methanol and 0.05% acetic acid in water as mobile phase. The tandem mass spectrometric detection was performed in the multiple reaction monitoring with turbo ion spray source in the negative ionization. Validation parameters were within acceptable ranges. The established method has been successfully applied to compare the pharmacokinetic profiles of the analytes between normal and Alzheimer's disease rats.
CONCLUSIONS:
The results indicated that there were significant differences in pharmacokinetic parameters of some components between two groups, which may be due to the mechanisms of Alzheimer's disease and pharmacological effects of the analytes. The pharmacokinetic research in the pathological state might provide more useful information to guide the clinical usage of herbal medicine.
《Journal of Shenyang Pharmaceutical University》 2010-10
Separation and identification of new sucrose esters from root of Polygala tenuifolia Willd.[Reference:
WebLink
]
To study the constituents of the extract from the root of Polygala tenuifolia Willd.
METHODS AND RESULTS:
The chemical constituents were isolated by silica,Sephadex LH-20 gel column chromatography and HPLC.Chemical characters and spectroscopic analysis were employed for the structural identification.Eleven compounds were obtained and their structures were identified as sibiricose A5(1),tenuifolioside A(α-D-glucopyranoside,3-O-[(2Z)-3-(4-hydroxy-3-methoxyphenyl)-1-oxo-2-propen-1-yl]-β-D-fructofuranosyl,2),tenuifolioside B(α-D-glucopyranoside,3-O-[(2E)-3-(3,4-dimethoxyphenyl)-1-oxo-2-propen-1-yl]-β-D-fructofuranosyl,3),tenuifolioside C(α-D-glucopyranoside,3-O-[(2Z)-3-(3,4-dimethoxyphenyl)-1-oxo-2-propen-1-yl]-β-D-fructofuranosyl,4),sibiricose A6(5),glomeratose A(6),Sibiricaxanthone B(7),polygalaxanthone Ⅺ(8),1,2,3,7-tetramethoxyxanthone(9),onjixanthoneⅡ(10),and polygitol(11).
CONCLUSIONS:
Compounds 24,named tenuifolioside A-C respectively,are new sucrose esters which have not been reported before.