Chrysin dimethylether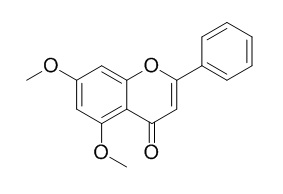 Chrysin dimethylether shows moderate activity against Trypanosoma brucei, and the IC50s less than 5.0 microg/ml.
Inquire / Order: manager@chemfaces.com
Technical Inquiries: service@chemfaces.com
Tel: +86-27-84237783
Fax: +86-27-84254680

Address:
1 Building, No. 83, CheCheng Rd., Wuhan Economic and Technological Development Zone, Wuhan, Hubei 430056, PRC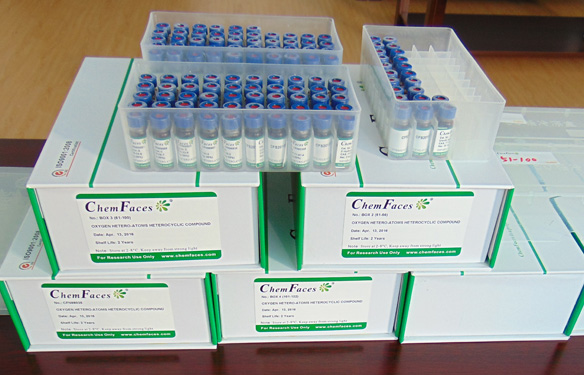 Providing storage is as stated on the product vial and the vial is kept tightly sealed, the product can be stored for up to
24 months(2-8C)
.
Wherever possible, you should prepare and use solutions on the same day. However, if you need to make up stock solutions in advance, we recommend that you store the solution as aliquots in tightly sealed vials at -20C. Generally, these will be useable for up to two weeks. Before use, and prior to opening the vial we recommend that you allow your product to equilibrate to room temperature for at least 1 hour.
Need more advice on solubility, usage and handling? Please email to: service@chemfaces.com
The packaging of the product may have turned upside down during transportation, resulting in the natural compounds adhering to the neck or cap of the vial. take the vial out of its packaging and gently shake to let the compounds fall to the bottom of the vial. for liquid products, centrifuge at 200-500 RPM to gather the liquid at the bottom of the vial. try to avoid loss or contamination during handling.
Int J Med Sci.2021, 18(10):2155-2161.
Genes (Basel).2021, 12(7):1024.
J Cell Mol Med.2020, 24(21):12308-12317.
Analytical methods2019, 11(6)
ACS Omega2020, 5,33,20825-20830
J of Ana. Chem.2019, 74(11):1113-1121
Chem Biol Interact.2019, 298:1-7
Front Plant Sci.2022, 13: 905275.
Evid Based Complement Alternat Med.2018, 2018:3610494
Molecules.2019, 24(20):3755
Antimicrob Agents Chemother. 2006 Apr;50(4):1352-64.
Antitrypanosomal and antileishmanial activities of flavonoids and their analogues: in vitro, in vivo, structure-activity relationship, and quantitative structure-activity relationship studies.[Pubmed:
16569852
]
Trypanosomiasis and leishmaniasis are important parasitic diseases affecting millions of people in Africa, Asia, and South America. In a previous study, we identified several flavonoid glycosides as antiprotozoal principles from a Turkish plant.
METHODS AND RESULTS:
Here we surveyed a large set of flavonoid aglycones and glycosides, as well as a panel of other related compounds of phenolic and phenylpropanoid nature, for their in vitro activities against Trypanosoma brucei rhodesiense, Trypanosoma cruzi, and Leishmania donovani. The cytotoxicities of more than 100 compounds for mammalian L6 cells were also assessed and compared to their antiparasitic activities. Several compounds were investigated in vivo for their antileishmanial and antitrypanosomal efficacies in mouse models.
METHODS AND RESULTS:
Overall, the best in vitro trypanocidal activity for T. brucei rhodesiense was exerted by 7,8-dihydroxyflavone (50% inhibitory concentration [IC50], 68 ng/ml), followed by 3-hydroxyflavone, rhamnetin, and 7,8,3',4'-tetrahydroxyflavone (IC50s, 0.5 microg/ml) and catechol (IC50, 0.8 microg/ml). The activity against T. cruzi was moderate, and only Chrysin dimethylether and 3-hydroxydaidzein had IC50s less than 5.0 microg/ml.