Methylenetanshinquinone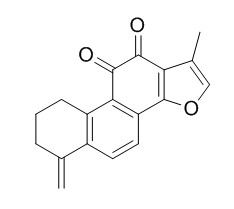 Methylenetanshinquinone shows antiplasmodial and antitrypanosomal activity, it is active against both Trypanosoma brucei rhodesiense and Plasmodium falciparum.
Inquire / Order: manager@chemfaces.com
Technical Inquiries: service@chemfaces.com
Tel: +86-27-84237783
Fax: +86-27-84254680

Address:
1 Building, No. 83, CheCheng Rd., Wuhan Economic and Technological Development Zone, Wuhan, Hubei 430056, PRC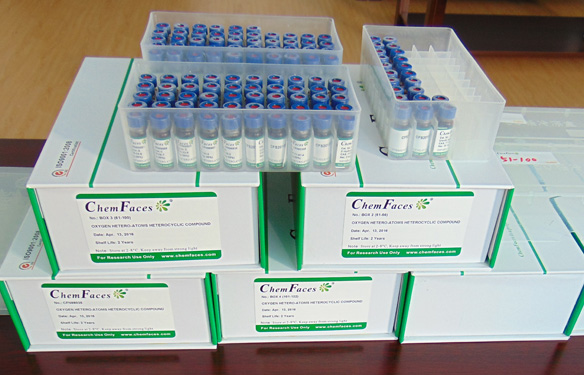 Providing storage is as stated on the product vial and the vial is kept tightly sealed, the product can be stored for up to
24 months(2-8C)
.
Wherever possible, you should prepare and use solutions on the same day. However, if you need to make up stock solutions in advance, we recommend that you store the solution as aliquots in tightly sealed vials at -20C. Generally, these will be useable for up to two weeks. Before use, and prior to opening the vial we recommend that you allow your product to equilibrate to room temperature for at least 1 hour.
Need more advice on solubility, usage and handling? Please email to: service@chemfaces.com
The packaging of the product may have turned upside down during transportation, resulting in the natural compounds adhering to the neck or cap of the vial. take the vial out of its packaging and gently shake to let the compounds fall to the bottom of the vial. for liquid products, centrifuge at 200-500 RPM to gather the liquid at the bottom of the vial. try to avoid loss or contamination during handling.
BMC Complement Altern Med.2017, 17(1):393
Journal of Functional Foods2019, 52:430-441
J of Ana. Chem.2019, 74(11):1113-1121
RSC Adv.2018, 32621-32636
Evid Based Complement Alternat Med.2019, 2019:2135351
Phytomedicine.2019, 58:152893
Postharvest Biol Tec2019, 149:18-26
Phytomedicine.2018, 41:62-66
Cytotechnology.2017, 69(5):765-773
Oncotarget.2017, 9(3):4161-4172
Planta Medica, 2011, 77(14):1594-1596.
Antiplasmodial and antitrypanosomal activity of tanshinone-type diterpenoids from Salvia miltiorrhiza.[Reference:
WebLink
]
In a medium throughput screen of 880 plant and fungal extracts for antiprotozoal activity, a dichloromethane extract of Salvia miltiorrhiza roots was active against both Trypanosoma brucei rhodesiense and Plasmodium falciparum.
METHODS AND RESULTS:
With HPLC-based activity profiling in combination with on- and off-line spectroscopic methods (PDA, -MS (n), HR-MS, microprobe NMR), the active compounds were identified as tanshinone-type diterpenoids. Subsequent isolation and structure elucidation yielded the known substances miltirone (1), tanshinone II a (2), 1,2 dihydrotanshinquinone (3), Methylenetanshinquinone (4), 1-oxomiltirone (5), 11-hydroxymiltiodiol (6), tanshinone I (7), methyltanshinonate (8), and cryptotanshinone (9). The IC₅₀s of the compounds were determined against the two parasites and rat myoblast (L6) cells.
CONCLUSIONS:
They ranged from 4.1 µM to over 30 µM against P. falciparum K1 strain with selectivity indices (SI) from 0.3 to 1.9. IC₅₀s against T. brucei rhodesiense STIB 900 were from 0.5 µM (1, 4) to over 30 µM, and 4 showed the greatest selective activity with an SI of 24.
Journal of Agricultural and Food Chemistry, 2008, 56(4):1164-1171.
Optimizing Ultraperformance Liquid Chromatographic Analysis of 10 Diterpenoid Compounds in Salvia miltiorrhiza Using Central Composite Design.[Reference:
WebLink
]

METHODS AND RESULTS:
A rapid, sensitive, reproducible, and accurate ultraperformance liquid chromatographic (UPLC) method was developed for the simultaneous determination of 10 diterpenoid compounds (tanshinone I, tanshinone IIA, cryptotanshinone, dihydrotanshinone I, 1,2-dihydrotanshinquinone, Methylenetanshinquinone, miltirone, 5,6-dehydrosugiol, sugiol, and przewalskin) in Salvia miltiorrhiza for the first time. Central composite design was applied as a powerful tool to optimize the most dominant parameters that influence the resolution of UPLC, that is, gradient, flow rate, and column temperature. Under optimum conditions, all peaks except 1,2-dihydrotanshinquinone and Methylenetanshinquinone could be baseline separated within 8 min. Furthermore, the contents of these compounds in S. miltiorrhiza samples collected from different provinces of China have also been compared.
CONCLUSIONS:
The results showed that UPLC is one of the most efficient methods for the analysis of diterpenoid compounds in S. miltiorrhiza and that it is a potential method for quality control of this valuable traditional Chinese medicine.