Lycorine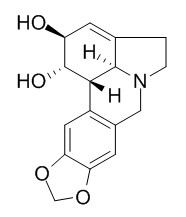 Lycorine is a toxic crystalline alkaloid found in various Amaryllidaceae species that weakly inhibits acetylcholinesterase (AChE) and ascorbic acid biosynthesis.Lycorine has antiviral, and anti-cancer effects, the mechanisms of Lycorine on the multiple myeloma cell line ARH-77 are associated with G1 phase cell cycle arrest, mitochondrial dysfunction, reactive oxygen species (ROS) generation, ATP depletion, and DNA damage.
Inquire / Order: manager@chemfaces.com
Technical Inquiries: service@chemfaces.com
Tel: +86-27-84237783
Fax: +86-27-84254680

Address:
1 Building, No. 83, CheCheng Rd., Wuhan Economic and Technological Development Zone, Wuhan, Hubei 430056, PRC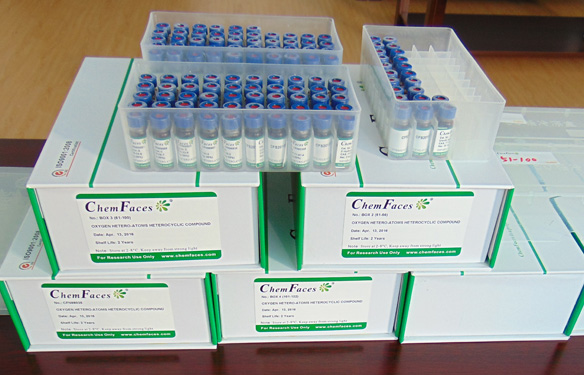 Providing storage is as stated on the product vial and the vial is kept tightly sealed, the product can be stored for up to
24 months(2-8C)
.
Wherever possible, you should prepare and use solutions on the same day. However, if you need to make up stock solutions in advance, we recommend that you store the solution as aliquots in tightly sealed vials at -20C. Generally, these will be useable for up to two weeks. Before use, and prior to opening the vial we recommend that you allow your product to equilibrate to room temperature for at least 1 hour.
Need more advice on solubility, usage and handling? Please email to: service@chemfaces.com
The packaging of the product may have turned upside down during transportation, resulting in the natural compounds adhering to the neck or cap of the vial. take the vial out of its packaging and gently shake to let the compounds fall to the bottom of the vial. for liquid products, centrifuge at 200-500 RPM to gather the liquid at the bottom of the vial. try to avoid loss or contamination during handling.
J Chromatogr B Analyt Technol Biomed Life Sci.2019, 1126-1127:121743
J Mol Recognit.2020, 33(2):e2819
Oncol Rep.2016, 35(3):1356-64
Drug Invention Today2019, 12(6):1303-1306
Food Res Int.2018, 106:909-919
Sci Rep.2019, 9(1):6429
Org Biomol Chem.2017, 15(31):6483-6492
US20170000760 A12016, 42740
Pharmaceutical Chemistry Journal2019, 52(12):986-991
Food and Fermentation Industries2019, 45(7):45-51
Tumour Biol. 2015 Apr;36(4):2937-45.
Lycorine induces programmed necrosis in the multiple myeloma cell line ARH-77.[Pubmed:
25487618
]
Lycorine, a natural alkaloid, has been widely reported to possess potential efficacy against cancer. However, the anti-multiple myeloma mechanism of Lycorine is not fully understood.
METHODS AND RESULTS:
In this study, the results demonstrated that Lycorine is effective against multiple myeloma cell line ARH-77 via inducing programmed necrosis. The mechanisms of Lycorine on the multiple myeloma cell line ARH-77 are associated with G1 phase cell cycle arrest, mitochondrial dysfunction, reactive oxygen species (ROS) generation, ATP depletion, and DNA damage.
CONCLUSIONS:
Our results elucidate the new mechanism of Lycorine against multiple myeloma.
Oncotarget. 2015 Apr 12.
Lycorine is a novel inhibitor of the growth and metastasis of hormone-refractory prostate cancer.[Pubmed:
25915156
]
Lycorine, a natural alkaloid extracted from the Amaryllidaceae plant family, has been reported to exhibit a wide range of physiological effects, including the potential effect against cancer. However, the anti-prostate cancer (PCa) efficacy of Lycorine remains unrevealed. In this context, we figured out Lycorine's anti-proliferative and anti-migratory properties for PCa treatment. Lycorine inhibited proliferation of various PCa cell lines, induced cell apoptosis and cell death.
METHODS AND RESULTS:
Here we showed that Lycorine decreased proliferation, migration, invasion, survival and EMT of prostate cancer cell lines. Subcutaneous and orthotopic xenotransplantations by ectopic implantation of the human hormone-refractory PC-3M-luc cells were used to confirm in vivo anticancer effects of Lycorine. Lycorine inhibited both growth and metastasis in multiple organs (liver, lung, kidney, spleen and bone) in vivo and improved mice survival. Lycorine prevented EGF-induced JAK/STAT signaling. Importantly, anti-cancer effects of Lycorine were dependent on STAT expression.
CONCLUSIONS:
We suggest that Lycorine is a potential therapeutic in prostate cancer.
Cancer Cell Int. 2012 Nov 23;12(1):49.
Lycorine induces cell-cycle arrest in the G0/G1 phase in K562 cells via HDAC inhibition.[Pubmed:
23176676
]
Lycorine, a natural alkaloid extracted from Amaryllidaceae, has shown various pharmacological effects. Recent studies have focused on the potential antitumor activity of Lycorine. In our previous study, we found that Lycorine decrease the cell viability of leukemia HL-60 cells and multiple myeloma KM3 cells and induces cell apoptosis. However, the effect and molecular mechanism of Lycorine on human chronic myelocytic leukemia cells has yet to be determined.
METHODS AND RESULTS:
Human chronic myelocytic leukemia cells K562 were treated with Lycorine. Cell viability was monitored using the method of CCK-8. The histone deacetylase (HDAC) enzymatic activity was detected by HDAC colorimetric assay, and the cell cycle was analyzed by flow cytometry. The expression of cell-cycle related proteins were identified using Western blot. In the present study, we further revealed that Lycorine can inhibit the proliferation of K562 cells. Analysis of HDAC activity showed that lycroine decreases HDAC enzymatic activities in K562 cells in a dose-dependent manner. Inhibition of HDAC activity has been associated with cell-cycle arrest and growth inhibition. We evaluated the cell cycle distribution after Lycorine treatment and found that Lycorine causes cell-cycle arrest in the G0/G1 phase. To investigate the mechanism behind this cell cycle arrest, G1-related proteins were assayed by Western blot. After Lycorine treatment, cyclin D1 and cyclin-dependent kinase 4 expressions were inhibited and retinoblastoma protein phosphorylation was reduced. Lycorine treatment also significantly upregulated the expression of p53 and its target gene product, p21.
CONCLUSIONS:
These results suggest that inhibition of HDAC activity is responsible for at least part of the induction of cell-cycle arrest in the G0/G1 phase by Lycorine and provide a mechanistic framework for further exploring the use of Lycorine as a novel antitumor agent.
ChemMedChem. 2014 Jul;9(7):1522-33.
Anti-dengue-virus activity and structure-activity relationship studies of lycorine derivatives.[Pubmed:
24574246
]
Dengue is a systemic viral infection that is transmitted to humans by Aedes mosquitoes. No vaccines or specific therapeutics are currently available for dengue. Lycorine, which is a natural plant alkaloid, has been shown to possess antiviral activities against flaviviruses.
METHODS AND RESULTS:
In this study, a series of novel Lycorine derivatives were synthesized and assayed for their inhibition of dengue virus (DENV) in cell cultures. Among the Lycorine analogues, 1-acetylLycorine exhibited the most potent anti-DENV activity (EC50 =0.4 μM) with a reduced cytotoxicity (CC50 >300 μM), which resulted in a selectivity index (CC50 /EC50 ) of more than 750. The ketones 1-acetyl-2-oxoLycorine (EC50 =1.8 μM) and 2-oxoLycorine (EC50 =0.5 μM) also exhibited excellent antiviral activities with low cytotoxicity. Structure-activity relationships for the Lycorine derivatives against DENV are discussed. A three-dimensional quantitative structure-activity relationship model was established by using a comparative molecular-field analysis protocol in order to rationalize the experimental results.
CONCLUSIONS:
Further modifications of the hydroxy group at the C1 position with retention of a ketone at the C2 position could potentially lead to inhibitors with improved overall properties.