Isophysalin A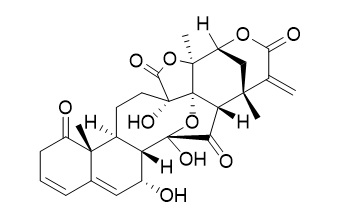 Isophysalin A exhibits anti-inflammatory activitiy, it exhibits conjugating abilities with glutathione and also shows significant nitric oxide (NO) production inhibiting activities.
Inquire / Order: manager@chemfaces.com
Technical Inquiries: service@chemfaces.com
Tel: +86-27-84237783
Fax: +86-27-84254680

Address:
1 Building, No. 83, CheCheng Rd., Wuhan Economic and Technological Development Zone, Wuhan, Hubei 430056, PRC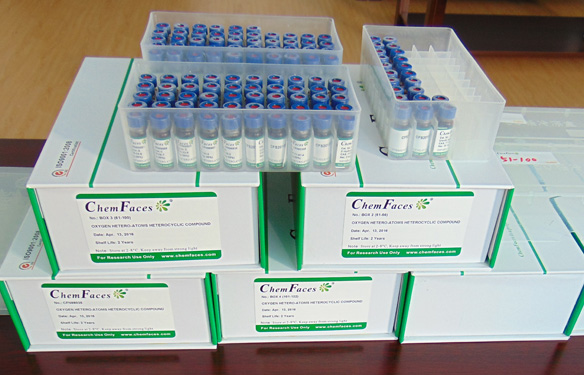 Providing storage is as stated on the product vial and the vial is kept tightly sealed, the product can be stored for up to
24 months(2-8C)
.
Wherever possible, you should prepare and use solutions on the same day. However, if you need to make up stock solutions in advance, we recommend that you store the solution as aliquots in tightly sealed vials at -20C. Generally, these will be useable for up to two weeks. Before use, and prior to opening the vial we recommend that you allow your product to equilibrate to room temperature for at least 1 hour.
Need more advice on solubility, usage and handling? Please email to: service@chemfaces.com
The packaging of the product may have turned upside down during transportation, resulting in the natural compounds adhering to the neck or cap of the vial. take the vial out of its packaging and gently shake to let the compounds fall to the bottom of the vial. for liquid products, centrifuge at 200-500 RPM to gather the liquid at the bottom of the vial. try to avoid loss or contamination during handling.
Nutr Res Pract2019, 13:e45
PLoS One.2021, 16(9):e0257243.
BMC Plant Biol.2021, 21(1):60.
J Sep Sci.2018, 41(9):1938-1946
Processes 2021, 9(5),894.
Environ Toxicol.2020, doi: 10.1002
Plant Cell Tiss Org2017, 479-486
J Sep Sci.2020, 201901140
Comp. & Mathematical Methods in Med.2022, 5475559.
Journal of Ginseng Research2022, j.jgr.2022.09.005.
Steroids. 2012 Apr;77(5):441-7.
Physalins with anti-inflammatory activity are present in Physalis alkekengi var. franchetii and can function as Michael reaction acceptors.[Pubmed:
22197662
]
Michael reaction acceptors (MRAs) are a class of active molecules that are directly or indirectly involved in various cellular processes, including the regulation of many signaling pathways.
METHODS AND RESULTS:
In this study, the inducible nitric oxide synthase (iNOS) assay was used to demonstrate that the dichloromethane extract of Physalis alkekengi var. franchetii (DCEP) possesses anti-inflammatory activity that might be attributed to the modification of key cysteine residues in IKKβ by the MRAs in DCEP. To isolate these MRAs, glutathione (GSH) was employed, and a simple ultra-performance liquid chromatography/tandem mass spectrometry (UPLC-MS/MS) screening method was developed to investigate the GSH conjugates with potential MRAs. Five physalins, including one new compound Isophysalin A (2), together with four known steroidal compounds, physalin A (1), physalin O (3), physalin L (4) and physalin G (5), were isolated to evaluate the GSH conjugating abilities, and it was indicated that compounds 1, 2 and 3, which had a common α,β-unsaturated ketone moiety, exhibited conjugating abilities with GSH and also showed significant nitric oxide (NO) production inhibiting activities.
CONCLUSIONS:
The anti-inflammatory activities of compounds 1, 2 and 3 might be attributed to their targeting multiple cysteine residues on IKKβ; therefore, the alkylation of IKKβ by compound 1 was further studied by micrOTOF-MS. The result showed that six cysteine residues (C(59), C(179), C(299), C(370), C(412), and C(618)) were alkylated, which indicated that IKKβ is a potential target for the anti-inflammatory activity of physalin A.