Taccalonolide AJ
Taccalonolide AJ is a microtubule stabilizer; it has excellent and highly persistent antitumor efficacy when administered directly to the tumor, suggesting that the lack of antitumor efficacy seen with systemic administration of AJ is likely due to its short half-life in vivo.
Inquire / Order: manager@chemfaces.com
Technical Inquiries: service@chemfaces.com
Tel: +86-27-84237783
Fax: +86-27-84254680

Address:
1 Building, No. 83, CheCheng Rd., Wuhan Economic and Technological Development Zone, Wuhan, Hubei 430056, PRC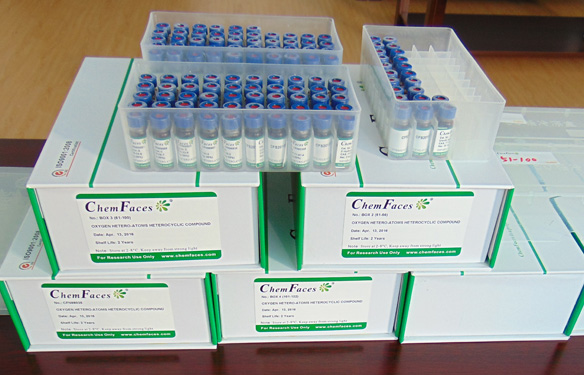 Providing storage is as stated on the product vial and the vial is kept tightly sealed, the product can be stored for up to
24 months(2-8C)
.
Wherever possible, you should prepare and use solutions on the same day. However, if you need to make up stock solutions in advance, we recommend that you store the solution as aliquots in tightly sealed vials at -20C. Generally, these will be useable for up to two weeks. Before use, and prior to opening the vial we recommend that you allow your product to equilibrate to room temperature for at least 1 hour.
Need more advice on solubility, usage and handling? Please email to: service@chemfaces.com
The packaging of the product may have turned upside down during transportation, resulting in the natural compounds adhering to the neck or cap of the vial. take the vial out of its packaging and gently shake to let the compounds fall to the bottom of the vial. for liquid products, centrifuge at 200-500 RPM to gather the liquid at the bottom of the vial. try to avoid loss or contamination during handling.
Antioxidants (Basel).2019, 8(8):E307
Food Res Int.2020, 133:109130.
Evid Based Complement Alternat Med.2020, 2020:1970349.
Environ Toxicol Pharmacol.2019, 66:109-115
Biochem Pharmacol.2020, 178:114083
Int J Mol Sci.2018, 19(9):E2528
The Journal of Internal Korean Medicine2015, 36(4):486-497
Food Chem.2020, 327:126992.
BMC Complement Altern Med.2017, 17(1):384
Int J Mol Sci.2021, 22(10):5181.
J Nat Prod. 2017 Feb 24;80(2):409-414.
Pharmacokinetic Analysis and in Vivo Antitumor Efficacy of Taccalonolides AF and AJ.[Pubmed:
28112516
]
The taccalonolides are microtubule stabilizers that covalently bind tubulin and circumvent clinically relevant forms of resistance to other drugs of this class. Efforts are under way to identify a taccalonolide with optimal properties for clinical development. The structurally similar taccalonolides AF and AJ have comparable microtubule-stabilizing activities in vitro, but taccalonolide AF has excellent in vivo antitumor efficacy when administered systemically, while Taccalonolide AJ does not elicit this activity even at maximum tolerated dose.
METHODS AND RESULTS:
The hypothesis that pharmacokinetic differences underlie the differential efficacies of taccalonolides AF and AJ was tested. The effects of serum on their in vivo potency, metabolism by human liver microsomes and in vivo pharmacokinetic properties were evaluated. Taccalonolides AF and AJ were found to have elimination half-lives of 44 and 8.1 min, respectively. Furthermore, Taccalonolide AJ was found to have excellent and highly persistent antitumor efficacy when administered directly to the tumor, suggesting that the lack of antitumor efficacy seen with systemic administration of AJ is likely due to its short half-life in vivo.
CONCLUSIONS:
These results help define why some, but not all, taccalonolides inhibit the growth of tumors at systemically tolerable doses and prompt studies to further improve their pharmacokinetic profile and antitumor efficacy.
Biochem Pharmacol. 2013 Apr 15;85(8):1104-14.
Chemically diverse microtubule stabilizing agents initiate distinct mitotic defects and dysregulated expression of key mitotic kinases.[Pubmed:
23399639
]

METHODS AND RESULTS:
Microtubule stabilizers are some of the most successful drugs used in the treatment of adult solid tumors and yet the molecular events responsible for their antimitotic actions are not well defined. The mitotic events initiated by three structurally and biologically diverse microtubule stabilizers; Taccalonolide AJ, laulimalide/fijianolide B and paclitaxel were studied. These microtubule stabilizers cause the formation of aberrant, but structurally distinct mitotic spindles leading to the hypothesis that they differentially affect mitotic signaling. Each microtubule stabilizer initiated different patterns of expression of key mitotic signaling proteins. Taccalonolide AJ causes centrosome separation and disjunction failure to a much greater extent than paclitaxel or laulimalide, which is consistent with the distinct defects in expression and activation of Plk1 and Eg5 caused by each stabilizer. Localization studies revealed that TPX2 and Aurora A are associated with each spindle aster formed by each stabilizer. This suggests a common mechanism of aster formation. However, Taccalonolide AJ also causes pericentrin accumulation on every spindle aster. The presence of pericentrin at every spindle aster initiated by Taccalonolide AJ might facilitate the maintenance and stability of the highly focused asters formed by this stabilizer. Laulimalide and paclitaxel cause completely different patterns of expression and activation of these proteins, as well as phenotypically different spindle phenotypes.
CONCLUSIONS:
Delineating how diverse microtubule stabilizers affect mitotic signaling pathways could identify key proteins involved in modulating sensitivity and resistance to the antimitotic actions of these compounds.