Isokaempferide
Isokaempferide shows hepatoprotective, antiproliferative, and anti-inflammatory effects, the anti-inflammatory effects can be explained, at least in part, by reducing neutrophil degranulation, myeloperoxidase activity, mediators as well as TNF-alpha secretion. Isokaempferide is used as a bronchodilator, can induce relaxation of guinea-pig isolated trachea.
Inquire / Order: manager@chemfaces.com
Technical Inquiries: service@chemfaces.com
Tel: +86-27-84237783
Fax: +86-27-84254680

Address:
1 Building, No. 83, CheCheng Rd., Wuhan Economic and Technological Development Zone, Wuhan, Hubei 430056, PRC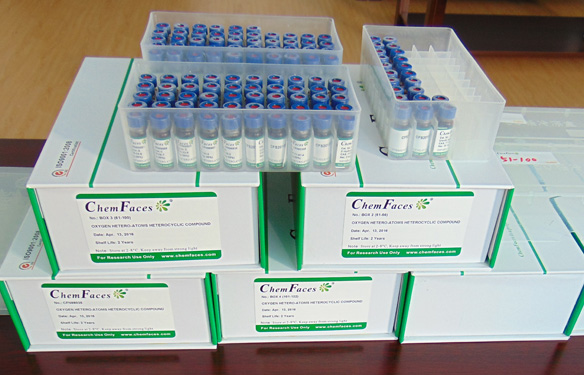 Providing storage is as stated on the product vial and the vial is kept tightly sealed, the product can be stored for up to
24 months(2-8C)
.
Wherever possible, you should prepare and use solutions on the same day. However, if you need to make up stock solutions in advance, we recommend that you store the solution as aliquots in tightly sealed vials at -20C. Generally, these will be useable for up to two weeks. Before use, and prior to opening the vial we recommend that you allow your product to equilibrate to room temperature for at least 1 hour.
Need more advice on solubility, usage and handling? Please email to: service@chemfaces.com
The packaging of the product may have turned upside down during transportation, resulting in the natural compounds adhering to the neck or cap of the vial. take the vial out of its packaging and gently shake to let the compounds fall to the bottom of the vial. for liquid products, centrifuge at 200-500 RPM to gather the liquid at the bottom of the vial. try to avoid loss or contamination during handling.
Phytother Res.2018, 32(5):923-932
Pharm Biol.2017, 55(1):360-366
Universite de Bordeaux2017, 2017BORD0867
Acta Physiologiae Plantarum2016, 38:7
Oxid Med Cell Longev2019, 9056845:13
Integr Med Res.2017, 6(4):395-403
Ind Crops Prod.2015, 67:185-191
Oncotarget.2015, 6(31):30831-49
Environ Toxicol.2019, 34(4):513-520.
J of Health Science and Alternative Medicine2019, 1(1)
Biol Pharm Bull. 2000 Apr;23(4):456-60.
Hepatoprotective effect of Combretum quadrangulare and its constituents.[Pubmed:
10784427
]
The MeOH extract of leaves of Combretum quadrangulare showed significant hepatoprotective effect on D-galactosamine (D-GalN)/lipopolysaccharide (LPS)-induced experimental liver injury in mice and on D-GalN/tumor necrosis factor-alpha (TNF-alpha)-induced cell death in primary cultured mouse hepatocytes.
METHODS AND RESULTS:
Phytochemical investigation led to the isolation of thirty cycloartane-type triterpenes together with betulinic acid, beta-sitosterol, beta-sitosterol glucoside, 4 flavones (34-37), and 3 flavone C-glucosides (38-40). These compounds showed various potencies of hepatoprotective effect on D-GalN/TNF-alpha-induced cell death in primary cultured mouse hepatocytes. Quadrangularol B (29), methyl quadrangularate I (33), kamatakenin (34), 5,7,4'-trihydroxy-3,3'-dimethoxyflavone (35), 5,4'-dihydroxy-3,7,3'-trimethoxyflavone (36) and Isokaempferide (37) showed strong inhibitory effect on TNF-alpha-induced cell death with IC50 values of 34.3, 33.7, 13.3, 22.4, 13.4 and 22.8 microM, respectively, whereas clinically-used silibinin had an IC50 value of 39.6 microM and glycyrrhizin showed very weak inhibitory effect. Methyl quadrangularates A (30) and N (32), norquadrangularic acid B (31) and vitexin (40) also showed potent inhibition on TNF-alpha-induced cell death with IC50 values of 45.7, 89.3, 67.6 and 40.1 microM, respectively.
CONCLUSIONS:
The flavonoids and some of the cycloartane-type triterpenes appeared to be the hepatoprotective principles of the leaves of C. quadrangulare.
Phytother Res. 2012 Jul;26(7):1023-8.
Antiproliferative activity of flavonoids: influence of the sequential methoxylation state of the flavonoid structure.[Pubmed:
22184071
]
Dracocephalum kotschyi Boiss. has been used as part of an ethnobotanical remedy against many forms of human cancer in Iran. It has been demonstrated that a flavonoid named xanthomicrol from D. kotschyi contributes to its preferential antiproliferative activity against malignant cells.
METHODS AND RESULTS:
In the present study, the antiproliferative activity of its flavonoid fraction was further characterized. Using liquid-liquid extraction and a semi-preparative reversed-phase HPLC method, eight flavonoid aglycones were isolated from the aerial parts of the plant and their identities were confirmed through MS and NMR analyses as luteolin, naringenin, apigenin, Isokaempferide, cirsimaritin, penduletin, xanthomicrol and calycopterin. The in vitro antiproliferative activity of each compound was evaluated against a panel of established normal and malignant cell lines using the MTT assay and some structure-activity relationships were observed. The hydroxyflavones (luteolin, apigenin and Isokaempferide) exerted comparable antiproliferative activities against malignant and normal cells, while the methoxylated hydroxyflavones (cirsimaritin, penduletin, xanthomicrol and calycopterin) showed preferential activities against tumor cells.
CONCLUSIONS:
This activity may be of value in treating tumors as it would exert few side effects in normal tissues. Xanthomicrol selectively inhibited the growth of human gastric adenocarcinoma, while calycopterin selectively prevented human acute promyelocytic leukemia and human colon carcinoma cells proliferation.
Basic Clin Pharmacol Toxicol. 2009 Mar;104(3):198-205.
Effects of amburoside A and isokaempferide, polyphenols from Amburana cearensis, on rodent inflammatory processes and myeloperoxidase activity in human neutrophils.[Pubmed:
19053991
]
The present study evaluated the anti-inflammatory activity of amburoside A (a phenol glucoside) and Isokaempferide (a flavonol) isolated from the trunk bark of Amburana cearensis, a medicinal plant used in northeast Brazil for the treatment of asthma.
METHODS AND RESULTS:
Animals (male Wistar rats or Swiss mice) pre-treated with amburoside A (25 and 50 mg/kg) or Isokaempferide (12.5, 25 and 50 mg/kg), orally or intraperitoneally, showed a significant inhibition of the paw oedema induced by carrageenan (1%), prostaglandin E(2) (30 nmol/paw), histamine (200 microg/paw) or serotonin (200 microg/paw). Histological and morphometric evaluations of the rat paw oedema induced by carrageenan showed that amburoside A and Isokaempferide also inhibited the accumulation of inflammatory cells. Amburoside A reduced significantly the paw oedema and the increase in vascular permeability induced by dextran, as related to the control group. Similar results were observed with the Isokaempferide pre-treatment. Furthermore, amburoside A or Isokaempferide inhibited both leucocyte and neutrophil migrations, in mouse peritoneal cavity, after the carrageenan injection. The polyphenols were not cytotoxic and blocked N-formyl-methyl-leucyl-phenylalanine-induced myeloperoxidase release and activity in human neutrophils. In addition, amburoside A and Isokaempferide at 50 and 100 microg/ml concentrations reduced significantly the lipopolysaccharide-mediated increase in tumour necrosis factor-alpha (TNF-alpha) levels.
CONCLUSIONS:
These results provide, for the first time, evidence to support the anti-inflammatory activity of amburoside A and Isokaempferide that seems to be related to an inhibition of inflammatory mediators, such as TNF-alpha, as well as histamine, serotonin and prostaglandin E(2), besides leucocyte infiltration in a dose- or concentration-dependent manner. These anti-inflammatory effects can be explained, at least in part, by the ability of these compounds to reduce neutrophil degranulation, myeloperoxidase activity, mediators as well as TNF-alpha secretion.
Life Sci. 2006 May 30;79(1):98-104.
Mechanisms underlying the relaxation induced by isokaempferide from Amburana cearensis in the guinea-pig isolated trachea.[Pubmed:
16455108
]
The present study examines possible mechanisms by which the flavonoid Isokaempferide (IKPF; 5,7,4'-trihydroxy-3-methoxyflavone) from Amburana cearensis, a Brazilian medicinal plant popularly used as bronchodilator, induces relaxation of guinea-pig isolated trachea.
METHODS AND RESULTS:
In the trachea (with intact epithelium) contracted by carbachol, Isokaempferide (1-1000 microM) caused a graded relaxation, and the epithelium removal increased the sensitivity of the airway smooth muscle to Isokaempferide (EC50, in intact tissue: 77.4 [54.8-109.2] microM; in denuded epithelium: 15.0 [11.3-20.1] microM). The Isokaempferide-induced relaxation was inhibited in 41% by the nitric oxide (NO) synthase inhibitor L-NAME (100 microM); in 31% and 50% by the soluble guanylate cyclase (sGC) inhibitor ODQ (3 and 33 microM); by propranolol (31%) and also by capsaicin (37%). In the trachea pre-contracted by 40 mM KCl the pre-incubation with glibenclamide (33 microM) or iberiotoxin (IbTX, 0.1 microM), selective K(+) channel inhibitors, inhibited the Isokaempferide-induced relaxation by 39% and 38%, respectively. On the other hand, 4-aminopyridine (100 microM), a nonselective K(+) channel antagonist, did not significantly influence the effect of Isokaempferide, while IbTX induced a rightward displacement of the Isokaempferide concentration-response curve. However, in muscle pre-contracted with 120 mM KCl the relaxant effect of Isokaempferide was significantly reduced and not affected by glibenclamide.
CONCLUSIONS:
In conclusion, these results indicate a direct and epithelium-independent relaxant effect of Isokaempferide on smooth muscle fibers. Although this Isokaempferide relaxant action seems to be multi-mediated, it occurs via both Ca(2+) and ATP-sensitive K(+) channels, but some other possible mechanisms unrelated to K(+) channels cannot be excluded.