(-)-Isocorypalmine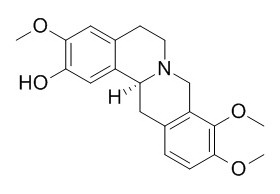 (-)-Isocorypalmine has significant antifungal activity. l-isocorypalmine acts as a D1 partial agonist and a D2 antagonist to produce its in vivo effects and may be a promising agent for treatment of cocaine addiction.
Inquire / Order: manager@chemfaces.com
Technical Inquiries: service@chemfaces.com
Tel: +86-27-84237783
Fax: +86-27-84254680

Address:
1 Building, No. 83, CheCheng Rd., Wuhan Economic and Technological Development Zone, Wuhan, Hubei 430056, PRC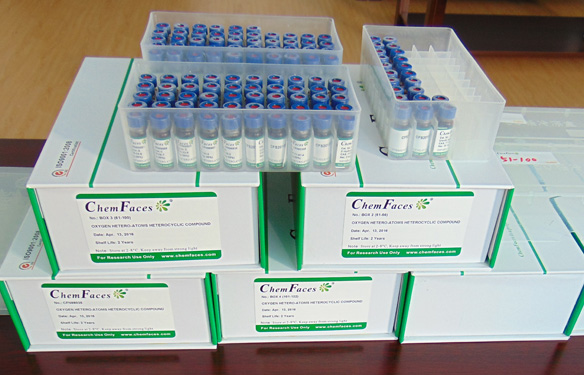 Providing storage is as stated on the product vial and the vial is kept tightly sealed, the product can be stored for up to
24 months(2-8C)
.
Wherever possible, you should prepare and use solutions on the same day. However, if you need to make up stock solutions in advance, we recommend that you store the solution as aliquots in tightly sealed vials at -20C. Generally, these will be useable for up to two weeks. Before use, and prior to opening the vial we recommend that you allow your product to equilibrate to room temperature for at least 1 hour.
Need more advice on solubility, usage and handling? Please email to: service@chemfaces.com
The packaging of the product may have turned upside down during transportation, resulting in the natural compounds adhering to the neck or cap of the vial. take the vial out of its packaging and gently shake to let the compounds fall to the bottom of the vial. for liquid products, centrifuge at 200-500 RPM to gather the liquid at the bottom of the vial. try to avoid loss or contamination during handling.
Planta Med.2019, 85(3):217-224
Chemistr of plant2016, 2016021195
J Ethnopharmacol.2016, 192:370-381
J Basic Clin Physiol Pharmacol.2016, 27(1):1-8
Am J Chin Med.2015, 30:1-22
Plant Growth Regulation2020, 90(2):383-392
Journal of Ginseng Research2019, 10.1016
Sci Rep.2019, 9(1):4646
Front Pharmacol.2017, 8:673
University of Limpopo2016, 1777
Drug Alcohol Depen., 2013, 133(2):693- 703.
L-isocorypalmine reduces behavioral sensitization and rewarding effects of cocaine in mice by acting on dopamine receptors.[Pubmed:
24080315
]
We previously reported isolation of l-isocorypalmine (l-ICP), a mono-demethylated analog of l-tetrahydropalmatine (l-THP), from the plant Corydalis yanhusuo. Here we characterized its in vitro pharmacological properties and examined its effects on cocaine-induced behaviors in mice.
METHODS AND RESULTS:
Receptor binding, cAMP and [(35)S]GTPγS assays were used to examine pharmacological actions of l-ICP in vitro. Effects of l-ICP on cocaine-induced locomotor hyperactivity and sensitization and conditioned place preference (CPP) in mice were investigated. HPLC was employed to analyze metabolites of l-ICP in mouse serum. Among more than 40 targets screened, l-ICP and l-THP bound only to dopamine (DA) receptors. l-ICP was a high-affinity partial agonist of D1 and D5 receptors and a moderate-affinity antagonist of D2, D3 and D4 receptors, whereas l-THP bound to only D1 and D5 receptors, with lower affinities than l-ICP. At 10mg/kg (i.p.), l-ICP inhibited spontaneous locomotor activity for a shorter time than l-THP. Pretreatment with l-ICP reduced cocaine-induced locomotor hyperactivities. Administration of l-ICP before cocaine once a day for 5 days reduced cocaine-induced locomotor sensitization on days 5 and 13 after 7 days of withdrawal. Pretreatment with l-ICP before cocaine daily for 6 days blocked cocaine-induced CPP, while l-ICP itself did not cause preference or aversion. HPLC analysis showed that l-ICP was the main compound in mouse serum following i.p. injection of l-ICP.
CONCLUSIONS:
l-ICP likely acts as a D1 partial agonist and a D2 antagonist to produce its in vivo effects and may be a promising agent for treatment of cocaine addiction.