Ganoderone A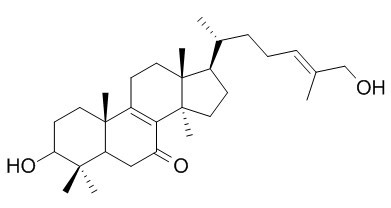 Ganoderone A exhibits potent inhibitory activity against herpes simplex virus. Ganoderone A exhibits strong inhibitory activities against Vero cells (IC50 is 0.3 ug/mL); it also has inhibition against cancer cell lines K562, SW620, and HL60, the 50% inhibiting concentration( IC50) are 9. 61, 22. 38, 7. 14 mg/L, respectively.
Inquire / Order: manager@chemfaces.com
Technical Inquiries: service@chemfaces.com
Tel: +86-27-84237783
Fax: +86-27-84254680

Address:
1 Building, No. 83, CheCheng Rd., Wuhan Economic and Technological Development Zone, Wuhan, Hubei 430056, PRC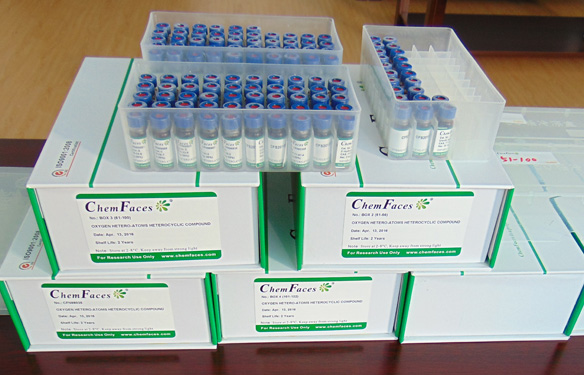 Providing storage is as stated on the product vial and the vial is kept tightly sealed, the product can be stored for up to
24 months(2-8C)
.
Wherever possible, you should prepare and use solutions on the same day. However, if you need to make up stock solutions in advance, we recommend that you store the solution as aliquots in tightly sealed vials at -20C. Generally, these will be useable for up to two weeks. Before use, and prior to opening the vial we recommend that you allow your product to equilibrate to room temperature for at least 1 hour.
Need more advice on solubility, usage and handling? Please email to: service@chemfaces.com
The packaging of the product may have turned upside down during transportation, resulting in the natural compounds adhering to the neck or cap of the vial. take the vial out of its packaging and gently shake to let the compounds fall to the bottom of the vial. for liquid products, centrifuge at 200-500 RPM to gather the liquid at the bottom of the vial. try to avoid loss or contamination during handling.
Process Biochemistry2019, 87:213-220
Anal Sci.2019, 35(12):1317-1325
Food Research International2016, 106-113
Int J Mol Sci.2015, 16(8):18396-411
Biosci Biotechnol Biochem.2020, 84(3):621-632
Current Pharmaceutical Analysis2017, 13(5)
J Nat Sc Biol Med2019, 10(2):149-156
Faculty of Chem. & Nat. Resource Eng.2014, 62
Evid Based Complement Alternat Med.2017, 2017:1583185
J Nat Prod.2015, 78(6):1339-4
J Nat Prod. 2005 Dec;68(12):1728-31.
Antiviral Terpenoid Constituents of Ganoderma pfeifferi.[Pubmed:
16378363
]

METHODS AND RESULTS:
Four sterols and 10 triterpenes were isolated from the fruiting bodies of Ganoderma pfeifferi, including the three new triterpenes 3,7,11-trioxo-5alpha-lanosta-8,24-diene-26-al (lucialdehyde D, 1), 5alpha-lanosta-8,24-diene-26-hydroxy-3,7-dione (Ganoderone A, 2), and 5alpha-lanosta-8-ene-24,25-epoxy-26-hydroxy-3,7-dione (ganoderone C, 3). The structures of 1-3 were determined on the basis of spectroscopic evidence. Antibacterial, antifungal, and antiviral activity were studied for some of the isolated compounds.
CONCLUSIONS:
Ganoderone A (2), lucialdehyde B (4), and ergosta-7,22-dien-3beta-ol (7) were found to exhibit potent inhibitory activity against herpes simplex virus.