Ganodermanontriol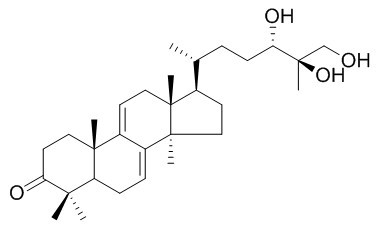 Ganodermanontriol has anti-cancer, hepatoprotective, anti-inflammatory, and antioxidative activities, it also shows a strong anticomplement activity against the classical pathway (CP) of the complement system with IC(50) values of 17.2 microM. Ganodermanontriol is active as an anti-HIV-1 agent with an inhibitory concentration of 7.8 micrograms ml-1.It has a wide spectrum of targets including HO-1, PI3K/Akt and p38 kinases.
Inquire / Order: manager@chemfaces.com
Technical Inquiries: service@chemfaces.com
Tel: +86-27-84237783
Fax: +86-27-84254680

Address:
1 Building, No. 83, CheCheng Rd., Wuhan Economic and Technological Development Zone, Wuhan, Hubei 430056, PRC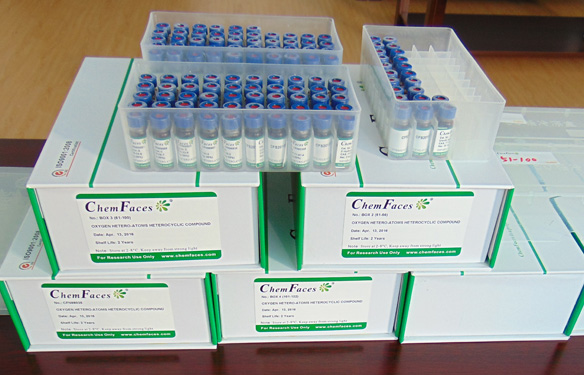 Providing storage is as stated on the product vial and the vial is kept tightly sealed, the product can be stored for up to
24 months(2-8C)
.
Wherever possible, you should prepare and use solutions on the same day. However, if you need to make up stock solutions in advance, we recommend that you store the solution as aliquots in tightly sealed vials at -20C. Generally, these will be useable for up to two weeks. Before use, and prior to opening the vial we recommend that you allow your product to equilibrate to room temperature for at least 1 hour.
Need more advice on solubility, usage and handling? Please email to: service@chemfaces.com
The packaging of the product may have turned upside down during transportation, resulting in the natural compounds adhering to the neck or cap of the vial. take the vial out of its packaging and gently shake to let the compounds fall to the bottom of the vial. for liquid products, centrifuge at 200-500 RPM to gather the liquid at the bottom of the vial. try to avoid loss or contamination during handling.
Cell Physiol Biochem.2019, 52(6):1255-1266
Phytomedicine.2018, 41:62-66
Nat Prod Communications2018, 10.1177
Cell Physiol Biochem.2017, 44(4):1381-1395
J Ethnopharmacol.2017, 198:87-90
Toxicological Research2020, doi: 10.1007.
Chemistry of Vegetable Raw Materials2019, 3:119-127
Plants (Basel).2020, 9(11):1555.
Horticulture Research2020, 7:111.
Food Sci Biotechnol.2016, 25(5):1437-1442
J Ethnopharmacol. 2013 Dec 12;150(3):875-85.
In vitro and in vivo hepatoprotective effect of ganodermanontriol against t-BHP-induced oxidative stress.[Pubmed:
24140584
]
Ganoderma lucidum (Fr.) Karst. (Ganodermataceae) is a mushroom which is used as a traditional remedy in the treatment of human diseases such as hepatitis, liver disorders, hypercholesterolemia, arthritis, bronchitis and tumorigenic diseases.
METHODS AND RESULTS:
This study targets the evaluation of hepatoprotective activity of Ganodermanontriol, a sterol isolated from Ganoderma lucidum, and the investigation of its mechanism of action in Hepa1c1c7 and murine liver cells upon tert-butyl hydroperoxide (t-BHP)-induced inflammation. t-BHP was utilized to stimulate an anti-inflammatory reaction in the hepatic cell lines and murine hepatic tissue examined. Western blot and reverse transcription-quantitative polymerase chain reaction (RT-PCR) were used to estimate the expression of Ganodermanontriol (GDT)-induced proteins, including heme oxidase-1 (HO-1) and mitogen-activated protein kinases (MAPKs) as well as the corresponding mRNA. Luciferase assays were conducted to evaluate the interaction between NF-E2-related factor-2 (Nrf-2), the antioxidant response element (ARE), and the promoter region of the HO-1 gene and subsequent gene expression. Biochemical markers for hepatotoxicity were monitored to assess whether GDT protected the cells from the t-BHP-mediated oxidative stimuli. GDT induced HO-1 expression via the activation of Nrf-2 nuclear translocation and the subsequent transcription of the HO-1 gene in vitro and in vivo, which seemed to be regulated by phosphatidylinositol 3-kinase (PI3K)/protein kinase B (Akt) and p38 signaling pathways. GDT exhibited in vitro and in vivo hepatoprotective activity as determined by the lowered levels of hepatic enzymes and malondialdehydes and the elevated glutathione levels.
CONCLUSIONS:
This study validates the ethnopharmacological application of Ganoderma lucidum as a treatment for hepatic disorders. GDT induced in vitro and in vivo anti-inflammatory activity in t-BHP-damaged hepatic cells through the expression of HO-1, and in which PI3K/Akt and p38 kinases are involved. Our study motivates further research in the exploration of potent hepatoprotective agents from Ganoderma lucidum.
Phytother. Res., 1999, 13(6):529–31.
Triterpene antioxidants from ganoderma lucidum.[Pubmed:
10479768
]
Ganoderma lucidum was studied for its antioxidative activity by bioassay guided isolation in conjunction with in vitro tests.
METHODS AND RESULTS:
The powdered crude drug was treated with boiling water and the aqueous extract (Ex1) was further separated to obtain terpene and polysaccharide fractions. The two fractions and Ex1 were screened for their antioxidative effect against pyrogallol induced erythrocyte membrane oxidation and Fe (II)-ascorbic acid induced lipid peroxidation. All tested samples showed antioxidative activities in a dose dependent manner and the terpene fraction was found to possess the highest effect compared with the others.
CONCLUSIONS:
Chemical isolation of the terpene fraction resulted in the detection of ganoderic acids A, B, C and D, lucidenic acid B and Ganodermanontriol as major ingredients.
Int J Oncol. 2011 Mar;38(3):761-7.
Ganodermanontriol, a lanostanoid triterpene from Ganoderma lucidum, suppresses growth of colon cancer cells through ß-catenin signaling.[Pubmed:
21225227
]
Colorectal cancer is one of the most common cancers in men and women in the world. Previous molecular studies have revealed that deregulation of the ß-catenin signaling pathway plays a crucial role in the progression of colorectal cancer. Therefore, modulation of the ß-catenin pathway offers a strategy to control colorectal cancer progression. The medicinal mushroom Ganoderma lucidum (GL) is a rich source of triterpenes with anticancer properties.
METHODS AND RESULTS:
Here, we show that Ganodermanontriol (GNDT), a purified triterpene from GL, inhibited proliferation of HCT-116 and HT-29 colon cancer cells without a significant effect on cell viability. Moreover, GNDT inhibited transcriptional activity of ß-catenin and protein expression of its target gene cyclin D1 in a dose-dependent manner. A marked inhibition effect was also seen on Cdk-4 and PCNA expression, whereas expression of Cdk-2, p21 and cyclin E was not affected by the GNDT treatment. In addition, GNDT caused a dose-dependent increase in protein expression of E-cadherin and ß-catenin in HT-29 cells. Finally, GNDT suppressed tumor growth in a xenograft model of human colon adenocarcinoma cells HT-29 implanted in nude mice without any side-effects and inhibited expression of cyclin D1 in tumors.
CONCLUSIONS:
In conclusion, our data suggest that Ganodermanontriol might be a potential chemotherapeutic agent for the treatment of cancer.
Phytochemistry. 1998 Nov;49(6):1651-7.
Anti-HIV-1 and anti-HIV-1-protease substances from Ganoderma lucidum.[Pubmed:
9862140
]
A new highly oxygenated triterpene named ganoderic acid alpha has been isolated from a methanol extract of the fruiting bodies of Ganoderma lucidum together with twelve known compounds.
METHODS AND RESULTS:
The structures of the isolated compounds were determined by spectroscopic means including 2D-NMR. Ganoderiol F and Ganodermanontriol were found to be active as anti-HIV-1 agents with an inhibitory concentration of 7.8 micrograms ml-1 for both, and ganoderic acid B, ganoderiol B, ganoderic acid C1, 3 beta-5 alpha-dihydroxy-6 beta-methoxyergosta-7,22-diene, ganoderic acid alpha, ganoderic acid H and ganoderiol A were moderately active inhibitors against HIV-1 PR with a 50% inhibitory concentration of 0.17-0.23 mM.
Planta Med. 2001 Dec;67(9):811-4.
Anticomplement activity of terpenoids from the spores of Ganoderma lucidum.[Pubmed:
11745016
]
A new lanostane-type terpenoid, lucidenic acid SP1 (1), was isolated from a CHCl(3)-soluble fraction of Ganoderma lucidum spores together with four other known compounds (2 - 5).
METHODS AND RESULTS:
The structure of lucidenic acid SP1 was determined to be 3 beta,7 beta-dihydroxy-4,4,14 alpha-trimethyl-11,15-dioxo-5 alpha-chol-8-en-24-oic acid by spectroscopic means including 2D-NMR. Twelve triterpenes (1-12) isolated from G. lucidum spores were investigated in vitro for their anticomplementary activity. Compounds 1 - 5 were inactive, whereas ganoderiol F (8), ganodermanondiol (9) and Ganodermanontriol (10) showed a strong anticomplement activity against the classical pathway (CP) of the complement system with IC(50) values of 4.8, 41.7, and 17.2 microM, respectively. The potency of these triterpene alcohols (8-10) in inhibiting CP activity was improved when the number of hydroxymethyl groups on the side chain moiety is increased. On the other hand, the ganoderic acids 1-7, which contain a carboxyl group in the side chain, and lucidumols A and B (11, 12) had little activity on this system.