Ganoderal A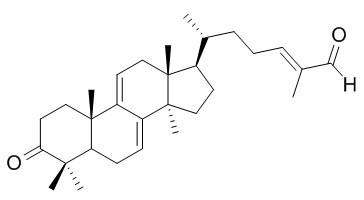 The oxygenated sterols( 26-oxygenosterols ganoderol A, ganoderol B, ganoderal A, and ganoderic acid Y) from G. lucidum can inhibit cholesterol biosynthesis via conversion of acetate or mevalonate as a precursor of cholesterol.
Inquire / Order: manager@chemfaces.com
Technical Inquiries: service@chemfaces.com
Tel: +86-27-84237783
Fax: +86-27-84254680

Address:
1 Building, No. 83, CheCheng Rd., Wuhan Economic and Technological Development Zone, Wuhan, Hubei 430056, PRC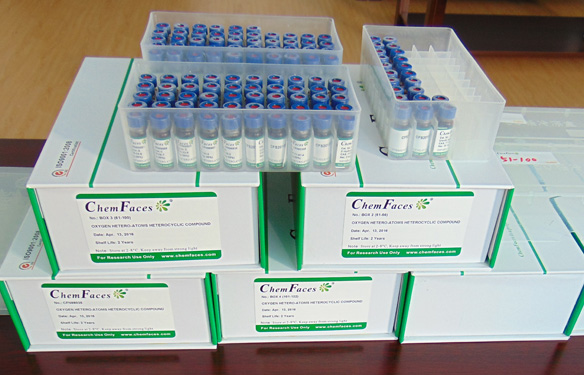 Providing storage is as stated on the product vial and the vial is kept tightly sealed, the product can be stored for up to
24 months(2-8C)
.
Wherever possible, you should prepare and use solutions on the same day. However, if you need to make up stock solutions in advance, we recommend that you store the solution as aliquots in tightly sealed vials at -20C. Generally, these will be useable for up to two weeks. Before use, and prior to opening the vial we recommend that you allow your product to equilibrate to room temperature for at least 1 hour.
Need more advice on solubility, usage and handling? Please email to: service@chemfaces.com
The packaging of the product may have turned upside down during transportation, resulting in the natural compounds adhering to the neck or cap of the vial. take the vial out of its packaging and gently shake to let the compounds fall to the bottom of the vial. for liquid products, centrifuge at 200-500 RPM to gather the liquid at the bottom of the vial. try to avoid loss or contamination during handling.
J Ethnopharmacol.2016, 194:219-227
Biol Pharm Bull.2018, 41(11):1685-1693
The Japan Society for Analy. Chem.2017, 66(8):613-617
Food Quality and Safety2018, 2:213-219
J Ethnopharmacol.2019, 244:112074
BMC Pharmacol Toxicol.2018, 19(1):5
Phytother Res.2016, 30(12):2020-2026
Molecules.2018, 23(12):E3103
Biochemistry.2018, 57(40):5886-5896
J Ethnopharmacol.2017, 198:87-90
Appl Environ Microbiol. 2005 Jul;71(7):3653-8.
Effect of 26-oxygenosterols from Ganoderma lucidum and their activity as cholesterol synthesis inhibitors.[Pubmed:
16000773
]
Ganoderma lucidum is a medicinal fungus belonging to the Polyporaceae family which has long been known in Japan as Reishi and has been used extensively in traditional Chinese medicine.
METHODS AND RESULTS:
We report the isolation and identification of the 26-oxygenosterols ganoderol A, ganoderol B, Ganoderal A, and ganoderic acid Y and their biological effects on cholesterol synthesis in a human hepatic cell line in vitro. We also investigated the site of inhibition in the cholesterol synthesis pathway. We found that these oxygenated sterols from G. lucidum inhibited cholesterol biosynthesis via conversion of acetate or mevalonate as a precursor of cholesterol. By incorporation of 24,25-dihydro-[24,25-3H2]lanosterol and [3-3H]lathosterol in the presence of ganoderol A, we determined that the point of inhibition of cholesterol synthesis is between lanosterol and lathosterol.
CONCLUSIONS:
These results demonstrate that the lanosterol 14alpha-demethylase, which converts 24,25-dihydrolanosterol to cholesterol, can be inhibited by the 26-oxygenosterols from G. lucidum. These 26-oxygenosterols could lead to novel therapeutic agents that lower blood cholesterol.