Ganoderiol A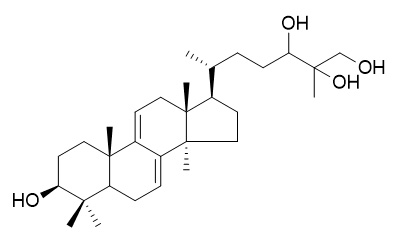 Ganoderiol A suppresses migration and adhesion of MDA-MB-231 cells by inhibiting FAK-SRC-Paxillin cascade pathway.
Inquire / Order: manager@chemfaces.com
Technical Inquiries: service@chemfaces.com
Tel: +86-27-84237783
Fax: +86-27-84254680

Address:
1 Building, No. 83, CheCheng Rd., Wuhan Economic and Technological Development Zone, Wuhan, Hubei 430056, PRC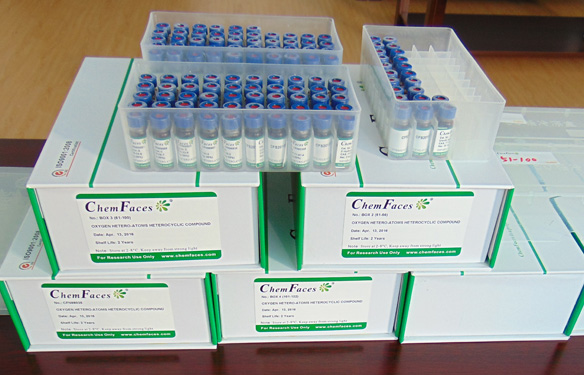 Providing storage is as stated on the product vial and the vial is kept tightly sealed, the product can be stored for up to
24 months(2-8C)
.
Wherever possible, you should prepare and use solutions on the same day. However, if you need to make up stock solutions in advance, we recommend that you store the solution as aliquots in tightly sealed vials at -20C. Generally, these will be useable for up to two weeks. Before use, and prior to opening the vial we recommend that you allow your product to equilibrate to room temperature for at least 1 hour.
Need more advice on solubility, usage and handling? Please email to: service@chemfaces.com
The packaging of the product may have turned upside down during transportation, resulting in the natural compounds adhering to the neck or cap of the vial. take the vial out of its packaging and gently shake to let the compounds fall to the bottom of the vial. for liquid products, centrifuge at 200-500 RPM to gather the liquid at the bottom of the vial. try to avoid loss or contamination during handling.
Jour. of Stored Pro & Postharvest Res.2016, 7(3):32-36
Phytochemistry Letters2017, 449-455
Molecules.2018, 23(3):E615
Front Plant Sci.2018, 9:1424
J of the Korean Society of Food Science and Nutrition2019, 32(2):148-154
J Sep Sci.2020, 201901140
Molecules.2018, 23(10):E2638
China Pharmacy2015, 26(27)
Cell Metab.2020, S1550-4131(20)30002-4
Biochem Systematics and Ecology2017, 11-18
PLoS One. 2013 Oct 29;8(10):e76620.
Ganoderiol A-enriched extract suppresses migration and adhesion of MDA-MB-231 cells by inhibiting FAK-SRC-paxillin cascade pathway.[Pubmed:
24204647
]
Cell adhesion, migration and invasion are critical steps for carcinogenesis and cancer metastasis. Ganoderma lucidum, also called Lingzhi in China, is a traditional Chinese medicine, which exhibits anti-proliferation, anti-inflammation and anti-metastasis properties.
METHODS AND RESULTS:
Herein, GAEE, G. lucidum extract mainly contains Ganoderiol A (GA), dihydrogenated GA and GA isomer, was shown to inhibit the abilities of adhesion and migration, while have a slight influence on that of invasion in highly metastatic breast cancer MDA-MB-231 cells at non-toxic doses. Further investigation revealed that GAEE decreased the active forms of focal adhesion kinase (FAK) and disrupted the interaction between FAK and SRC, which lead to deactivating of paxillin. Moreover, GAEE treatment downregulated the expressions of RhoA, Rac1, and Cdc42, and decreased the interaction between neural Wiskott-Aldrich Syndrome protein (N-WASP) and Cdc42, which impair cell migration and actin assembly.
CONCLUSIONS:
To our knowledge, this is the first report to show that G.lucidum triterpenoids could suppress cell migration and adhesion through FAK-SRC-paxillin signaling pathway. Our study also suggests that GAEE may be a potential agent for treatment of breast cancer.
Journal of the Agricultural Chemical Society of Japan, 1986, 50(11):2887-28
Ganoderiol A and B, New Triterpenoids from the Fungus Ganoderma lucidum (Reishi)[Reference:
WebLink
]

METHODS AND RESULTS:
Two new lanostane-type triterpenoids, Ganoderiol A (1) and ganoderiol B (2) were isolated from the fruiting bodies of Ganoderma lucidum, together with known ganodermanontriol (3) and ganodermatriol (4).
CONCLUSIONS:
The compounds were identified as 5α-lanosta-7,9(11)-dien-3β,24,25,26-tetraol (1), 15α,26,27-trihydroxy-5α-lanosta-7,9(11),24-trien-3-one (2), 24,25,26-trihydroxy-5α-lanosta-7,9(11)-dien-3-one (3) and 5α-lanosta-7,9(ll),24-trien-3β,26,27-triol (4), respectively.