Fragransin A2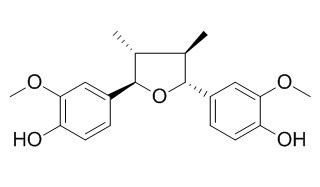 Reference standards.
Inquire / Order: manager@chemfaces.com
Technical Inquiries: service@chemfaces.com
Tel: +86-27-84237783
Fax: +86-27-84254680

Address:
1 Building, No. 83, CheCheng Rd., Wuhan Economic and Technological Development Zone, Wuhan, Hubei 430056, PRC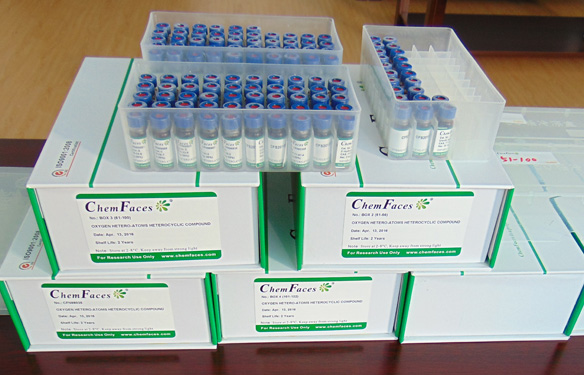 Providing storage is as stated on the product vial and the vial is kept tightly sealed, the product can be stored for up to
24 months(2-8C)
.
Wherever possible, you should prepare and use solutions on the same day. However, if you need to make up stock solutions in advance, we recommend that you store the solution as aliquots in tightly sealed vials at -20C. Generally, these will be useable for up to two weeks. Before use, and prior to opening the vial we recommend that you allow your product to equilibrate to room temperature for at least 1 hour.
Need more advice on solubility, usage and handling? Please email to: service@chemfaces.com
The packaging of the product may have turned upside down during transportation, resulting in the natural compounds adhering to the neck or cap of the vial. take the vial out of its packaging and gently shake to let the compounds fall to the bottom of the vial. for liquid products, centrifuge at 200-500 RPM to gather the liquid at the bottom of the vial. try to avoid loss or contamination during handling.
Molecules.2022, 27(22):7887.
Front. Plant Sci.2022, 13:757852.
J Am Soc Mass Spectrom.2021, 32(9):2451-2462.
RSC Adv.2018, 32621-32636
Int J Mol Sci.2022, 23(10):5813.
Horticulture Research2022, uhac276.
Molecules.2019, 24(4):E709
Drug Chem Toxicol.2020, 1-14.
Braz J Med Biol Res. 2016, 49(7)
Preprints2022, 202211.0388.v1.
Arch Pharm Res. 2014 Mar;37(3):399-403.
Cytotoxic and anti-tumor activities of lignans from the seeds of Vietnamese nutmeg Myristica fragrans.[Pubmed:
23877238
]

METHODS AND RESULTS:
Four lignans, meso-dihydroguaiaretic acid (DHGA), macelignan, Fragransin A2 and nectandrin B, were isolated from the seeds of Myristica fragrans (Vietnamese nutmeg) and investigated for their cytotoxic activity against eight cancer cell lines.
CONCLUSIONS:
Of these, DHGA exhibited potent cytotoxicity against H358 with IC50 value of 10.1 μM. In addition, DHGA showed antitumor activity in allogeneic tumor-bearing mice model.
Org Lett. 2007 Sep 27;9(20):3965-8.
Stereoselective synthesis of tetrahydrofuran lignans via BF(3) x OEt(2)-promoted reductive deoxygenation/epimerization of cyclic hemiketal: synthesis of (-)-odoratisol C, (-)-futokadsurin A, (-)-veraguensin, (+)-fragransin A(2), (+)-galbelgin, and (+)-tal[Pubmed:
17764190
]

METHODS AND RESULTS:
A versatile route to the synthesis of 2,5-diaryl-3,4-dimethyltetrahydrofuran lignans, (-)-odoratisol C (1), (-)-futokadsurin A (2), (-)-veraguensin (3), (+)-Fragransin A2 (4), (+)-galbelgin (5), and (+)-talaumidin (6), is described.
CONCLUSIONS:
Central to the synthesis of the lignans is BF(3) x OEt(2)-promoted deoxygenation/epimerization of the hemiketal 9a followed by stereoselective reduction of the oxocarbenium ion intermediates 8a,b.