Erianin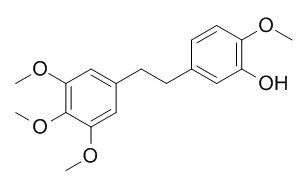 Erianin, often used as an antipyretic and analgesic agent, it also has antiangiogenic action by inhibiting endothelial metabolism in a JNK/SAPK-dependent manner and inducing endothelial cytoskeletal disorganisation.
Inquire / Order: manager@chemfaces.com
Technical Inquiries: service@chemfaces.com
Tel: +86-27-84237783
Fax: +86-27-84254680

Address:
1 Building, No. 83, CheCheng Rd., Wuhan Economic and Technological Development Zone, Wuhan, Hubei 430056, PRC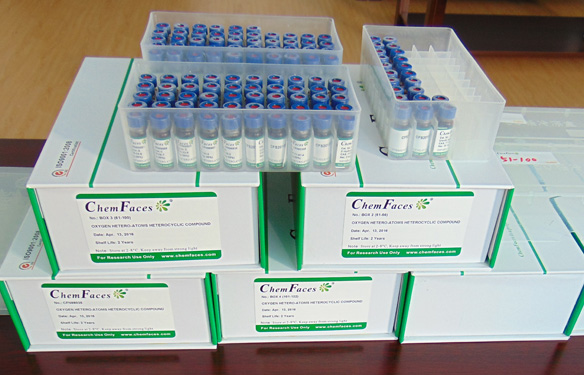 Providing storage is as stated on the product vial and the vial is kept tightly sealed, the product can be stored for up to
24 months(2-8C)
.
Wherever possible, you should prepare and use solutions on the same day. However, if you need to make up stock solutions in advance, we recommend that you store the solution as aliquots in tightly sealed vials at -20C. Generally, these will be useable for up to two weeks. Before use, and prior to opening the vial we recommend that you allow your product to equilibrate to room temperature for at least 1 hour.
Need more advice on solubility, usage and handling? Please email to: service@chemfaces.com
The packaging of the product may have turned upside down during transportation, resulting in the natural compounds adhering to the neck or cap of the vial. take the vial out of its packaging and gently shake to let the compounds fall to the bottom of the vial. for liquid products, centrifuge at 200-500 RPM to gather the liquid at the bottom of the vial. try to avoid loss or contamination during handling.
Front Pharmacol.2019, 10:1226
Plos One.2019, 15(2):e0220084
Int J Mol Sci.2019, 21(1):E265
Phytomedicine.2018, 38:45-56
Molecules.2019, 24(9):E1719
Molecules.2018, 23(3):E615
Sci Rep. 2017, 12953(7)
Molecules.2019, 24(22):E4022
Nat Prod Sci.2019, 25(3):238
Front Pharmacol.2019, 10:1025
Invest New Drugs. 2012 Oct;30(5):1899-907.
ZJU-6, a novel derivative of Erianin, shows potent anti-tubulin polymerisation and anti-angiogenic activities.[Pubmed:
21997795
]
ZJU-6 was designed to enhance anti-angiogenesis and anti-tumour activity of its parent compound Erianin, a clinic anti-tumour agent. This study investigated the detailed biological mechanism of ZJU-6 in comparison with that of Erianin.
METHODS AND RESULTS:
Both ZJU-6 and Erianin substantially reduced cell viability and induced apoptosis in human cancer cell lines. Profound G2/M cell arrest was observed 24 h after treatment of MCF-7 cells with ZJU-6 (≥ 2.5 μM) or Erianin (≥ 0.1 μM); being consistent with mitotic collapse. 0.5 μM of Erianin or ZJU-6 failed to stabilise tubulin. Pre-G1 MCF-7 cell accumulating 24 h post treatment indicated apoptosis. Caspase-3 activity, PARP cleavage and Annexin V + ve /PI -ve populations correlate the apoptotic destiny of cells exposed to either ZJU-6 or Erianin. Furthermore ZJU-6 showed potent anti-angiogenetic property and demonstrated radical scavenging capacity.
CONCLUSIONS:
Due to its potent anti-proliferative, pro-apoptotic and anti-angiogenic activities ZJU-6 is an attractive chemotherapeutic agent to be developed.
Acta Pharmacol Sin. 2001 Nov;22(11):1018-22.
Erianin induces apoptosis in human leukemia HL-60 cells.[Pubmed:
11749794
]
To investigate the effect of Erianin on human HL-60 cell line and explore its mechanism of apoptosis in vitro.
METHODS AND RESULTS:
Inhibition of proliferation was measured with colorimetric MTT assay. The morphologic changes were observed by fluorescence and electron microscopes. DNA fragmentation was visualized by agarose gel electrophoresis, and the DNA degradation was determined by flow cytometry. Immunohistochemical analysis was used to identify the expression of bcl-2 and bax genes. The growth of human HL-60 cells was significantly inhibited by Erianin 20-81.9 nmol/L during 72 h treatment (P < 0.01). The IC50 value was 38 nmol/L after a 24-h exposure to Erianin, while that of vincristine, the positive control, was 101 nmol/L. The typical morphologic changes were observed and the nuclear DNA fragmentation exhibited "ladder" pattern. The cell cycle of HL-60 cells was arrested in G2/M phase, and expression of bcl-2 gene was decreased while that of bax was increased.
CONCLUSIONS:
Erianin showed potent inhibitory activity on the proliferation of HL-60 cells. The inhibition might be relative to the apoptosis induced by Erianin and the altered expression of bcl-2 and bax genes in HL-60 cells.
Eur J Cancer. 2004 Jul;40(10):1554-65.
In vivo and in vitro evaluation of erianin, a novel anti-angiogenic agent.[Pubmed:
15196540
]
This study evaluated the anti-angiogenic activities of Erianin in vivo and in vitro.
METHODS AND RESULTS:
Erianin, a natural product from Dendrobium chrysotoxum, caused moderate growth delay in xenografted human hepatoma Bel7402 and melanoma A375 and induced significant vascular shutdown within 4 h of administering 100 mg/kg of the drug. Erianin also displayed potent anti-angiogenic activities in vitro: it abrogated spontaneous or basic fibroblast growth factor-induced neovascularisation in chick embryo; it inhibited proliferation of human umbilical vein endothelial cells (EC(50) 34.1+/-12.7 nM), disrupted endothelial tube formation, and abolished migration across collagen and adhesion to fibronectin. Erianin also exerted selective inhibition toward endothelial cells, and quiescent endothelium showed more resistance than in proliferative and tumour conditions. In a cytoskeletal study, Erianin depolymerised both F-actin and beta-tubulin, more significantly in proliferating endothelial cells than in confluent cells. In conclusion, Erianin caused extensive tumour necrosis, growth delay and rapid vascular shutdown in hepatoma and melanoma models; it inhibited angiogenesis in vivo and in vitro and induced endothelial cytoskeletal disorganisation.
CONCLUSIONS:
These findings suggest that Erianin has the therapeutic potential to inhibit angiogenesis in vivo and in vitro.
In Vivo. 2004 Mar-Apr;18(2):223-8.
Erianin induces a JNK/SAPK-dependent metabolic inhibition in human umbilical vein endothelial cells.[Pubmed:
15113050
]
Erianin is a natural product derived from Dendrobium chrysotoxum, with promising antitumor activity.
METHODS AND RESULTS:
To evaluate the metabolic effect of Erianin, a cytosensor assay for acidification rate, MTT assay, measurement of lactate, glucose and ATP were performed in human umbilical vein endothelial cells (HUVECs) exposed to 1-100 nM Erianin. JNK/SAPK activity was detected by Western blot. Twelve- or 24- hour incubation with Erianin induced a dose-dependent metabolic inhibition, as indicated by reduced acidification rate and cell viability, with an endothelium-selectivity. Erianin caused decreases in lactate production, glucose consumption and intracellular ATP level. Pretreatment with the JNK/SAPK inhibitor SP600125 significantly abolished these inhibitory responses, and especially restored the Erianin-induced decreases in ATP and the Erianin-induced phosphorylation of JNK/SAPK with dose- and time- dependence.
CONCLUSIONS:
Erianin inhibited endothelial metabolism in a JNK/SAPK-dependent manner. This mechanism may be involved in the potential antitumnor and antiangiogenic actions of Erianin.