Epimedoside A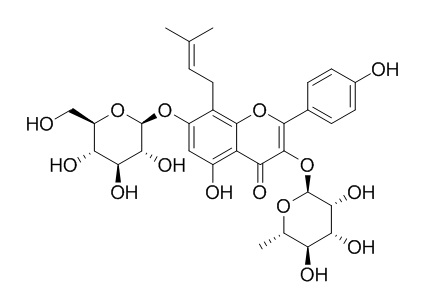 Epimedoside A has significant antioxidant activity in vitro.
Inquire / Order: manager@chemfaces.com
Technical Inquiries: service@chemfaces.com
Tel: +86-27-84237783
Fax: +86-27-84254680

Address:
1 Building, No. 83, CheCheng Rd., Wuhan Economic and Technological Development Zone, Wuhan, Hubei 430056, PRC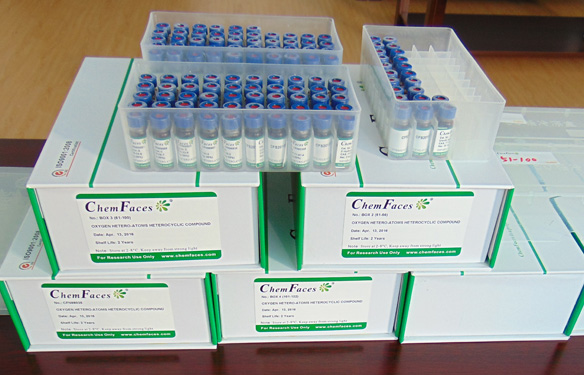 Providing storage is as stated on the product vial and the vial is kept tightly sealed, the product can be stored for up to
24 months(2-8C)
.
Wherever possible, you should prepare and use solutions on the same day. However, if you need to make up stock solutions in advance, we recommend that you store the solution as aliquots in tightly sealed vials at -20C. Generally, these will be useable for up to two weeks. Before use, and prior to opening the vial we recommend that you allow your product to equilibrate to room temperature for at least 1 hour.
Need more advice on solubility, usage and handling? Please email to: service@chemfaces.com
The packaging of the product may have turned upside down during transportation, resulting in the natural compounds adhering to the neck or cap of the vial. take the vial out of its packaging and gently shake to let the compounds fall to the bottom of the vial. for liquid products, centrifuge at 200-500 RPM to gather the liquid at the bottom of the vial. try to avoid loss or contamination during handling.
J Clin Med.2019, 8(10):E1664
Evid Based Complement Alternat Med.2016, 2016:4357656
BMC Complement Altern Med.2014, 14:242
Industrial Crops and Products2018, 353-362
BMC Complement Altern Med.2019, 19(1):367
Asian Journal of Chemistry2014, 26(8):2425
Int J Anal Chem.2017, 2017:1254721
Biochemistry.2018, 57(40):5886-5896
Metabolites.2019, 9(11):E271
PLoS One.2018, 13(3):e0193386
Nat Prod Res. 2007 Jun;21(7):600-5.
Chemical constituents of roots of Epimedium wushanense and evaluation of their biological activities.[Pubmed:
17613817
]

METHODS AND RESULTS:
Seven flavonoids named diphylloside A, Epimedoside A, epimedin C, icariin, epimedoside C, icarisoside A, desmethylanhydroicaritin, as well as the oleanolic acid, were isolated from the roots of Epimedium wushanense for the first time. These flavonoids manifested significant antioxidant activity in vitro. Scavenging effects of two flavonoids were comparable to that of Vitamin C.
CONCLUSIONS:
Antibacterial experiment has shown that the diphylloside A, icarisoside A and desmethylanhydroicaritin have significant activity towards Pseudomonas aeruginosa.
Planta Med. 2000 Aug;66(6):575-7.
Flavonol glycosides from Epimedium sagittatum and their neurite outgrowth activity on PC12h cells.[Pubmed:
10985091
]
The MeOH extract of Epimedium sagittatum was found to show neurite outgrowth activity on cultured PC12h cells.
METHODS AND RESULTS:
Bioassay-guided fractionation of the MeOH extract yielded six prenylated flavonol glycosides, ikarisoside A (1), icarisid II (2), Epimedoside A (3), icariin (4), epimedin B (5), and epimedokoreanoside-I (6) as the active ingredients.