Sagittatoside A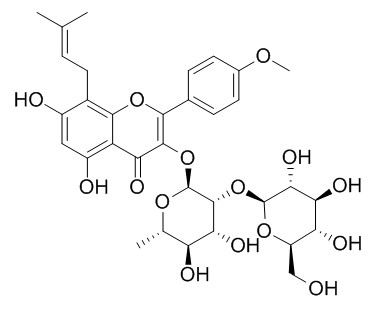 Sagittatoside A selectively activates estrogen response element (ERE)-luciferase activity via ERα, and sagittatoside A and icariin induces ERα phosphorylation at serine 118 residue.
Inquire / Order: manager@chemfaces.com
Technical Inquiries: service@chemfaces.com
Tel: +86-27-84237783
Fax: +86-27-84254680

Address:
1 Building, No. 83, CheCheng Rd., Wuhan Economic and Technological Development Zone, Wuhan, Hubei 430056, PRC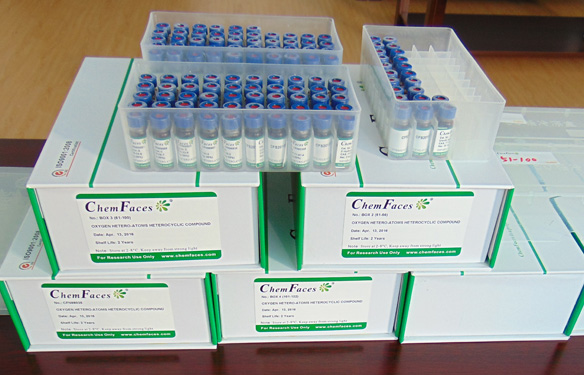 Providing storage is as stated on the product vial and the vial is kept tightly sealed, the product can be stored for up to
24 months(2-8C)
.
Wherever possible, you should prepare and use solutions on the same day. However, if you need to make up stock solutions in advance, we recommend that you store the solution as aliquots in tightly sealed vials at -20C. Generally, these will be useable for up to two weeks. Before use, and prior to opening the vial we recommend that you allow your product to equilibrate to room temperature for at least 1 hour.
Need more advice on solubility, usage and handling? Please email to: service@chemfaces.com
The packaging of the product may have turned upside down during transportation, resulting in the natural compounds adhering to the neck or cap of the vial. take the vial out of its packaging and gently shake to let the compounds fall to the bottom of the vial. for liquid products, centrifuge at 200-500 RPM to gather the liquid at the bottom of the vial. try to avoid loss or contamination during handling.
Molecules.2019, 24(23):E4303
Planta Med.2018, 84(6-07):465-474
Nutrients.2018, 10(10)
J Chromatogr B Analyt Technol Biomed Life Sci.2018, 1080:27-36
Journal of Physiology & Pathology in Korean Medicine.2018, 32(2): 106-112
Wageningen University & Research2018, January 2018
Sci Rep.2017, 7:40345
J Basic Clin Physiol Pharmacol.2016, 27(1):1-8
Planta Med.2019, 85(9-10):766-773
Evid Based Complement Alternat Med.2018, 2018:8565132
J Steroid Biochem Mol Biol. 2014 Sep;143:141-51.
Flavonoids from Herba epimedii selectively activate estrogen receptor alpha (ERα) and stimulate ER-dependent osteoblastic functions in UMR-106 cells.[Pubmed:
24607839
]
Total flavonoids in Herba epimedii (HEP) have been demonstrated to protect against bone loss and bone deterioration associated with estrogen deficiency without exerting any uterotrophic effects. However, it is unclear how flavonoids in HEP exert their protective effects on bone and if different flavonoids exert estrogenic actions in bone cells via similar mechanism of actions.
METHODS AND RESULTS:
The present study aims to investigate the bone anabolic effects of four major flavonoids isolated from HEP, namely icariin, baohuoside-I, epimedin B and Sagittatoside A as well as the mechanism involved in mediating their estrogenic actions in rat osteoblastic-like UMR-106 cells. All tested compounds significantly stimulated the cell proliferation rate, alkaline phosphate (ALP) activity and osteoprotegerin (OPG)/receptor activator of nuclear factor κ-B ligand (RANKL) mRNA expression in UMR-106 cells and their effects could be abolished by co-incubation with 10(-6)M ICI 182,780. None of the flavonoids exhibited binding affinities toward ERα and ERβ. However, Sagittatoside A selectively activated estrogen response element (ERE)-luciferase activity via ERα. In addition, icariin and Sagittatoside A induced ERα phosphorylation at serine 118 residue.
CONCLUSIONS:
Taken together, our results indicated that all four flavonoids from HEP stimulated ER-dependent osteoblastic functions in UMR-106 cells, but only two of them appeared to exert their actions by ligand-independent activation of ERα. Our study provides evidence to support the hypothesis that the estrogen-like protective effects on bone by flavonoids are mediated via mechanisms that are distinct from the classical actions of estrogen.
J Sep Sci. 2009 Jan;32(2):275-81.
Effect of stability of internal standard on quantification of 15 flavonoids in Epimedium using CZE.[Pubmed:
19101945
]

METHODS AND RESULTS:
A CZE method was developed for the simultaneous determination of 15 flavonoids, including epimedin B, epimedin A, hexandraside F, epimedin C, icariin, sagittatoside B, Sagittatoside A, hexandraside E, 2''-O-rhamnosyl icariside II, baohuoside VII, baohuoside I, caohuoside C, epimedoside C, baohuoside II, and kaempferol-3-O-rhamnoside, in different species of Epimedium, and the effect of stability of internal standard (IS) on quantification was also investigated. As a result, rutin was not available for use as an IS because of its unstable property in sample solution, which suggested that the stability of IS both in standards and sample solution should be considered for the analysis. Using stable daidzein as IS, the analysis was performed within 35 min by using 50 mM borax buffer containing 20% ACN as a modifier (pH 10.0), while separation voltage was 25 kV and temperature was at 30 degrees C.
CONCLUSIONS:
The method was validated to be accurate, simple, and repeatable, and was successfully applied to the analysis of 36 samples from 17 species of Epimedium.