Diosgenin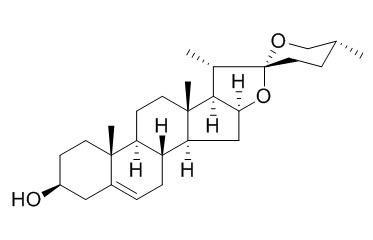 Diosgenin possesses antivascular calcification , anti-osteoclastogenesis, anti-inflammatory and anticancer properties, it has favorable effects in the improvement of diabetes and regulation of lipid metabolism. Diosgenin treated inflammation-related disorders through the blockade of cAMP, PKA, cPLA2, PAK, Akt and MAPKs signaling pathways. Diosgenin may decrease the risk of developing dementia of opiate abusers with HIV infection and the ApoE4 allele.
Inquire / Order: manager@chemfaces.com
Technical Inquiries: service@chemfaces.com
Tel: +86-27-84237783
Fax: +86-27-84254680

Address:
1 Building, No. 83, CheCheng Rd., Wuhan Economic and Technological Development Zone, Wuhan, Hubei 430056, PRC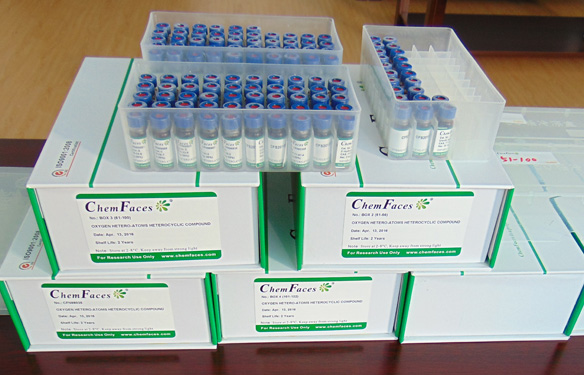 Providing storage is as stated on the product vial and the vial is kept tightly sealed, the product can be stored for up to
24 months(2-8C)
.
Wherever possible, you should prepare and use solutions on the same day. However, if you need to make up stock solutions in advance, we recommend that you store the solution as aliquots in tightly sealed vials at -20C. Generally, these will be useable for up to two weeks. Before use, and prior to opening the vial we recommend that you allow your product to equilibrate to room temperature for at least 1 hour.
Need more advice on solubility, usage and handling? Please email to: service@chemfaces.com
The packaging of the product may have turned upside down during transportation, resulting in the natural compounds adhering to the neck or cap of the vial. take the vial out of its packaging and gently shake to let the compounds fall to the bottom of the vial. for liquid products, centrifuge at 200-500 RPM to gather the liquid at the bottom of the vial. try to avoid loss or contamination during handling.
J Sep Sci.2019, 42(21):3352-3362
Research on Crops.2017, 18(2)
Chem Biol Interact.2019, 315:108910
Antiviral Res.2013, 98(3):386-93
Food Quality and Safety2018, 2:213-219
J Enzyme Inhib Med Chem.2019, 34(1):134-143
Korean Journal of Pharmacognosy2019, 50(4):285-290
Neurochem Int.2018, 121:114-124
Acta Physiologiae Plantarum2016, 38:7
Arch Toxicol.2017, 91(10):3225-3245
Oncogene. 2006 Mar 9;25(10):1463-73.
Diosgenin inhibits osteoclastogenesis, invasion, and proliferation through the downregulation of Akt, I kappa B kinase activation and NF-kappa B-regulated gene expression.[Pubmed:
16331273
]
Diosgenin, a steroidal saponin present in fenugreek (Trigonella foenum graecum) and other plants, has been shown to suppress inflammation, inhibit proliferation, and induce apoptosis in a variety of tumor cells, but through a mechanism that is poorly understood.
METHODS AND RESULTS:
In the present study, we report that Diosgenin inhibits receptor-activated nuclear factor-kappaB ligand-induced osteoclastogenesis, suppresses tumor necrosis factor (TNF)-induced invasion, and blocks the proliferation of tumor cells, all activities known to be regulated by NF-kappaB. Diosgenin suppressed TNF-induced NF-kappaB activation as determined by DNA binding, activation of IkappaBalpha kinase, IkappaBalpha phosphorylation, IkappaBalpha degradation, p65 phosphorylation, and p65 nuclear translocation through inhibition of Akt activation. NF-kappaB-dependent reporter gene expression was also abrogated by Diosgenin. TNF-induced expression of NF-kappaB-regulated gene products involved in cell proliferation (cyclin D1, COX-2, c-myc), antiapoptosis (IAP1, Bcl-2, Bcl-X(L), Bfl-1/A1, TRAF1 and cFLIP), and invasion (MMP-9) were also downregulated by the saponin. Diosgenin also potentiated the apoptosis induced by TNF and chemotherapeutic agents.
CONCLUSIONS:
Overall, our results suggest that Diosgenin suppresses proliferation, inhibits invasion, and suppresses osteoclastogenesis through inhibition of NF-kappaB-regulated gene expression and enhances apoptosis induced by cytokines and chemotherapeutic agents.
Neurobiol Dis. 2006 Jul;23(1):109-19.
Increased vulnerability of ApoE4 neurons to HIV proteins and opiates: protection by diosgenin and L-deprenyl.[Pubmed:
16697650
]
Human immunodeficiency virus (HIV) infection continues to rise in drug-abusing populations and causes a dementing illness in a subset of individuals. Factors contributing to the development of dementia in this population remain unknown.
METHODS AND RESULTS:
We found that HIV-infected individuals with the E4 allele of Apolipoprotein E (ApoE) or history of intravenous drug abuse had increased oxidative stress in the CNS. In vitro studies showed that HIV proteins, gp120 and Tat, Tat + morphine but not tumor necrosis factor-alpha (TNF-alpha), caused increased neurotoxicity in human neuronal cultures with ApoE4 allele. Microarray analysis showed a differential alteration of transcripts involved in energy metabolism in cultures of ApoE3 and 4 neurons upon treatment with Tat + morphine. This was confirmed using assays of mitochondrial function and exposure of the neurons to Tat + morphine. Using this in vitro model, we screened a number of novel antioxidants and found that only L-deprenyl and Diosgenin protected against the neurotoxicity of Tat + morphine. Furthermore, Tat-induced oxidative stress impaired morphine metabolism which could also be prevented by Diosgenin.
CONCLUSIONS:
In conclusion, opiate abusers with HIV infection and the ApoE4 allele may be at increased risk of developing dementia. L-deprenyl and a plant estrogen, Diosgenin, may have therapeutic potential in this population.
Free Radic Res. 2014 Dec;48(12):1485-93.
Diosgenin inhibits superoxide generation in FMLP-activated mouse neutrophils via multiple pathways.[Pubmed:
25246240
]
Diosgenin possesses anti-inflammatory and anticancer properties. Activated neutrophils produce high concentrations of the superoxide anion which is involved in the pathophysiology of inflammation-related diseases and cancer.
METHODS AND RESULTS:
In the present study, the inhibitory effect and possible mechanisms of Diosgenin on superoxide generation were investigated in mouse bone marrow neutrophils. Diosgenin potently and concentration-dependently inhibited the extracellular and intracellular superoxide anion generation in Formyl-Met-Leu-Phe (FMLP)- activated neutrophils, with IC50 values of 0.50 ± 0.08 μM and 0.66 ± 0.13 μM, respectively. Such inhibition was not mediated by scavenging the superoxide anion or by a cytotoxic effect. Diosgenin inhibited the phosphorylation of p47phox and membrane translocation of p47phox and p67phox, and thus blocking the assembly of nicotinamide adenine dinucleotide phosphate oxidase. Moreover, cellular cyclic adenosine monophosphate (cAMP) levels and protein kinase A (PKA) expression were also effectively increased by Diosgenin. It attenuated FMLP-induced increase of phosphorylation of cytosolic phospholipase A (cPLA2), p21-activated kinase (PAK), Akt, p38 mitogen-activated protein kinase (p38MAPK), extracellular signal-regulated kinase (ERK1/2), and c-Jun N-terminal kinase (JNK). Our data indicate that Diosgenin exhibits inhibitory effects on superoxide anion production through the blockade of cAMP, PKA, cPLA2, PAK, Akt and MAPKs signaling pathways.
CONCLUSIONS:
The results may explain the clinical implications of Diosgenin in the treatment of inflammation-related disorders.
Atherosclerosis. 2015 May;240(1):80-9.
Diosgenin inhibits atherosclerosis via suppressing the MiR-19b-induced downregulation of ATP-binding cassette transporter A1.[Pubmed:
25765596
]
Diosgenin (Dgn), a structural analogue of cholesterol, has been reported to have the hypolipidemic and antiatherogenic properties, but the underlying mechanisms are not fully understood. Given the key roles of macrophages in cholesterol metabolism and atherogenesis, it is critical to investigate macrophage cholesterol efflux and development of atherosclerotic lesion after Dgn treatment. This study was designed to evaluate the potential effects of Dgn on macrophage cholesterol metabolism and the development of aortic atherosclerosis, and to explore its underlying mechanisms.
METHODS AND RESULTS:
Dgn significantly up-regulated the expression of ATP-binding cassette transporter A1 (ABCA1) protein, but didn't affect liver X receptor α levels in foam cells derived from human THP-1 macrophages and mouse peritoneal macrophages (MPMs) as determined by western blotting. The miR-19b levels were markedly down-regulated in Dgn-treated THP-1 macrophages/MPM-derived foam cells. Cholesterol transport assays revealed that treatment with Dgn alone or together with miR-19b inhibitor notably enhanced ABCA1-dependent cholesterol efflux, resulting in the reduced levels of total cholesterol, free cholesterol and cholesterol ester as determined by high-performance liquid chromatography. The fecal 3H-sterol originating from cholesterol-laden MPMs was increased in apolipoprotein E knockout mice treated with Dgn or both Dgn and antagomiR-19b. Treatment with Dgn alone or together with antagomiR-19b elevated plasma high-density lipoprotein levels, but reduced plasma low-density lipoprotein levels. Accordingly, aortic lipid deposition and plaque area were reduced, and collagen content and ABCA1 expression were increased in mice treated with Dgn alone or together with antagomiR-19b. However, miR-19b overexpression abrogated the lipid-lowering and atheroprotective effects induced by Dgn.
CONCLUSIONS:
The present study demonstrates that Dgn enhances ABCA1-dependent cholesterol efflux and inhibits aortic atherosclerosis progression by suppressing macrophage miR-19b expression.
Biochimie. 2014 Jul;102:183-7.
Diosgenin interferes coronary vasoconstriction and inhibits osteochondrogenic transdifferentiation of aortic VSMC in CRF rats.[Pubmed:
24742379
]
Cardiovascular dysfunction and vascular calcification is the leading cause of death in chronic renal failure (CRF) patients. This study was designed to evaluate the effect of Diosgenin on coronary flow resistance and to address the question whether the previously proven antivascular calcification potential of Diosgenin is associated or not with the osteochondrogenic transdifferentiation of vascular smooth muscle cells (VSMC).
METHODS AND RESULTS:
In this study, CRF in Wistar rats was induced by fed with 0.75% adenine and Diosgenin was treated everyday at the dose of 40 mg/kg. Langendorff based isolated heart protocol was employed to analyze the coronary flow resistance. Western blot method was used to explore the phosphorylation dynamics of endothelial nitric oxide synthase (eNOS) at the serine 1177 residue. In addition, cardiac nitric oxide metabolites level also assessed. Quantitative expression of VSMC and osteochondrogenic markers was also evaluated. Antioxidant potential of Diosgenin was studied in vitro. The outcome of the present study explores that Diosgenin treatment significantly improves the coronary resistance and increased the nitric oxide metabolites level compared with CRF. Further, Diosgenin increases the phosphorylation of eNOS (peNOS ser1177). Moreover, Diosgenin reduced the aortic expression of osteochondrogenic markers and improved the VSMC phenotype components. Further, Diosgenin shows concentration dependent antioxidant potential.
CONCLUSIONS:
In conclusion, this study have proven that Diosgenin have enough potential to improve the coronary function and interfere the osteochondrogenic transdifferentiation program of aortic VSMC which supports its antivascular calcification potential.