Dihydrodaidzin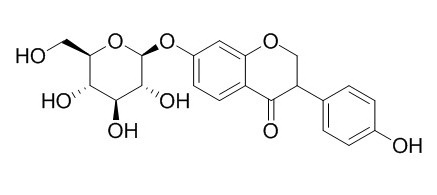 Dihydrodaidzin shows cytotoxic activities against human stomach carcinoma (Hs 740.T, Hs 756 T), breast adenocarcinoma (Hs 578 T, Hs 742.T), and prostate carcinoma (DU 145, LNCaP-FGC) cell lines.
Inquire / Order: manager@chemfaces.com
Technical Inquiries: service@chemfaces.com
Tel: +86-27-84237783
Fax: +86-27-84254680

Address:
1 Building, No. 83, CheCheng Rd., Wuhan Economic and Technological Development Zone, Wuhan, Hubei 430056, PRC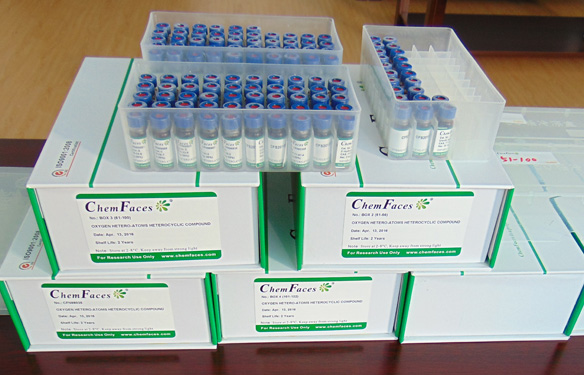 Providing storage is as stated on the product vial and the vial is kept tightly sealed, the product can be stored for up to
24 months(2-8C)
.
Wherever possible, you should prepare and use solutions on the same day. However, if you need to make up stock solutions in advance, we recommend that you store the solution as aliquots in tightly sealed vials at -20C. Generally, these will be useable for up to two weeks. Before use, and prior to opening the vial we recommend that you allow your product to equilibrate to room temperature for at least 1 hour.
Need more advice on solubility, usage and handling? Please email to: service@chemfaces.com
The packaging of the product may have turned upside down during transportation, resulting in the natural compounds adhering to the neck or cap of the vial. take the vial out of its packaging and gently shake to let the compounds fall to the bottom of the vial. for liquid products, centrifuge at 200-500 RPM to gather the liquid at the bottom of the vial. try to avoid loss or contamination during handling.
Cancer Manag Res.2019, 11:483-500
The Korea Journal of Herbology2020, 35(3):33-45.
Anal Chim Acta.2018, 1039:162-171
Food Funct.2020, 11(2):1322-1333.
Arch Pharm Res.2015, 38(6):1080-9
The Journal of Animal & Plant Sciences.2020, 30(6):1366-1373
Evid Based Complement Alternat Med.2021, 8707280.
Primary and Industrial.2018, 52(11)
Biosci Rep.2020, 40(8):BSR20201219.
Food Science and Biotechnology2015, 2205-2212
J Nat Prod. 2002 Jun;65(6):805-13.
New isoflavone and triterpene glycosides from soybeans.[Pubmed:
12088420
]

METHODS AND RESULTS:
Chemical investigation of a soybean phytochemical concentrate resulted in the isolation and identification of two new isoflavanones, Dihydrodaidzin (1) and dihydrogenistin (2), a new isoflavone, 2' ',6' '-O-diacetyloninin (3), and two new triterpenoid saponins (13 and 14). Nine known isoflavonoids (4-12) and three known saponins (15-17) were also identified. Structures of the new compounds were established by a combination of extensive NMR (DEPT, DQF-COSY, HMBC, HMQC, and ROESY) studies and chemical degradation. Cytotoxic activities (ED(50)) of various extracts and selected isoflavonoids and saponins were measured against human stomach carcinoma (Hs 740.T, Hs 756 T), breast adenocarcinoma (Hs 578 T, Hs 742.T), and prostate carcinoma (DU 145, LNCaP-FGC) cell lines.
CONCLUSIONS:
Isoflavonoids 3 and 5 were more active than 1 and 2 versus at least one of the three cell lines examined, indicating the importance of the 2,3-double bond in cytotoxicity. Saponins 13, 14, and 15 were slightly more active than saponins 16 and 17, indicating that sugar attachments at position-22 enhance cytotoxic activity.