Didymin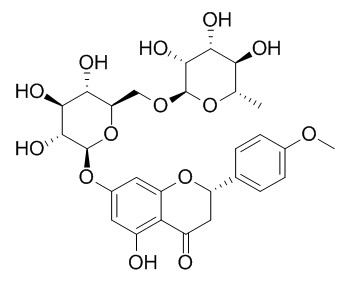 Didymin is a citrus-derived natural compound that kills p53 wild-type as well as drug-resistant p53-mutant neuroblastoma cells in culture, it induces apoptosis by inhibiting N-Myc and upregulating RKIP in neuroblastoma. Didymin possesses antioxidant, anti-inflammation and anti-cancer properties.
Inquire / Order: manager@chemfaces.com
Technical Inquiries: service@chemfaces.com
Tel: +86-27-84237783
Fax: +86-27-84254680

Address:
1 Building, No. 83, CheCheng Rd., Wuhan Economic and Technological Development Zone, Wuhan, Hubei 430056, PRC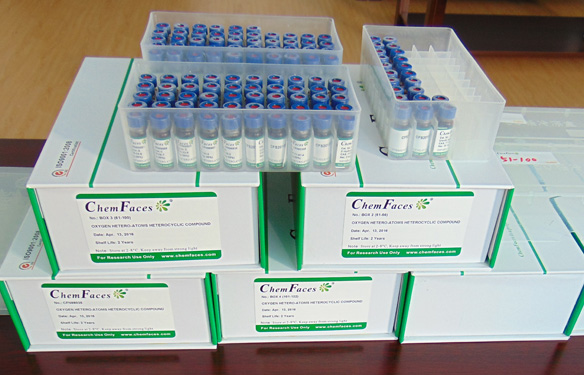 Providing storage is as stated on the product vial and the vial is kept tightly sealed, the product can be stored for up to
24 months(2-8C)
.
Wherever possible, you should prepare and use solutions on the same day. However, if you need to make up stock solutions in advance, we recommend that you store the solution as aliquots in tightly sealed vials at -20C. Generally, these will be useable for up to two weeks. Before use, and prior to opening the vial we recommend that you allow your product to equilibrate to room temperature for at least 1 hour.
Need more advice on solubility, usage and handling? Please email to: service@chemfaces.com
The packaging of the product may have turned upside down during transportation, resulting in the natural compounds adhering to the neck or cap of the vial. take the vial out of its packaging and gently shake to let the compounds fall to the bottom of the vial. for liquid products, centrifuge at 200-500 RPM to gather the liquid at the bottom of the vial. try to avoid loss or contamination during handling.
Oncotarget.2015, 6(31):30831-49
Antioxidants (Basel).2020, 9(2):E99
Phytomedicine.2016, 23(4):331-9
J of Engineering Science&Technology2018, 13(9):2820-2828
Evid Based Complement Alternat Med.2018, 2018:4259603
Oncotarget.2016, 8(51):88386-88400
Pharmacognosy Magazine2017, 13(52):868-874
BMC Complement Altern Med.2019, 19(1):325
J Agric Food Chem.2015, 63(44):9869-78
Food and Fermentation Industries2019, 45(7):45-51
Cells Tissues Organs. 2014;199(2-3):184-200.
Neuroprotective effect of didymin on hydrogen peroxide-induced injury in the neuronal membrane system.[Pubmed:
25412833
]

METHODS AND RESULTS:
In this study, the flavonoid Didymin was administered in vitro in neuronal cells after hydrogen peroxide (H2O2)-induced injury (neurorescue) in order to investigate the effects of this natural molecule on cell damage in a neuronal membrane system. The results showed the effects of Didymin in neuronal cells by using a polycaprolactone biodegradable membrane system as an in vitro model. Two major findings are presented in this study: first is the antioxidant property of Didymin and, second, for the first time we provide evidence concerning its ability to rescue neuronal cells from oxidative damage. Didymin showed radical scavenging activities and it protected the neuronal cells against H2O2-induced neurotoxicity. Didymin increased cell viability, decreased intracellular reactive oxygen species generation, stimulated superoxide dismutase, catalase and glutathione peroxidase activity in neuronal cells which were previously insulted with H2O2. In addition, Didymin strikingly inhibited H2O2-induced mitochondrial dysfunctions in terms of reduction of mitochondria membrane potential and the activation of cleaved caspase-3, and also decreased dramatically the H2O2-induced phosphorylation of c-Jun N-terminal kinase. Therefore, this molecule is capable of inducing recovery from oxidative damage, and promoting and/or restoring normal cellular conditions. Moreover, the mechanism underlying the protective effects of Didymin in H2O2-injured neuronal cells might be related to the activation of antioxidant defense enzymes as well as to the inhibition of apoptotic features, such as p-JNK and caspase-3 activation.
CONCLUSIONS:
These data suggest that Didymin may be a potential therapeutic molecule for the treatment of neurodegenerative disorders associated with oxidative stress.
Lung Cancer. 2010 Jun;68(3):366-74.
Didymin, a dietary flavonoid glycoside from citrus fruits, induces Fas-mediated apoptotic pathway in human non-small-cell lung cancer cells in vitro and in vivo.[Pubmed:
19733932
]
Epidemiological studies provided evidence that the high dietary intake of flavonoids with fruits and vegetables could be associated with lower cancer prevalence in humans. Didymin, a dietary flavonoid glycoside from citrus fruits, possesses antioxidant properties.
METHODS AND RESULTS:
This study first investigates the anticancer effect of Didymin in human non-small-cell lung cancer A549 and H460 cells. To identity the anticancer mechanism of Didymin, we assayed its effect on apoptosis, cell cycle distribution, and levels of p53, p21/WAF1, Fas/APO-1 receptor, and Fas ligand. The results showed that Didymin-induced apoptosis of A549 and H460 cells without mediation of p53 and p21/WAF1. We suggest that Fas/Fas ligand apoptotic system is the main pathway of Didymin-mediated apoptosis of A549 and H460 cells. Importantly, a novel chemotherapeutic agent for the treatment of non-small-cell lung cancer, and is supported by animal studies which have shown Didymin delay the tumor growth in nude mice.
CONCLUSIONS:
Our study reports here for the first time that the activity of the Fas/Fas ligand apoptotic system may participate in the antiproliferative activity of Didymin in A549 and H460 cells.
Cancer Prev Res (Phila). 2012 Mar;5(3):473-83.
Didymin induces apoptosis by inhibiting N-Myc and upregulating RKIP in neuroblastoma.[Pubmed:
22174364
]
Neuroblastomas arise from the neural crest cells and represent the most common solid tumors outside the nervous system in children. The amplification of N-Myc plays a primary role in the pathogenesis of neuroblastomas, whereas acquired mutations of p53 lead to refractory and relapsed cases of neuroblastomas. In this regard, dietary compounds which can target N-Myc and exert anticancer effects independent of p53 status acquire significance in the management of neuroblastomas.
METHODS AND RESULTS:
Hence, we investigated the anticancer properties of the flavonoid Didymin in neuroblastomas. Didymin effectively inhibited proliferation and induced apoptosis irrespective of p53 status in neuroblastomas. Didymin downregulated phosphoinositide 3-kinase, pAkt, Akt, vimentin, and upregulated RKIP levels. Didymin induced G(2)/M arrest along with decreasing the levels of cyclin D1, CDK4, and cyclin B1. Importantly, Didymin inhibited N-Myc as confirmed at protein, mRNA, and transcriptional level by promoter-reporter assays. High-performance liquid chromatography analysis of Didymin-treated (2 mg/kg b.w.) mice serum revealed effective oral absorption with free Didymin concentration of 2.1 μmol/L. Further in vivo mice xenograft studies revealed that Didymin-treated (2 mg/kg b.w.) animals had significant reductions in tumors size compared with controls. Didymin strongly inhibited the proliferation (Ki67) and angiogenesis (CD31) markers, as well as N-Myc expression, as revealed by the histopathologic examination of paraffin-embedded section of resected tumors.
CONCLUSIONS:
Collectively, our in vitro and in vivo studies elucidated the anticancer properties and mechanisms of action of a novel, orally active, and palatable flavonoid Didymin, which makes it a potential new approach for neuroblastoma therapy (NANT) to target pediatric neuroblastomas.
Cancer Prev Res (Phila). 2012 Jun;5(6):883; author reply 884-5.
Novel flavonoid didymin inhibits neuroblastomas--letter.[Pubmed:
22535881
]
Didymin induces apoptosis by inhibiting N-Myc and upregulating RKIP in neuroblastoma.