Liquiritin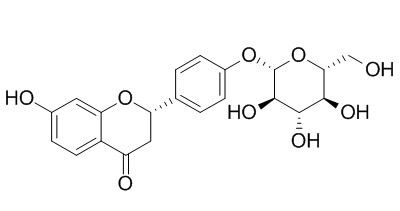 Liquiritin possesses antidepressant-like, neuroprotective , antioxidant, antiapoptosis, anti-inflammatory and anti-cancer abilities. Liquiritin can attenuate advanced glycation end products-induced endothelial dysfunction via RAGE/NF-κB pathway in human umbilical vein endothelial cells, it may be a promising agent for the treatment of vasculopathy in diabetic patients.
Inquire / Order: manager@chemfaces.com
Technical Inquiries: service@chemfaces.com
Tel: +86-27-84237783
Fax: +86-27-84254680

Address:
1 Building, No. 83, CheCheng Rd., Wuhan Economic and Technological Development Zone, Wuhan, Hubei 430056, PRC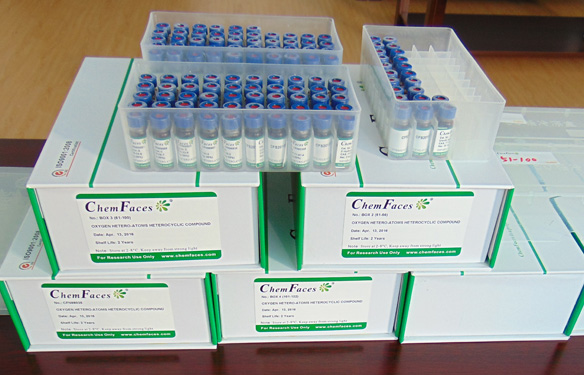 Providing storage is as stated on the product vial and the vial is kept tightly sealed, the product can be stored for up to
24 months(2-8C)
.
Wherever possible, you should prepare and use solutions on the same day. However, if you need to make up stock solutions in advance, we recommend that you store the solution as aliquots in tightly sealed vials at -20C. Generally, these will be useable for up to two weeks. Before use, and prior to opening the vial we recommend that you allow your product to equilibrate to room temperature for at least 1 hour.
Need more advice on solubility, usage and handling? Please email to: service@chemfaces.com
The packaging of the product may have turned upside down during transportation, resulting in the natural compounds adhering to the neck or cap of the vial. take the vial out of its packaging and gently shake to let the compounds fall to the bottom of the vial. for liquid products, centrifuge at 200-500 RPM to gather the liquid at the bottom of the vial. try to avoid loss or contamination during handling.
Pharm Biol.2021, 59(1):134-145.
J Ethnopharmacol.2019, 244:112074
South African Journal of Botany2021, 142:114-123.
Biomed Pharmacother.2021, 139:111585.
Int J Mol Sci.2022, 23(15):8687.
Oxid Med Cell Longev.2022, 2022:5888636.
J Korean Soc Food Sci Nutr2020, doi: 10.3746.
Int J Mol Sci.2018, 19(9):E2601
Sci Rep.2017, 7:40345
Am J Chin Med.2022, 1-20.
Biomed Chromatogr. 2014 Sep;28(9):1271-7.
Effect of liquiritin on human intestinal bacteria growth: metabolism and modulation.[Pubmed:
24616071
]
Licorice is one of the oldest and most frequently used prescribed traditional Chimese medicines. However, the route and metabolites of Liquiritin by human intestinal microflora are not well understood and its metabolites may accumulate to exert physiological effects.
METHODS AND RESULTS:
Therefore, our objective was to screen the ability of the bacteria to metabolize Liquiritin and assess the effect of this compound on the intestinal bacteria. Finally, six strains, comprising Bacteroides sp. 22 and sp.57, Veillonella sp. 31 and sp.48, Bacillus sp. 46 and Clostridium sp. 51, were isolated and their abilities to convert Liquiritin studied. A total of five metabolites were identified using ultra performance liquid chromatography/quadrupole time-of-flight mass spectrometry in human incubated solution. The results indicated that hydrolysis, hydrogenation, methylation, deoxygenation and acetylation were the major routes of metabolism of Liquiritin. On the other hand, effect of Liquiritin on different strains of intestinal bacteria growth was detected using an Emax precision microplate reader. Growth of certain pathogenic bacteria, such as Enterobacter, Enterococcus, Clostridium and Bacteroides, was significantly repressed by Liquiritin, while growth of commensal probiotics such as Lactobacillus and Bifidobacterium was less severely affected.
CONCLUSIONS:
Our observation provided further evidence for the importance of intestinal bacteria in the metabolism, and the potential activity of Liquiritin in human health and disease.
Mol Cell Biochem. 2013 Feb;374(1-2):191-201.
Liquiritin attenuates advanced glycation end products-induced endothelial dysfunction via RAGE/NF-κB pathway in human umbilical vein endothelial cells.[Pubmed:
23229233
]
Advanced glycation end products (AGEs)-induced vasculopathy, including oxidative stress, inflammation and apoptosis responses, contributes to the high morbidity and mortality of coronary artery diseases in diabetic patients.
METHODS AND RESULTS:
The present study was conducted to evaluate the protective activity of Liquiritin (Liq) on AGEs-induced endothelial dysfunction and explore its underlying mechanisms. After pretreatment with Liq, a significant reduction in AGEs-induced apoptosis, as well as reactive oxygen species generation and malondialdehyde level in human umbilical vein endothelial cells (HUVECs) were observed via acridine orange/ethidium bromide fluorescence staining test. Notably, Liq also significantly increased AGEs-reduced superoxide dismutase activity. Furthermore, the pretreatment with receptor for advanced glycation end products (RAGE)-antibody or Liq remarkably down-regulated TGF-beta1 and RAGE protein expressions and significantly blocked NF-κB activation which were proved by immunocytochemistry or immunofluorescence assays.
CONCLUSIONS:
These results indicated that Liq held potential for the protection on AGEs-induced endothelial dysfunction via RAGE/NF-κB pathway in HUVECs and might be a promising agent for the treatment of vasculopathy in diabetic patients.
Front Physiol . 2019 Jul 3
Liquiritin, as a Natural Inhibitor of AKR1C1, Could Interfere With the Progesterone Metabolism[Pubmed:
31333491
]
Low progesterone level is always linked with pre-term birth. Therefore, maintaining of progesterone level is vital during pregnancy. Aldo-keto reductase family one member C1 (AKR1C1) catalyzes the reduction of progesterone to its inactive form of 20-alpha-hydroxy-progesterone and thus limits the biological effect of progesterone. In our effort to identify the natural compound that would specifically inhibit AKR1C1, Liquiritin was found to be a selective and potent inhibitor of AKR1C1. Kinetic analyses in the S-(+)-1,2,3,4-tetrahydro-1-naphthol (s-tetralol) catalyzed by AKR1C1 in the presence of the inhibitors suggest that Liquiritin is a competitive inhibitor by targeting the residues Ala-27, Val-29, Ala-25, and Asn-56 of AKR1C1. In HEC-1-B cells, treatment with Liquiritin results in 85.00% of reduction in progesterone metabolism, which is mediated by AKR1C1 enzymatic activity. Overall, our study not only identify Liquiritin as an inhibitor against AKR1C1, but also reveal that Liquiritin may be served as a potential intervention strategy for preventing pre-term birth caused by low progesterone level.
Prog Neuropsychopharmacol Biol Psychiatry. 2008 Jul 1;32(5):1179-84.
Antidepressant-like effects of liquiritin and isoliquiritin from Glycyrrhiza uralensis in the forced swimming test and tail suspension test in mice.[Pubmed:
18289754
]

METHODS AND RESULTS:
Two classic animal behavior despair tests--the Forced Swimming Test (FST) and the Tail Suspension Test (TST) were used to evaluate the antidepressant activity of Liquiritin and isoLiquiritin from Glycyrrhiza uralensis in mice. It was observed that both Liquiritin and isoLiquiritin at doses of 10, 20 and 40 mg/kg significantly reduced the immobility time in the FST and TST in mice 30 min after treatment. Measurement of locomotor activity indicated that Liquiritin and isoLiquiritin had no central nervous system (CNS)-stimulating effects. The main monoamine neurotransmitters and their metabolites in mouse brain regions were also simultaneously determined by HPLC-ECD. It was found that these two compounds significantly increased the concentrations of the main neurotransmitters 5-HT and NE in the hippocampus, hypothalamus and cortex. Liquiritin and isoLiquiritin also significantly reduced the ratio of 5-HIAA/5-HT in the hippocampus, hypothalamus and cortex, slowing down 5-HT metabolism compared with mice treated with vehicle+stress.
CONCLUSIONS:
In conclusion, Liquiritin and isoLiquiritin produced significant antidepressant-like effects, and their mechanism of action may be due to increased 5-HT and NE in the mouse hippocampus, hypothalamus and cortex.
Mol Med Rep. 2014 Aug;10(2):818-24.
Liquiritin modulates ERK‑ and AKT/GSK‑3β‑dependent pathways to protect against glutamate‑induced cell damage in differentiated PC12 cells.[Pubmed:
24888902
]
Glutamate has a key role in the neuronal cell damage associated with Alzheimer's and Parkinson's diseases. Liquiritin (LQ), a major constituent of Glycyrrhiza Radix, possesses various pharmacological activities.
METHODS AND RESULTS:
The present study investigated the neuroprotective effect of LQ against glutamate‑induced cell damage in the differentiated PC12 (DPC12) rat pheochromocytoma cell line. Pretreatment with 25 and 50 µM LQ for 3 h resulted in a significant increase in cell viability and inhibited excessive lactate dehydrogenase release in glutamate‑exposed DPC12 cells. LQ also ameliorated glutamate‑induced nuclear and mitochondrial apoptotic alterations, intracellular calcium overload and the abnormal expression of apoptosis‑related proteins, including cytochrome c, B‑cell lymphoma (Bcl)‑2 and Bcl2‑associated X protein. Treatment with LQ alone or in combination with glutamate was found to enhance the phosphoactivation of extracellular signal‑regulated kinases (ERKs), AKT and its downstream element glycogen synthase kinase‑3β (GSK3β), in a time‑dependent manner. However, no effect was observed on the expression of total‑ERKs, ‑AKT and ‑GSK3β. Furthermore, pre‑incubation with 10 µM PD98059 or LY94002, inhibitors of ERK and phosphatidylinositide 3‑kinase, respectively, for 30 min significantly suppressed the LQ‑induced increase in glutamate‑exposed DPC12 cell viability.
CONCLUSIONS:
To the best of our knowledge, the present study provides the first experimental evidence that LQ has a neuroprotective effect against glutamate toxicity in DPC12 cells, predominantly through the ERK and AKT/GSK‑3β pathways. Therefore, LQ may have potential for the treatment of neurodegenerative diseases.
Cytotechnology. 2009 Jul;60(1-3):125-32.
Liquiritin potentiate neurite outgrowth induced by nerve growth factor in PC12 cells.[Pubmed:
19789989
]
Neurite outgrowth and neuronal differentiation play a crucial role in the development of the nervous system. Understanding of neurotrophins induced neurite outgrowth was important to develop therapeutic strategy for axon regeneration in neurodegenerative diseases as well as after various nerve injuries. It has been reported that extension of neurite and differentiation of sympathetic neuron-like phenotype was modulated by nerve growth factor (NGF) in PC12 cells.
METHODS AND RESULTS:
In this study, NGF mediated neurite outgrowth was investigated in PC12 cells after Liquiritin exposure. Liquiritin is a kind of flavonoids that is extracted from Glycyrrhizae radix, which is frequently used to treat injury or swelling for its life-enhancing properties as well as detoxification in traditional Oriental medicine. The result showed that Liquiritin significantly promotes the neurite outgrowth stimulated by NGF in PC12 cells in dose dependant manners whereas the Liquiritin alone did not induce neurite outgrowth. Oligo microarray and RT-PCR analysis further clarified that the neurotrophic effect of Liquiritin was related to the overexpression of neural related genes such as neurogenin 3, neurofibromatosis 1, notch gene homolog 2, neuromedin U receptor 2 and neurotrophin 5.
CONCLUSIONS:
Thus, Liquiritin may be a good candidate for treatment of various neurodegenerative diseases such as Alzheimer's disease or Parkinson's disease.
J Asian Nat Prod Res. 2010 Dec;12(12):1051-60.
Neuroprotective effect of liquiritin against focal cerebral ischemia/reperfusion in mice via its antioxidant and antiapoptosis properties.[Pubmed:
21128146
]

METHODS AND RESULTS:
Our present study was conducted to investigate whether Liquiritin (7-hydroxy-2-[4-[3,4,5-trihydroxy-6-(hydroxymethyl) oxan-2-yl] oxyphenyl]-chroman-4-one, 1), an active component of Glycyrrhiza uralensis Fisch., exerts a neuroprotective effect against focal cerebral ischemia/reperfusion (I/R) in male Institute of Cancer Research (ICR) mice. On the establishment of mice with middle cerebral artery occlusion (MCAO) for 2 h and reperfusion for 22 h, Liquiritin at the doses of 40, 20, and 10 mg/kg was administered before MCAO once a day intragastrically for a subsequent 3 days. Neurological deficits and infarct volume were measured, respectively. The levels of malondialdehyde (MDA) and carbonyl, activities of superoxide anion (SOD), catalase (CAT) and glutathion peroxidase (GSH-Px) and reduced glutathione/oxidized disulfide (GSH/GSSG) ratio in brain were estimated spectrophotometrically. 8-Hydroxy-2'-deoxyguanosine (8-OHdG) and terminal deoxynucleotidyl transferase-mediated DuTP-biotin nick end labeling (TUNEL)-positive cells were detected by immunohistochemical analysis. Our results showed that the neurological deficits, infarct volume, and the levels of MDA and carbonyl decreased, the ratio of GSH/GSSG and the activities of SOD, CAT, and GSH-Px were compensatorily up-regulated, and 8-OHdG and TUNEL-positive cells decreased after 22 h of reperfusion in Liquiritin-treated groups.
CONCLUSIONS:
These findings suggest that Liquiritin might be a potential agent against cerebral I/R injury in mice by its antioxidant and antiapoptosis properties.