Prunin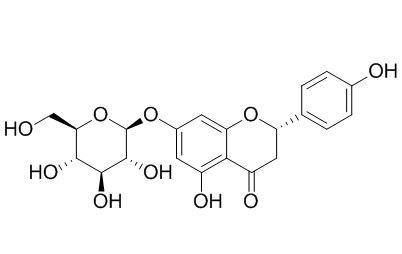 Prunin possesses anti-diabetic, and anti-abacterial properties, it can inhibit protein tyrosine phosphatase 1B (PTP1B) and stimulate glucose uptake in insulin-resistant HepG2 cells; it also can stimulate growth of Pseudomonas aeruginosa and different Bacilllus sp. Prunin exhibits a markedly enhanced solubility compared to naringenin and naringin while maintaining the in vitro inhibition of HMG-CoA reductase.
Inquire / Order: manager@chemfaces.com
Technical Inquiries: service@chemfaces.com
Tel: +86-27-84237783
Fax: +86-27-84254680

Address:
1 Building, No. 83, CheCheng Rd., Wuhan Economic and Technological Development Zone, Wuhan, Hubei 430056, PRC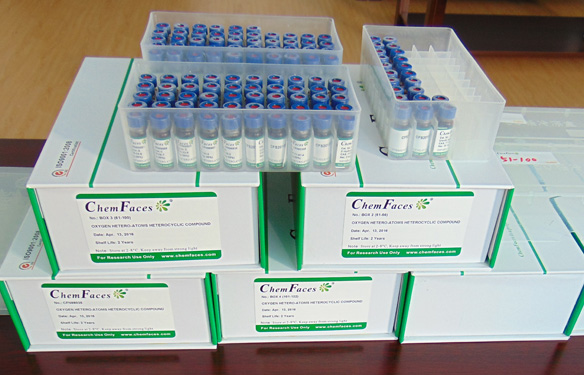 Providing storage is as stated on the product vial and the vial is kept tightly sealed, the product can be stored for up to
24 months(2-8C)
.
Wherever possible, you should prepare and use solutions on the same day. However, if you need to make up stock solutions in advance, we recommend that you store the solution as aliquots in tightly sealed vials at -20C. Generally, these will be useable for up to two weeks. Before use, and prior to opening the vial we recommend that you allow your product to equilibrate to room temperature for at least 1 hour.
Need more advice on solubility, usage and handling? Please email to: service@chemfaces.com
The packaging of the product may have turned upside down during transportation, resulting in the natural compounds adhering to the neck or cap of the vial. take the vial out of its packaging and gently shake to let the compounds fall to the bottom of the vial. for liquid products, centrifuge at 200-500 RPM to gather the liquid at the bottom of the vial. try to avoid loss or contamination during handling.
Nutr Cancer.2022, 1-13.
Molecules.2021, 26(9):2526.
J of Applied Biological Chem.2020, 63(2):147-152
Nat Prod Commun.2014, 9(5):679-82
Korean Journal of Pharmacognosy2018, 49(3):270-277
Molecules.2018, 23(7):E1659
Life (Basel).2021, 11(12):1399.
Molecules.2019, 24(21):E3834
Front Immunol.2017, 8:1542
LWT-Food Science and Technology2017, 75:488-496
Food Chem Toxicol. 2013 May;55:411-23.
Prunin- and hesperetin glucoside-alkyl (C4-C18) esters interaction with Jurkat cells plasma membrane: consequences on membrane physical properties and antioxidant capacity.[Pubmed:
23354392
]
Prunin (P)- and hesperetin glucoside (HG)-alkyl esters are lipid-soluble compounds with antimicrobial and antioxidant capacities in vitro.
METHODS AND RESULTS:
The effects of Prunin- and HG-alkyl (C4-C18) esters (0.1-100μM) on human leukemia T (Jurkat) cells viability and plasma membrane fluidity were evaluated. At this concentration, cell hyperpolarization and shrinkage were also observed. Cell plasma membrane fluidity was not affected, regardless the depths of the membrane level evaluated, but mild changes in plasma membrane hydration were found. Esterification did not affect the antioxidant capacity of Prunin and HG (0.1-10μM) against 1mM H2O2. When exposed to 1mM AAPH, P-alkyl esters retained Prunin antioxidant capacity, but HG-derivatives acted as pro-oxidants.
CONCLUSIONS:
Together, present experimental evidences suggest that short term exposures to 0.1-10μM concentrations of Prunin- and HG-alkyl (C4-C18) esters can be considered safe for cultured human cells, and further studies are required to investigate their long term effects, as well their safety for human consumption.
Food Chemistry, 2011, 124(1):234-241.
Purification and characterisation of Aspergillus sojae naringinase: The production of prunin exhibiting markedly enhanced solubility with in vitro inhibition of HMG-CoA reductase.[Reference:
WebLink
]
Aspergillus sojae isolated from a traditional Korean fermented soybean product exhibited strong naringinase activity.
METHODS AND RESULTS:
The naringinase enzyme was purified and had a molecular weight of 70kDa. The α-l-rhamnosidase activity of this enzyme was optimal at pH 6.0 and stable in the pH range of 5.5-8.0. The purified enzyme also had β-d-glucosidase activity, but the activity was relatively weak compared to the activity of the naringinase from Penicillium decumbens. The enzymatic bioconversion by A. sojae naringinase of naringin to Prunin was efficiently performed with a 91% yield and a negligible amount of naringenin. The bioconversion was achieved by repetitive batch reactions with enzyme recycling. Prunin exhibited a markedly enhanced solubility compared to naringenin and naringin while maintaining the in vitro inhibition of HMG-CoA reductase.
CONCLUSIONS:
The results reported in this paper show that the naringinase produced by A. sojae will be useful in enhancing the potential bioavailability of naringin by efficiently converting it to Prunin as a food component in citrus.
J Appl Microbiol. 2010 Oct;109(4):1450-7.
Antimicrobial properties of prunin, a citric flavanone glucoside, and its prunin 6″-O-lauroyl ester.[Pubmed:
20553344
]
To determine the antimicrobial potential of Prunin (P), a flavanone glucoside resulting from the hydrolysis of naringin present in grapefruit, and of its Prunin 6″-O-lauroyl ester (PL), synthesized by enzymatic catalysis.
METHODS AND RESULTS:
P and its lauroyl ester were tested against Gram-negative and Gram-positive bacteria, yeasts and moulds.Prunin showed no inhibitory effect against the micro-organisms assayed, but stimulated growth of Pseudomonas aeruginosa and different Bacilllus sp. A bactericidal effect was also determined on L. monocytogenes sensitive and bacteriocin-resistant mutant strains.Prunin did not show any antimicrobial property at all.
CONCLUSIONS:
PL is a potential antimicrobial compound with a high anti-Listeria property.
Arch Pharm Res. 2017 Jan;40(1):37-48.
Prunin is a highly potent flavonoid from Prunus davidiana stems that inhibits protein tyrosine phosphatase 1B and stimulates glucose uptake in insulin-resistant HepG2 cells.[Pubmed:
27798765
]
Prunin is the main flavonoid in Prunus davidiana stems and improves hyperglycemia and hyperlipidemia in streptozotocin-induced diabetic rats.
METHODS AND RESULTS:
The aim of this study was to investigate the in vitro anti-diabetic potential of Prunin via the inhibition of protein tyrosine phosphatase 1B (PTP1B), α-glucosidase, peroxynitrite (ONOO-)-mediated tyrosine nitration, and stimulation of glucose uptake in insulin-resistant hepatocytes. In addition, a molecular docking simulation was performed to predict specific Prunin binding modes during PTP1B inhibition. Prunin showed strong inhibitory activity against PTP1B, with an IC50 value of 5.5 ± 0.29 μM, and significant inhibitory activity against α-glucosidase, with an IC50 value of 317 ± 2.12 μM. Moreover, a kinetics study revealed that Prunin inhibited PTP1B (K i = 8.66) and α-glucosidase (K i = 189.56) with characteristics typical of competitive and mixed type inhibitors, respectively. Docking simulations showed that Prunin selectively inhibited PTP1B by targeting its active site and exhibited good binding affinity, with a docking score of -9 kcal/mol. Furthermore, Prunin exhibited dose-dependent inhibitory activity against ONOO--mediated tyrosine nitration and stimulated glucose uptake by decreasing PTP1B expression level in insulin-resistant HepG2 cells.
CONCLUSIONS:
These results indicate that Prunin has significant potential as a selective PTP1B inhibitor and may possess anti-diabetic properties by improving insulin resistance.