Desoxyanisoin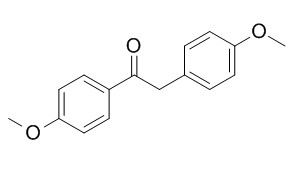 Desoxyanisoin could as efficiently transformed in seven steps into the platinum(II) complexes 1a–c.
Inquire / Order: manager@chemfaces.com
Technical Inquiries: service@chemfaces.com
Tel: +86-27-84237783
Fax: +86-27-84254680

Address:
1 Building, No. 83, CheCheng Rd., Wuhan Economic and Technological Development Zone, Wuhan, Hubei 430056, PRC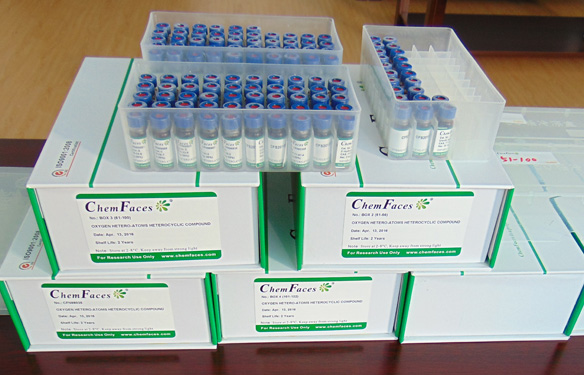 Providing storage is as stated on the product vial and the vial is kept tightly sealed, the product can be stored for up to
24 months(2-8C)
.
Wherever possible, you should prepare and use solutions on the same day. However, if you need to make up stock solutions in advance, we recommend that you store the solution as aliquots in tightly sealed vials at -20C. Generally, these will be useable for up to two weeks. Before use, and prior to opening the vial we recommend that you allow your product to equilibrate to room temperature for at least 1 hour.
Need more advice on solubility, usage and handling? Please email to: service@chemfaces.com
The packaging of the product may have turned upside down during transportation, resulting in the natural compounds adhering to the neck or cap of the vial. take the vial out of its packaging and gently shake to let the compounds fall to the bottom of the vial. for liquid products, centrifuge at 200-500 RPM to gather the liquid at the bottom of the vial. try to avoid loss or contamination during handling.
Am J Chin Med.2016, 44(8):1719-1735
Molecules.2019, 24(10):E1926
Phytother Res.2015, 29(7):1088-96
J of Essential Oil Research2019, 1677272
Molecules.2017, 22(11)
Food Chem Toxicol.2020, 135:110863
J of the Korean Society of Food Science and Nutrition2019, 32(2):148-154
Phytother Res.2019, 33(5):1490-1500
Pharm Biol.2017, 55(1):360-366
J Sci Food Agric.2017, 97(5):1656-1662
Journal of Applied Polymer Science.Volume 131, Issue 3, February 5, 2014
Reinforcing thermosets using crystalline desoxyanisoin structures[Reference:
WebLink
]
This article presents results on the potential of using crystalline flame retardants for thermoset reinforcement.
METHODS AND RESULTS:
The approach involves introducing reinforcement in thermosetting polymers through low molecular weight crystallizable additives. Thermally induced phase separation (TIPS) and crystallization of Desoxyanisoin in diglycidylether of bisphenol-A (DGEBA) epoxy monomer were investigated. Small angle light scattering and polarized optical microscopy were utilized to monitor phase separation and the crystallization of Desoxyanisoin in DGEBA at different concentrations. Reaction induced phase separation (RIPS) with polyetheramine was carried out under isothermal and temperature gradient curing conditions. Altering the cure schedule resulted in a rich range of morphologies due to the competition between TIPS and RIPS. During isothermal cure, straight fiber-like anisotropic crystals on a centimeter length scale developed.
CONCLUSIONS:
In contrast, thermal gradients frustrated the crystal growth and resulted in complex and rich morphologies. Desoxyanisoin provided marginal epoxy thermoset reinforcement at 10 vol %. However, the additive did not increase the thermoset flammability retardancy.
Canadian Journal of Chemistry, 1993, 71(9): 1327-1333, 10.1139/v93-171
Synthesis and preliminary in vitro biological activity of non-steroidal cytotoxic estrogens designed for the treatment of breast cancer[Reference:
WebLink
]
The development of resistance to endocrine therapy as well as chemotherapy is presently a major problem in the treatment of breast cancer.
METHODS AND RESULTS:
To minimize this obstacle, new, more selective and potent, chemotherapeutic agents should be designed. One way to improve selectivity is to link a cytotoxic moiety to a molecule possessing an affinity to the estrogen receptor (ER). The latter would be used to direct the cytotoxic portion of the molecule towards the target cells. Our initial approach led us to the synthesis of new triphenylethylene–platinum(II) complexes 1a–c. The commercially available Desoxyanisoin (10) was efficiently transformed in seven steps into the platinum(II) complexes 1a–c with an overall yield exceeding 30%.
CONCLUSIONS:
The biological activity of compounds 1a–c was evaluated in vitro on ER+ and ER− human breast tumor cell lines: MCF-7 and MDA-MD-231.