Triacetylresveratrol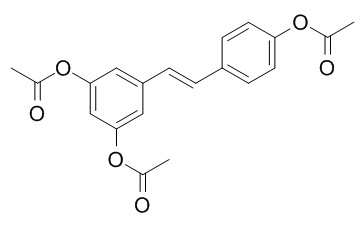 Triacetylresveratrol has anti-cancer activity,it inhibits the phosphorylation of STAT3 and NFκB, down-regulates Mcl-1, and up-regulates Bim and Puma in pancreatic cancer cells.
Inquire / Order: manager@chemfaces.com
Technical Inquiries: service@chemfaces.com
Tel: +86-27-84237783
Fax: +86-27-84254680

Address:
1 Building, No. 83, CheCheng Rd., Wuhan Economic and Technological Development Zone, Wuhan, Hubei 430056, PRC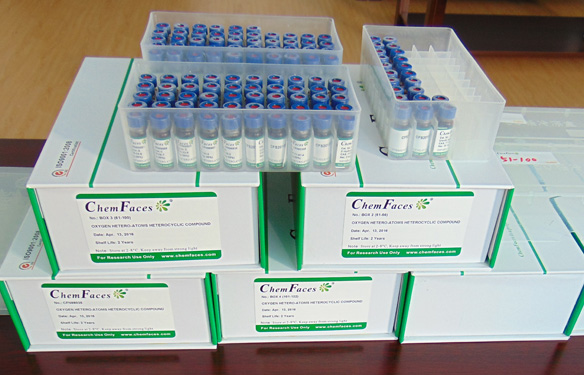 Providing storage is as stated on the product vial and the vial is kept tightly sealed, the product can be stored for up to
24 months(2-8C)
.
Wherever possible, you should prepare and use solutions on the same day. However, if you need to make up stock solutions in advance, we recommend that you store the solution as aliquots in tightly sealed vials at -20C. Generally, these will be useable for up to two weeks. Before use, and prior to opening the vial we recommend that you allow your product to equilibrate to room temperature for at least 1 hour.
Need more advice on solubility, usage and handling? Please email to: service@chemfaces.com
The packaging of the product may have turned upside down during transportation, resulting in the natural compounds adhering to the neck or cap of the vial. take the vial out of its packaging and gently shake to let the compounds fall to the bottom of the vial. for liquid products, centrifuge at 200-500 RPM to gather the liquid at the bottom of the vial. try to avoid loss or contamination during handling.
Environ Toxicol.2020, doi: 10.1002
Research Square2021, 10.21203.
Antioxidants (Basel).2020, 9(6):466.
Preprints2022, 202211.0388.v1.
Mol Neurobiol.2022, 02873-9.
Molecules.2022, 27(21):7514.
Processes2021, 9(11),2065.
Chemistr of plant2016, 2016021195
Phytomedicine.2018, 40:37-47
Antimicrob Agents Chemother.2020, AAC.01921-20.
Sci Rep. 2016 Aug 19;6:31672.
In vitro comparative studies of resveratrol and triacetylresveratrol on cell proliferation, apoptosis, and STAT3 and NFκB signaling in pancreatic cancer cells.[Pubmed:
27539371
]
Resveratrol (RES) has been studied extensively as an anticancer agent. However, the anticancer effects of Triacetylresveratrol (TRES, an acetylated analog of RES) which has higher bioavailability have not been well established.
METHODS AND RESULTS:
We comparatively evaluated their effects on cell proliferation, apoptosis and the molecular changes in STAT3, NFκB and apoptotic signaling pathways in pancreatic cancer cells. Apoptosis was determined by flow cytometry. The nuclear translocation and interaction of STAT3 and NFκB were detected by Western blotting and immunoprecipitation, respectively. Both TRES and RES inhibited cell viability, and induced apoptosis of pancreatic cancer cells in a concentration and incubation time-dependent manner. TRES, similarly to RES, inhibited the phosphorylation of STAT3 and NFκB, down-regulated Mcl-1, and up-regulated Bim and Puma in pancreatic cancer cells.
CONCLUSIONS:
Remarkably, we, for the first time, observed that both TRES and RES suppressed the nuclear translocation, and interrupted the interaction of STAT3 and NFκB in PANC-1 cells. Comparative anticancer effects of TRES and RES on pancreatic cancer suggested that TRES with higher bioavailability may be a potential agent for pancreatic cancer prevention and treatment. Further in vivo experiments and functional studies are warranted to investigate whether TRES exhibits better beneficial effects than RES in mice and humans.
Oncotarget. 2015 Jul 30;6(21):18282-92.
Novel chemical library screen identifies naturally occurring plant products that specifically disrupt glioblastoma-endothelial cell interactions.[Pubmed:
26286961
]
Tumor growth is not solely a consequence of autonomous tumor cell properties. Rather, tumor cells act upon and are acted upon by their microenvironment. It is tumor tissue biology that ultimately determines tumor growth. Thus, we developed a compound library screen for agents that could block essential tumor-promoting effects of the glioblastoma (GBM) perivascular stem cell niche (PVN). We modeled the PVN with three-dimensional primary cultures of human brain microvascular endothelial cells in Matrigel. We previously demonstrated stimulated growth of GBM cells in this PVN model and used this to assay PVN function.
METHODS AND RESULTS:
We screened the Microsource Spectrum Collection library for drugs that specifically blocked PVN function, without any direct effect on GBM cells themselves. Three candidate PVN-disrupting agents, Iridin, Tigogenin and Triacetylresveratrol (TAR), were identified and evaluated in secondary in vitro screens against a panel of primary GBM isolates as well as in two different in vivo intracranial models. Iridin and TAR significantly inhibited intracranial tumor growth and prolonged survival in these mouse models.
CONCLUSIONS:
Together these data identify Iridin and TAR as drugs with novel GBM tissue disrupting effects and validate the importance of preclinical screens designed to address tumor tissue function rather than the mechanisms of autonomous tumor cell growth.