Delta 5-avenasterol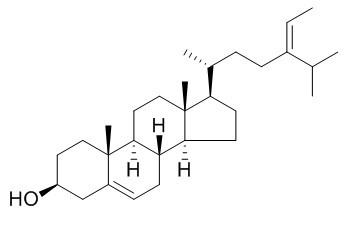 Delta 5-avenasterol has antioxidant activity.
Inquire / Order: manager@chemfaces.com
Technical Inquiries: service@chemfaces.com
Tel: +86-27-84237783
Fax: +86-27-84254680

Address:
1 Building, No. 83, CheCheng Rd., Wuhan Economic and Technological Development Zone, Wuhan, Hubei 430056, PRC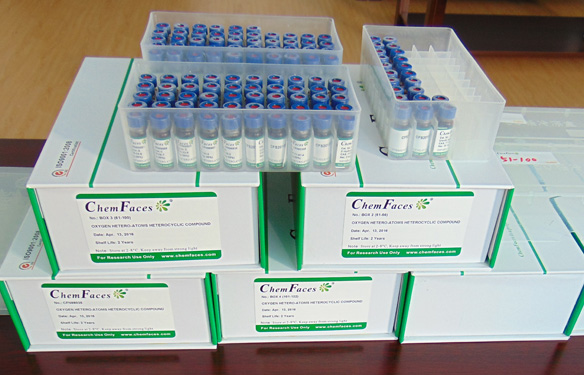 Providing storage is as stated on the product vial and the vial is kept tightly sealed, the product can be stored for up to
24 months(2-8C)
.
Wherever possible, you should prepare and use solutions on the same day. However, if you need to make up stock solutions in advance, we recommend that you store the solution as aliquots in tightly sealed vials at -20C. Generally, these will be useable for up to two weeks. Before use, and prior to opening the vial we recommend that you allow your product to equilibrate to room temperature for at least 1 hour.
Need more advice on solubility, usage and handling? Please email to: service@chemfaces.com
The packaging of the product may have turned upside down during transportation, resulting in the natural compounds adhering to the neck or cap of the vial. take the vial out of its packaging and gently shake to let the compounds fall to the bottom of the vial. for liquid products, centrifuge at 200-500 RPM to gather the liquid at the bottom of the vial. try to avoid loss or contamination during handling.
Neuropharmacology2019, 151437
Neurochem Int.2018, 121:114-124
Current Topics in Nutraceutical Research2021, 19(1),p90-105.
Molecules2022, 27(14):4601
Viruses2023, 15(6), 1377
Key Engineering Materials2022, 931(47-53).
Plant Biotechnology Reports 2021, 15:117-124.
Mol Pharm.2017, 14(9):3164-3177
Heinrich Heine University Dusseldorf2021, 62203.
Nutrients2020, 12(3):811.
J Agric Food Chem. 1999 Jan;47(1):121-7.
Effect of olive ripeness on the oxidative stability of virgin olive oil extracted from the varieties picual and hojiblanca and on the different components involved.[Pubmed:
10563859
]
The initial stability of virgin olive oil depends on various factors, among which are the variety and the degree of fruit ripeness. The former, which genetically determines the composition of the olive and its oil, also marks, to some extent, its stability. However, oil stability changes as the olive ripens, so it is obvious that the degree of ripeness is an important factor. The oils were obtained by the Abencor system.
METHODS AND RESULTS:
Acidity, peroxide index, UV absorption at 232 and 270 nm, sensory analysis, fatty acid composition, tocopherols, phenolic compounds, orthodiphenolic compounds, sterols, pigments, and oxidative stability were determined, and the results were analyzed statistically. During ripening there was a decrease in all of the parameters studied except linoleic acid, Delta 5-avenasterol, and oil content, which increased.
CONCLUSIONS:
Virgin oils showed very good correlation between stability and the concentrations of total phenols, o-diphenols, tocopherols, chlorophyll pigments and carotenoids, linoleic and linolenic acids, total sterols, beta-sitosterol, and Delta 5-avenasterol.
Phytother Res. 1999 Feb;13(1):78-80.
Topical antiinflammatory activity of phytosterols isolated from Eryngium foetidum on chronic and acute inflammation models.[Pubmed:
10189959
]
Eryngium foetidum L. (Apiaceae) is a Caribbean endemic plant, used in folk medicine for the treatment of several antiinflammatory disorders.
METHODS AND RESULTS:
A preliminary phytochemical study showed that the hexane extract is rich in terpenic compounds. Chromatographic fractionation of this extract yielded: alpha-cholesterol, brassicasterol, campesterol, stigmasterol (as the main component, 95%) clerosterol, beta-sitosterol, Delta 5-avenasterol, delta (5)24-stigmastadienol and delta 7-avenasterol. The topical antiinflammatory activity of the hexane extract and of stigmasterol was evaluated by auricular oedema, induced by 12-0-tetradecanoylphorbol acetate (TPA), in the mouse, using single and multiple applications of the phlogistic agent. Both reduced the oedema in a similar proportion in the two model assays (acute and chronic). Meloperoxidase activity was strongly reduced by both the extract and the compound, in the acute but not the chronic model.
CONCLUSIONS:
These results indicate that the leaves of Eryngium foetidum L may be effective against topical inflammation processes. Stigmasterol also exerts a significant topical antiinflammatory activity although it cannot be considered to be a major antiinflammatory agent, therefore other bioactive components are probably involved in the activity of the hexane extract.
Food Chemistry.1984;14(4):295–301.
Products from the autoxidation of Δ5-avenasterol.[Reference:
WebLink
]

METHODS AND RESULTS:
Comparison of the products from the oxidation of cholesterol and Delta 5-avenasterol indicates that similar oxidation products are formed by oxidation in the A and B rings of the sterols during the heating of solutions of these compounds in edible oils. However, the UV spectrum of the oxidation products indicates that at least one compound is formed from Delta 5-avenasterol which is not analogous to the oxidation products of cholesterol.
CONCLUSIONS:
The formation of 5,24(25),28-stigmastatrien-3β-ol is suggested as a possibility.