Coelonin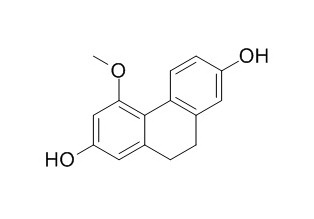 Coelonin shows moderate cytotoxic activity against HepG2 cells.
Inquire / Order: manager@chemfaces.com
Technical Inquiries: service@chemfaces.com
Tel: +86-27-84237783
Fax: +86-27-84254680

Address:
1 Building, No. 83, CheCheng Rd., Wuhan Economic and Technological Development Zone, Wuhan, Hubei 430056, PRC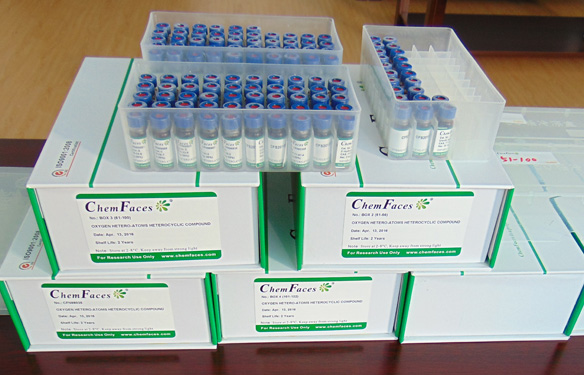 Providing storage is as stated on the product vial and the vial is kept tightly sealed, the product can be stored for up to
24 months(2-8C)
.
Wherever possible, you should prepare and use solutions on the same day. However, if you need to make up stock solutions in advance, we recommend that you store the solution as aliquots in tightly sealed vials at -20C. Generally, these will be useable for up to two weeks. Before use, and prior to opening the vial we recommend that you allow your product to equilibrate to room temperature for at least 1 hour.
Need more advice on solubility, usage and handling? Please email to: service@chemfaces.com
The packaging of the product may have turned upside down during transportation, resulting in the natural compounds adhering to the neck or cap of the vial. take the vial out of its packaging and gently shake to let the compounds fall to the bottom of the vial. for liquid products, centrifuge at 200-500 RPM to gather the liquid at the bottom of the vial. try to avoid loss or contamination during handling.
Nat Chem Biol.2018, 14(8):760-763
PLoS One.2018, 13(3):e0193386
Chemistry of Natural Compounds2019, 55(1):127-130
Evid Based Complement Alternat Med.2018, 2018:8565132
FEBS Lett.2015, 589(1):182-7
Cell Physiol Biochem.2017, 43(4):1425-1435
Drug Des Devel Ther.2020, 14:61-71
Anal Bioanal Chem.2018, 410(5):1561-1569
J Pharm Biomed Anal.2019, 172:268-277
J Pharm Biomed Anal2016, 118:183-194
Nat Prod Res. 2017 May 29:1-4.
Phenanthrenes from Arundina graminifolia and in vitro evaluation of their antibacterial and anti-haemolytic properties.[Pubmed:
28553728
]
Chemical investigation and activity test of Arundina graminifolia led to the isolation of six phenanthrenes: blestriarene A (1), shancidin (2), densiflorol B (3), ephemeranthoquinone (4), Coelonin (5) and lusianthridin (6).
METHODS AND RESULTS:
The isolated compounds demonstrated antibacterial and anti-haemolytic activities. It was found that compounds 1 and 2 had medium antibacterial activity against Staphylococcus aureus, Bacillus subtilis and Escherichia coli, with MICs of 20-40 μg/mL and MBCs of 40-320 μg/mL. Bactericidal mechanisms were explored. Rupture of cell wall and membrane and leakage of nuclear mass were observed by transmission electron microscopy (TEM). Moreover, compounds 1-3 attenuated the erythrocyte damage.
CONCLUSIONS:
Compounds 1 and 2 showed significant anti-haemolytic activity with inhibition rate about 50% at 16 μg/mL.
Nat Prod Res. 2017 Jul;31(13):1518-1522.
Phenolic compounds from the stems of Flickingeria fimbriata.[Pubmed:
28278646
]
Chemical investigation of Flickingeria fimbriata (Bl.) Hawkes (Orchidaceae) resulted in the isolation and identification of one new dihydrophenanthrene, 1,2,5,6,7-pentamethoxy-9,10-dihydrophenanthrene (1), together with seven known dihydrophenanthrenes, erianthridin (2), Coelonin (3), 4-methoxy-9,10-dihydrophenanthrene-1,2,7-triol (4), lusianthridin (5), ephemeranthol A (6), flavanthridin (7) and hircinol (8), four known phenanthrenes, epheranthol B (9), nudol (10), denthyrsinin (11) and confusarin (12), and one known bibenzyl, batatasin III (13).
METHODS AND RESULTS:
The structure of the new compound was elucidated by spectroscopic analysis (HRMS, 1D and 2D NMR). All the compounds were isolated from F. fimbriata for the first time except for compounds 5 and 12, and compounds 1, 3, 4, 8, 10, 11 and 13 were obtained from this genus for the first time. Compounds 1-4 showed moderate cytotoxic activity against HepG2 cells.
Zhongguo Zhong Yao Za Zhi. 2015 Feb;40(4):679-85.
Chemical constituents of Osmanthus fragrans.[Pubmed:
26137690
]
By Silica gel, Sephadex LH-20 and other materials for isolation and purification and by physicochemical methods and spectral analysis for structural identification, 32 compounds were isolated and identified from ethyl acetate portion of alcohol extract of the Osmanthus fragrans.
METHODS AND RESULTS:
Their structures were identified as boschniakinic acid (1), ursolaldehyde (2), augustic acid (3), arjunolic acid (4), 5-hydroxymethyl-2-furancarboxaldehyde (5), isoscutellarein (6), 6, 7-dihydroxycoumarin (7), 2α-hydroxy-oleanolic acid (8), quercetin-3-0-β-D-glu-copyranoside (9), D-allito (10), 5, 4'-dihydroxy-7- methoxyflavone-3-0-β-D-glucopyranoside (11), 5,7-dihydroxychromone (12), lupeol (13), naringenin (14), acetyloleanolic acid (15), chlorogenic acid (16), kaempferol-3-0-β- D-glucopyranoside (17), oleanolic acid (18), kaempferol-3-0-β-D-galactopyanoside (19), 3', 7-dihydroxy-4'-methoxyisoflavon (20), ergosta-4,6,8 (14), 22-tetraen-3-one (21), p-hydroxycinnamic acid (22), syringaresinol (23), 3,4-dihydroxyacetophenonel (24), β-sitosterol (25), ethyl p-hydroxyphenylacetate (26), benzoic acid (27), caffeic acid (28), Coelonin (29), p-hydorxy-phenylacetic acid (30), p-hydroxyacetophenone (31), and methyl-p-hydroxphenylacetate (32). Except for compounds 2, 4, 5, 8-11, 13, 15, 18, 20, 25, and 27, the rest were isolated from the Osmanthus fragrans for the first time.