Scopolin
Scopolin exhibits significant and dose-related antinociceptive effects, it is a potential acetylcholinesterase (AChE) inhibitor. Scopolin can reduce the clinical symptoms of rat AIA by inhibiting inflammation and angiogenesis, it may be a potent agent for angiogenesis related diseases.Scopolin and related coumarins has fungitoxic effect on Sclerotinia sclerotiorum, which is a way to overcome sunflower head rot.
Inquire / Order: manager@chemfaces.com
Technical Inquiries: service@chemfaces.com
Tel: +86-27-84237783
Fax: +86-27-84254680

Address:
1 Building, No. 83, CheCheng Rd., Wuhan Economic and Technological Development Zone, Wuhan, Hubei 430056, PRC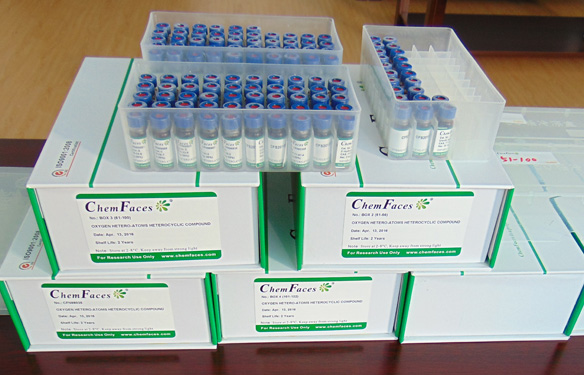 Providing storage is as stated on the product vial and the vial is kept tightly sealed, the product can be stored for up to
24 months(2-8C)
.
Wherever possible, you should prepare and use solutions on the same day. However, if you need to make up stock solutions in advance, we recommend that you store the solution as aliquots in tightly sealed vials at -20C. Generally, these will be useable for up to two weeks. Before use, and prior to opening the vial we recommend that you allow your product to equilibrate to room temperature for at least 1 hour.
Need more advice on solubility, usage and handling? Please email to: service@chemfaces.com
The packaging of the product may have turned upside down during transportation, resulting in the natural compounds adhering to the neck or cap of the vial. take the vial out of its packaging and gently shake to let the compounds fall to the bottom of the vial. for liquid products, centrifuge at 200-500 RPM to gather the liquid at the bottom of the vial. try to avoid loss or contamination during handling.
Front Cell Infect Microbiol.2018, 8:292
Korean J Dent Mater.2018, 45(2):139-146
British Jou. Med.&Med. Research2014, 1802-1811
Biochem Biophys Res Commun.2018, 505(4):1148-1153
Phytochem Anal.2016, 27(5):296-303
J Sep Sci.2018, 41(11):2488-2497
Sci Rep.2019, 9:12132
Int J Mol Sci.2018, 19(2)
Biomol Ther (Seoul).2019, 10.4062
J Med Food.2016, 19(12):1155-1165
Int Immunopharmacol. 2009 Jul;9(7-8):859-69.
Scopolin isolated from Erycibe obtusifolia Benth stems suppresses adjuvant-induced rat arthritis by inhibiting inflammation and angiogenesis.[Pubmed:
19327410
]
Despite Scopolin is a main coumarin constituent in the stems of Erycibe obtusifolia Benth, a herb drug that has long been utilized in traditional Chinese medicine for the treatment of rheumatoid arthritis, little information is available about the pharmacological activities of this compound. The present study was performed to investigate the anti-rheumatic effects of Scopolin in adjuvant-induced arthritis (AIA) in rats, and explore the underlying mechanisms of action in views of anti-inflammatory and anti-angiogenic properties in the synovial tissues.
METHODS AND RESULTS:
Scopolin (50, 100 mg/kg), injected intraperitoneally for 10 days from the onset of secondary response, significantly inhibited both inoculated and non-inoculated paw swelling as well as articular index scores in AIA. Meanwhile, the mean body weight of rats treated with Scopolin was higher than that of model group. Rats treated with high dose of Scopolin (100 mg/kg) preserved a nearly normal histological architecture of the joints and showed a significant reduction of the new blood vessels in the synovial tissues. Additionally, Scopolin could reduce IL-6, VEGF and FGF-2 expressions in rat synovial tissues.
CONCLUSIONS:
In conclusion, Scopolin can reduce the clinical symptoms of rat AIA by inhibiting inflammation and angiogenesis, and this compound may be a potent agent for angiogenesis related diseases and can serve as a structural base for screening more potent synthetic analogs.
Euphytica, 2006, 147(3):451-460.
Fungitoxic effect of scopolin and related coumarins on Sclerotinia sclerotiorum. A way to overcome sunflower head rot.[Reference:
WebLink
]
The content of coumarins, as probable phytoalexins, was analysed in four sunflower genotypes that ranged in responses to head rot from highly susceptible to highly resistant.
METHODS AND RESULTS:
Low levels of all coumarins (Scopolin, scopoletin and ayapin) were detected in the three most susceptible genotypes irrespective of time after inoculation. However, in the resistant genotype there was a clear time-dependent disease-induced increase of all coumarins that reached a maximum after 10–14 days. Detailed comparison of the most susceptible and the resistant genotype showed that in the resistant but not the susceptible, scopoletin peroxidase activity increased during the course of the experiment. Results confirmed a clear negative correlation between coumarin content and disease symptoms and in particular for Scopolin. Furthermore we show for the first time that Scopolin is inhibitory to Sclerotinia at similar doses to scopoletin.
CONCLUSIONS:
As Scopolin is known to be less phytotoxic than ayapin and scopoletin, its accumulation may well confer head rot resistance with minimal plant damage and might be one of the bases for resistance to Sclerotinia.
J Med Chem. 2004 Dec 2;47(25):6248-54.
Acetylcholinesterase inhibitory activity of scopolin and scopoletin discovered by virtual screening of natural products.[Pubmed:
15566295
]
For the targeting selection of acetylcholinesterase (AChE) inhibitors from natural sources we generated a structure-based pharmacophore model utilizing an in silico filtering experiment for the discovery of promising candidates out of a 3D multiconformational database consisting of more than 110,000 natural products.
METHODS AND RESULTS:
In our study, scopoletin (1) and its glucoside Scopolin (2) emerged as potential AChE inhibitors by the virtual screening procedure. They were isolated by different chromatographic methods from the medicinal plant Scopolia carniolica Jaqc. and tested in an enzyme assay using Ellman's reagent. They showed moderate, but significant, dose-dependent and long-lasting inhibitory activities. In the in vivo experiments (icv application of 2 micromol) 1 and 2 increased the extracellular acetylcholine (ACh) concentration in rat brain to about 170% and 300% compared to basal release, respectively. At the same concentration, the positive control galanthamine increased the ACh concentration to about the same level as 1.
CONCLUSIONS:
These are the first in vivo results indicating an effect of coumarins on brain ACh.
J Pharm Pharmacol. 2006 Jan;58(1):107-12.
Antinociceptive properties of coumarins, steroid and dihydrostyryl-2-pyrones from Polygala sabulosa (Polygalaceae) in mice.[Pubmed:
16393470
]
We have investigated the possible antinociceptive action of the extract, fractions and pure compounds obtained from the whole plant Polygala sabulosa A. W. Bennett (Polygalaceae) in acetic acid-induced visceral pain in mice.
METHODS AND RESULTS:
Intraperitoneal injection of animals with the hydroalcoholic extract and fractions (CH(2)Cl(2), EtOAc, n-BuOH, aqueous fraction) (1-100 mg kg(-1)) caused a dose-related and significant inhibition of the acetic acid-induced visceral nociceptive response. The CH(2)Cl(2), EtOAc and n-BuOH fractions were more potent than the hydroalcoholic extract and aqueous fraction. The isolated compounds dihydrostyryl-2-pyrones (1, 2, 3), styryl-2-pyrone (7), alpha-spinasterol (9), scopoletin (10) and two esters of the coumarin (scopoletin) obtained semisynthetically, acetylscopoletin (10a) and benzoylscopoletin (10b) (0.001-10 mg kg(-1)), exhibited significant and dose-related antinociceptive effects against acetic acid-induced visceral pain.
CONCLUSIONS:
The results distinguished, for the first time, the extract, fractions and pure compounds obtained from P. sabulosa that produced marked antinociception against the acetic acid-induced visceral nociceptive response, supporting the ethnomedical use of P. sabulosa.