Catechin 7-xyloside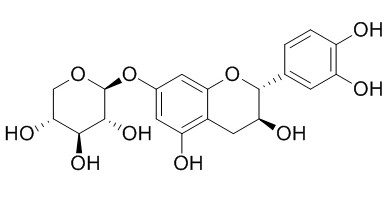 Catechin-7-O-xyloside has anti-cancer activity, it induces apoptosis via endoplasmic reticulum stress and mitochondrial dysfunction in human non-small cell lung carcinoma H1299 cells.
Inquire / Order: manager@chemfaces.com
Technical Inquiries: service@chemfaces.com
Tel: +86-27-84237783
Fax: +86-27-84254680

Address:
1 Building, No. 83, CheCheng Rd., Wuhan Economic and Technological Development Zone, Wuhan, Hubei 430056, PRC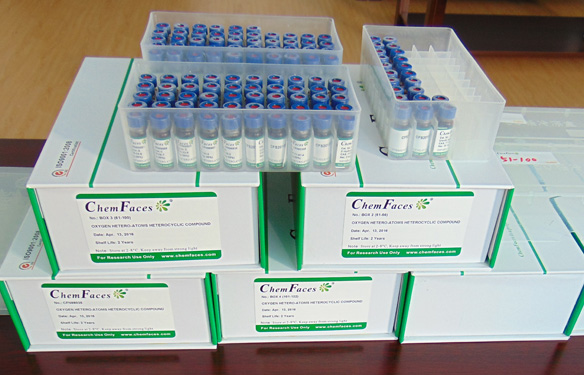 Providing storage is as stated on the product vial and the vial is kept tightly sealed, the product can be stored for up to
24 months(2-8C)
.
Wherever possible, you should prepare and use solutions on the same day. However, if you need to make up stock solutions in advance, we recommend that you store the solution as aliquots in tightly sealed vials at -20C. Generally, these will be useable for up to two weeks. Before use, and prior to opening the vial we recommend that you allow your product to equilibrate to room temperature for at least 1 hour.
Need more advice on solubility, usage and handling? Please email to: service@chemfaces.com
The packaging of the product may have turned upside down during transportation, resulting in the natural compounds adhering to the neck or cap of the vial. take the vial out of its packaging and gently shake to let the compounds fall to the bottom of the vial. for liquid products, centrifuge at 200-500 RPM to gather the liquid at the bottom of the vial. try to avoid loss or contamination during handling.
Molecules.2015, 20(10):19172-88
Phytomedicine.2018, 40:37-47
Cytotechnology.2017, 69(5):765-773
Natural Product Communications2020, doi: 10.1177.
Toxicological Research2020, doi: 10.1007.
J Chromatogr B Analyt Technol Biomed Life Sci. 2017, 1064:115-123
Sci Rep.2018, 8:15059
Molecules.2019, 24(10):E1930
FEBS Lett.2015, 589(1):182-7
Molecules.2018, 23(3):E615
Oncol. Rep., 2014, 31(1):314-20.
Catechin-7-O-xyloside induces apoptosis via endoplasmic reticulum stress and mitochondrial dysfunction in human non-small cell lung carcinoma H1299 cells.[Pubmed:
24213951
]
The medicinal plant Ulmus davidiana var. japonica has significant potential as a cancer chemoprevention agent. Catechin 7-O-xyloside (Catechin 7-xyloside,C7Ox) was purified from ultrafine U. davidiana var. japonica ethanol extract.
METHODS AND RESULTS:
In the present study, we investigated the apoptotic effect of C7Ox in the non-small cell lung cancer (NSCLC) cell line H1299. C7Ox treatment induced cell death and decreased plasma membrane integrity, an event typical of apoptosis. C7Ox-induced apoptosis was associated with the proteolytic activation of caspase-6, cleavage of poly(ADP-ribose) polymerase (PARP) and loss of mitochondrial membrane potential. C7Ox also induced the endoplasmic reticulum (ER) stress-regulated pro-apoptotic transcription factor CHOP. The suppression of CHOP expression significantly decreased C7Ox-induced cell death, LDH leakage and caspase-6 activation. Antitumor effects, evaluated based on protracted tumor regression, were observed when nude-mice bearing H1299 xenografts were treated with C7Ox. C7Ox-induced tumor regression was accompanied by enhanced expression of CHOP mRNA.
CONCLUSIONS:
Our data suggest that C7Ox can trigger mitochondrial-mediated apoptosis, and that ER stress is critical for C7Ox-induced apoptosis in H1299 NSCLC cells.