Catechin 3-rhamnoside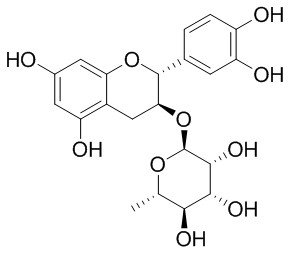 Catechin 3-rhamnoside has antioxidant activity.
Inquire / Order: manager@chemfaces.com
Technical Inquiries: service@chemfaces.com
Tel: +86-27-84237783
Fax: +86-27-84254680

Address:
1 Building, No. 83, CheCheng Rd., Wuhan Economic and Technological Development Zone, Wuhan, Hubei 430056, PRC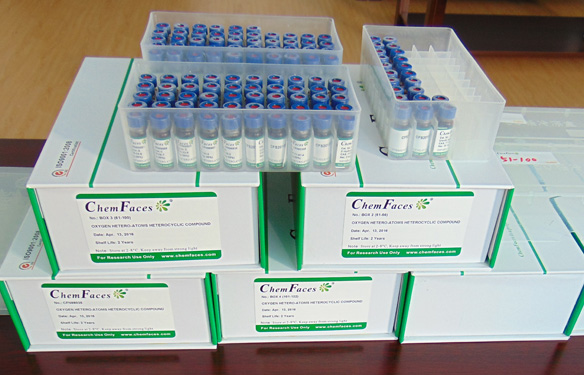 Providing storage is as stated on the product vial and the vial is kept tightly sealed, the product can be stored for up to
24 months(2-8C)
.
Wherever possible, you should prepare and use solutions on the same day. However, if you need to make up stock solutions in advance, we recommend that you store the solution as aliquots in tightly sealed vials at -20C. Generally, these will be useable for up to two weeks. Before use, and prior to opening the vial we recommend that you allow your product to equilibrate to room temperature for at least 1 hour.
Need more advice on solubility, usage and handling? Please email to: service@chemfaces.com
The packaging of the product may have turned upside down during transportation, resulting in the natural compounds adhering to the neck or cap of the vial. take the vial out of its packaging and gently shake to let the compounds fall to the bottom of the vial. for liquid products, centrifuge at 200-500 RPM to gather the liquid at the bottom of the vial. try to avoid loss or contamination during handling.
Korean J. Medicinal Crop Sci.2018, 26(2):148-156
PLoS One.2018, 13(11):e0208055
Anal Sci.2019, 35(12):1317-1325
FEMS Microbiol Lett.2017, 364(11)
Plant Physiol Biochem.2019, 144:355-364
Sci Rep. 2018, 10590
University of Central Lancashire2017, 20472
J Chromatogr B Analyt Technol Biomed Life Sci.2018, 1080:27-36
Tea Res. Ins. Of China2017, 1-12
J Med Food.2016, 19(12):1155-1165
J. Biomol. Res. Ther., 2012, 1(1):1-6.
Three - (-) Catechin-O-Rhamnosides from the Eastern Nigeria Mistletoe with Potent Immunostimulatory and Antioxidant Activities[Reference:
WebLink
]
In an attempt to provide further convincing evidence for the variously reported immunomodulatory potentials of mistletoes, bioassay-guided fractionation of the eastern Nigeria mistletoe afforded three compounds: - (-) catechin- 7-O-rhamnoside (1), - (-) catechin-3-O- rhamnoside (Catechin 3-rhamnoside,2) and a 4′-methoxy-7-O-rhamnoside (3).
METHODS AND RESULTS:
Their effects on C57BL6 mice splenocytes proliferation and expression of CD69 molecule were determined using flow cytometry techniques and compared to Lipopolysaccharide (LPS; 10 μg/ml) and Concanavalin A (ConA; 2 μg/ml) as standards. The antioxidant study was by the DPPH model with ascorbic acid as standard. The compounds (1-3) at 100 μg/ml showed statistically significant (p<0.05) stimulatory activity with values of 91.49 ± 0.22%, 95.17 ± 0.01% and 94.23 ± 0.07% respectively compared to 2.65 ± 0.33% for the unstimulated control. However, the CD69 expression assay showed only moderate stimulation. Their measured antioxidant potentials (effective concentration; EC50) were high (≤ 55.42 ± 0.99 mg/ml) when compared to ascorbic acid (17.6 ± 1.78 mg/ml). Characterization of the compounds was achieved by chromatographic and spectroscopic methods.