Batatasin III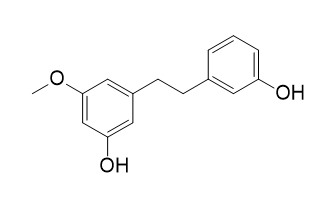 Batatasin III may have a long-term inhibitory effect on whole plant growth, shows germination inhibitory activity. Batatasin III may impose a lethal effect on the aquatic fauna in small streams.
Inquire / Order: manager@chemfaces.com
Technical Inquiries: service@chemfaces.com
Tel: +86-27-84237783
Fax: +86-27-84254680

Address:
1 Building, No. 83, CheCheng Rd., Wuhan Economic and Technological Development Zone, Wuhan, Hubei 430056, PRC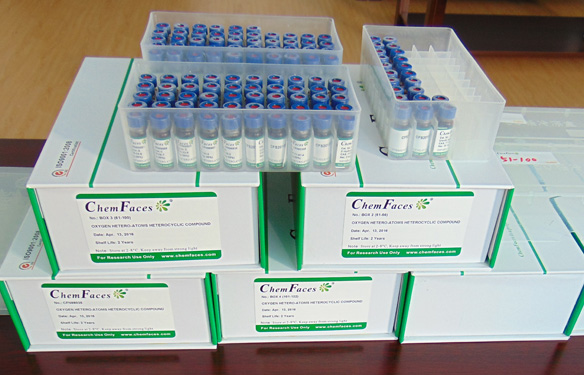 Providing storage is as stated on the product vial and the vial is kept tightly sealed, the product can be stored for up to
24 months(2-8C)
.
Wherever possible, you should prepare and use solutions on the same day. However, if you need to make up stock solutions in advance, we recommend that you store the solution as aliquots in tightly sealed vials at -20C. Generally, these will be useable for up to two weeks. Before use, and prior to opening the vial we recommend that you allow your product to equilibrate to room temperature for at least 1 hour.
Need more advice on solubility, usage and handling? Please email to: service@chemfaces.com
The packaging of the product may have turned upside down during transportation, resulting in the natural compounds adhering to the neck or cap of the vial. take the vial out of its packaging and gently shake to let the compounds fall to the bottom of the vial. for liquid products, centrifuge at 200-500 RPM to gather the liquid at the bottom of the vial. try to avoid loss or contamination during handling.
J Ethnopharmacol.2020, 249:112381
Plant Growth Regulation2020, 90(2):383-392
Biochem Biophys Res Commun.2020, 522(1):40-46
J Nat Med.2018, 72(3):734-744
Industrial Crops and Products2019, 140:111612
Phytomedicine.2018, 38:45-56
Sci Rep.2019, 9(1):18080
Nat Prod Commun.2018, 10.1177
Int J Mol Sci.2018, 19(9):E2601
Am J Chin Med.2015, 30:1-22
J Chem Ecol. 2004 Jan;30(1):215-27.
Potential toxic effect on aquatic fauna by the dwarf shrub Empetrum hermaphroditum.[Pubmed:
15074667
]
The common evergreen dwarf shrub Empetrum hermaphroditum has influence on the functioning of boreal terrestrial ecosystems in northern Sweden. The negative effects of E. hermaphroditum are partly attributed to the production of the dihydrostilbene, Batatasin III, which is released from leaves and litter by rain and snowmelt.
METHODS AND RESULTS:
In this study, we investigated whether Batatasin III is carried by runoff into streams and lakes during the snowmelt period and whether it is also potentially hazardous to aquatic fauna. The maximum concentration of Batatasin III found was 1.06 mg l(-1). The proportion of dead yolk sac alevins increased significantly (P < 0.001) with increasing concentrations of Batatasin III and time of exposure. After 24 hr, EC50 was 10 mg l(-1). It was 2 mg l(-1) after 48 hr. The effect of phenol was negligible, indicating a specific phytotoxic effect of the bibenzyl structure of Batatasin III. The proportion of mobile D. magna became significantly smaller (P < 0.001) with increasing concentrations of Batatasin III, with decreasing pH, and with increasing exposure time. EC50 varied between 7 and 17 mg l(-1) at pH 5.5 and 7.0, respectively. After 24 hr EC50 decreased and was 2.5 at pH 5.5 and 12 mg l(-1) at pH 7.0. The levels of Batatasin III found in the field samples were below the lowest EC50 in acute toxicity tests.
CONCLUSIONS:
However, in view of the interactive effect of pH and exposure time, this study suggests that this stable plant metabolite may impose a lethal effect on the aquatic fauna in small streams.
Physiol Plant. 2001 Nov;113(3):368-376.
The inhibition of ammonium uptake in excised birch (Betula pendula) roots by batatasin-III.[Pubmed:
12060282
]
We investigated whether Batatasin III has the potential to interfere with NH4+ uptake in birch (Betula pendula) roots.
METHODS AND RESULTS:
Excised birch roots were exposed to Batatasin III during brief periods in 15NH4+ solutions, and then analyzed for labeled N. Batatasin III inhibited N-NH4+ uptake by 28, 89 and 95% compared with the control, when roots were treated with 0.1, 1.0 and 2.8 mM of Batatasin III, respectively. The effect of 1.0-mM Batatasin III was greater at pH 4.2 than at pH 6.8. In addition, the inhibition of N-NH4+ uptake by Batatasin III was not reversed after rinsing the roots in water and transferring them to a Batatasin III free solution. Furthermore, birch seedlings immersed in a 1.0-mM Batatasin III solution for 2 h, and then replanted in pots with soil, had decreased growth, such that 10 weeks after treatment, the dry mass of both shoots and roots was reduced by 74 and 73%, respectively, compared with control seedlings. This suggests that a brief exposure to Batatasin III may have a long-term inhibitory effect on whole plant growth. Using plasma membrane vesicles isolated from easily extractable spinach (Spinacia oleracea) leaves, it was found that Batatasin III strongly inhibited proton pumping in isolated plasma membrane vesicles, while it only slightly inhibited ATP hydrolytic activity. The uncoupling of proton pumping from ATP hydrolytic activity suggests that Batatasin III disturbs membrane integrity.
CONCLUSIONS:
This hypothesis was further supported by a greater efflux of ions from birch roots immersed in a Batatasin III solution than from roots in a control solution.