Arjunolic acid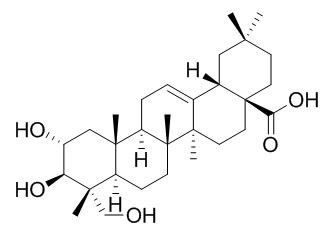 Arjunolic acid has antioxidant, anti-inflammatory, antinociceptive and anticholinesterasic (AChE and BuChE) activities, it may as promising targets for the development of innovative multi-functional medicines for Alzheimer desease treatment.Arjunolic acid protects cardiac tissues from both extrinsic and intrinsic cell death pathways.Arjunolic acid exhibits better protection against histamine release than against acetylcholine release, anti-asthmatic and anaphylactic activity of it may be possibly due to membrane stabilizing potential and inhibition of antigen induced histamine and acetylcholine release. Arjunolic acid protects cardiac tissues from both extrinsic and intrinsic cell death pathways, it also has antitumor activity.
Inquire / Order: manager@chemfaces.com
Technical Inquiries: service@chemfaces.com
Tel: +86-27-84237783
Fax: +86-27-84254680

Address:
1 Building, No. 83, CheCheng Rd., Wuhan Economic and Technological Development Zone, Wuhan, Hubei 430056, PRC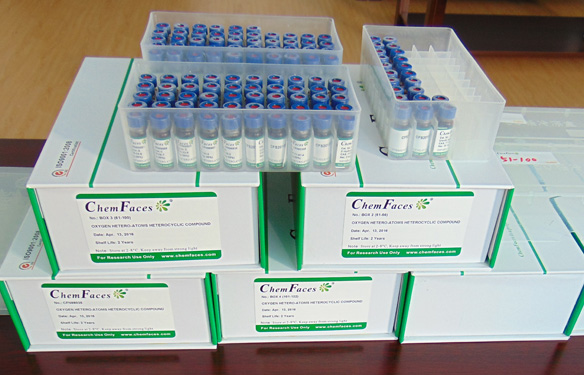 Providing storage is as stated on the product vial and the vial is kept tightly sealed, the product can be stored for up to
24 months(2-8C)
.
Wherever possible, you should prepare and use solutions on the same day. However, if you need to make up stock solutions in advance, we recommend that you store the solution as aliquots in tightly sealed vials at -20C. Generally, these will be useable for up to two weeks. Before use, and prior to opening the vial we recommend that you allow your product to equilibrate to room temperature for at least 1 hour.
Need more advice on solubility, usage and handling? Please email to: service@chemfaces.com
The packaging of the product may have turned upside down during transportation, resulting in the natural compounds adhering to the neck or cap of the vial. take the vial out of its packaging and gently shake to let the compounds fall to the bottom of the vial. for liquid products, centrifuge at 200-500 RPM to gather the liquid at the bottom of the vial. try to avoid loss or contamination during handling.
Arch Biochem Biophys.2018, 644:93-99
Phytother Res.2019, 33(7):1784-1793
Food Chem.2019, 276:768-775
Eur J Pharm Sci.2016, 94:33-45
Mol Immunol. 2016, 78:121-132
Appl Biol Chem2019, 62:46
Phytomedicine.2019, 59:152785
Evid Based Complement Alternat Med.2019, 2019:2135351
Chemistry of Plant Materials.2016, 33-46
Molecules.2018, 23(9):E2121
Biochimie. 2013 Jun;95(6):1098-109.
Arjunolic acid: a new multifunctional therapeutic promise of alternative medicine.[Pubmed:
23402784
]
In recent years, a number of studies describing the effective therapeutic strategies of medicinal plants and their active constituents in traditional medicine have been reported. Indeed, tremendous demand for the development and implementation of these plant derived biomolecules in complementary and alternative medicine is increasing and appear to be promising candidates for pharmaceutical industrial research. These new molecules, especially those from natural resources, are considered as potential therapeutic targets, because they are derived from commonly consumed foodstuff and are considered to be safe for humans.
METHODS AND RESULTS:
This review highlights the beneficial role of Arjunolic acid, a naturally occurring chiral triterpenoid saponin, in various organ pathophysiology and the underlying mechanism of its protective action. Studies on the biochemistry and pharmacology suggest the potential use of Arjunolic acid as a novel promising therapeutic strategy. WHAT THE READERS WILL GAIN: The multifunctional therapeutic application of Arjunolic acid has already been documented by its various biological functions including antioxidant, anti-fungal, anti-bacterial, anticholinesterase, antitumor, antiasthmatic, wound healing and insect growth inhibitor activities. The scientific basis behind its therapeutic application as a cardioprotective agent in traditional medicine is justified by its ability to prevent myocardial necrosis and apoptosis, platelet aggregation, coagulation and lowering of blood pressure, heart rate, as well as cholesterol levels. Its antioxidant property coupled with metal chelating property (by its two hydroxyl groups) protects different organs from metal and drug-induced organ pathophysiology. Arjunolic acid also plays a beneficial role in the pathogenesis of diabetes and its associated complications. The mechanism of cytoprotection of Arjunolic acid, at least in part, results from the detoxification of reactive oxygen species (ROS) produced in the respective pathophysiology. In addition to its other biological functions, it also possesses vibrant insecticidal properties and it has the potential to be used as a structural molecular framework for the design of molecular receptors in the general area of supramolecular chemistry and nanochemistry. Esters of Arjunolic acid function as organogelators which has wide application in designing thermochromic switches and sensor devices. Arjunolic acid derived crown ether is an attractive candidate for the design of molecular receptors, biomimetics and supramolecular systems capable of performing some biological functions.
CONCLUSIONS:
This review would provide useful information about the recent progress of natural product research in the domain of clinical science. This review also aims to untie the multifunctional therapeutic application of Arjunolic acid, a nanometer-long naturally occurring chiral triterpenoid biomolecule.
Biomed Pharmacother. 2016 Aug;82:28-34.
Anti-tumor activity of arjunolic acid against Ehrlich Ascites Carcinoma cells in vivo and in vitro through blocking TGF-β type 1 receptor.[Pubmed:
27470335
]
We aimed to evaluate therapeutic potential of Arjunolic acid (AA), in Terminalia Arjuna bark, on Ehrlich Ascites carcinoma (EAC) in-vivo and in-vitro. EAC was induced in fifty female Swiss albino mice.
METHODS AND RESULTS:
Two doses of AA was used 100 and 250mg/kg. Arjunulic acid reduced tumor volume and cells count. AA decreased EAC cells viability and increased cell toxicity. Moreover, AA reduced TNF-α, IL-1β, TGF-β, TGF-β type I receptor and latency-associated peptide levels associated with elevated IL-10 in-vivo and in-vitro.
CONCLUSIONS:
In conclusion, AA produced antitumor activity against EAC by increasing cytotoxicity and apoptosis and partially blocking the TGF-βR1 and affecting inflammatory cytokine levels.
Nat. Prod. Sci., 2004, 10(5):240-3.
Antiallergic and anti-asthmatic activities of the alcoholic extract of Terminalia arjuna and arjunolic acid.[Reference:
WebLink
]
In the present study, the alcoholic extract of Terminalia arjuna (TA) and Arjunolic acid (AA) were studied for its anti-asthmatic and anaphylactic activity.
METHODS AND RESULTS:
Treatment with TA (250 & 500 mg/kg) and AA (50 & 100 mg/kg) has shown significant protection against mast cell disruption in rats induced by compound 48/80. TA and AA also protected the guinea pig against histamine as well as acetylcholine induced bronchospasm. Both TA & AA exhibited better protection against histamine release than against acetylcholine release.
CONCLUSIONS:
Anti-asthmatic and anaphylactic activity may be possibly due to membrane stabilizing potential and inhibition of antigen induced histamine and acetylcholine release.
Life Sci. 2014 Aug 28;111(1-2):18-26.
Protective effects of arjunolic acid against cardiac toxicity induced by oral sodium nitrite: effects on cytokine balance and apoptosis.[Pubmed:
25064822
]
Sodium nitrite, a preservative used in meat products, helps in the production of free radicals, leading to increased lipid peroxidation, which plays a vital role in posing toxic effects in different body organs. On the other hand, Arjunolic acid possesses antioxidant properties and plays protective roles against chemically induced organ pathophysiology. We investigated the effect of sodium nitrite on cardiac tissue in rats on the inflammatory cytokine balance and the type of induced apoptosis, and we analyzed the protective role of Arjunolic acid.
METHODS AND RESULTS:
Sixty adult male Sprague-Dawley rats were injected with 80mg/kg sodium nitrite in the presence/absence of Arjunolic acid (100 and 200mg/kg). Cardiac pro-inflammatory cytokines (TNF-α and IL-1β), c-reactive protein (CRP) and anti-inflammatory cytokines (IL-4 and IL-10) were measured by ELISA. Cardiac mitochondrial activity (cytochrome-C-oxidase), JNK activation and apoptosis (caspase-3, caspase-8 and caspase-9) were assessed. Sodium nitrite resulted in increased TNF-α (1.6-fold), IL-1β (3.7-fold) and CRP (2.4-fold) levels accompanied by 52%, 59% and 40% reductions in IL-10, IL-4 and cytochrome-C-oxidase, respectively, as well as enhanced JNK, caspase-3, caspase-8 and caspase-9 activities. Arjunolic acid markedly ameliorated these effects.
CONCLUSIONS:
Arjunolic acid attenuated sodium nitrite-induced cardiac damage in rats and restored the normal balance between pro- and anti-inflammatory cytokines. Moreover, Arjunolic acid protected cardiac tissues from both extrinsic and intrinsic cell death pathways.
J Biochem Mol Toxicol. 2014 Nov;28(11):515-21.
Cisplatin-induced testicular toxicity in rats: the protective effect of arjunolic acid.[Pubmed:
25130312
]

METHODS AND RESULTS:
In the present study, the effect of Arjunolic acid on testicular damage induced by intraperitoneal injection of rats with 7 mg/kg cisplatin was studied. Cisplatin induced a significant reduction in testicular weights, plasma testosterone, and testicular reduced glutathione levels in addition to a significant elevation of testicular malondialdehyde levels and testicular gene expressions of inducible nitric oxide synthase (iNOS), tumor necrosis factor-α (TNF-α), and p38 mitogen-activated protein kinase (MAPK) when compared with the control group (p < 0.05). Lower tubular diameters and depletion of germ cells and irregular small seminiferous tubules with Sertoli cells only were observed in the cisplatin group. Arjunolic acid administration significantly corrected the changes in both biochemical and histopathological parameters.
CONCLUSIONS:
Arjunolic acid plays a significant protective role against cisplatin-induced testicular injury by attenuating oxidative stress parameters along with downregulation of iNOS, TNF-α, and p38-MAPK testicular expressions.
Biochimie. 2015 May;112:20-34.
Protective effect of arjunolic acid against atorvastatin induced hepatic and renal pathophysiology via MAPK, mitochondria and ER dependent pathways.[Pubmed:
25736991
]
3-Hydroxy-3-methylglutaryl-CoA reductase inhibitor, atorvastatin (ATO), is a highly effective drug used for the treatment of hypercholesterolemia and hypertriglyceridemia. Its application is restricted now-a-days due to several acute and chronic side effects. ATO induced anti hypercholesterolemia and hepatic tissue toxicity has been reported to follow different mechanisms.
METHODS AND RESULTS:
The present study has been carried out to investigate the protective role of Arjunolic acid (AA) against ATO induced oxidative impairment and cell death in hepatic and renal tissue in mice. Administration of ATO (at a dose 30 mg/kg/day for 8 weeks) enhanced serum markers, increased reactive oxygen species (ROS) production and altered the pro oxidant-antioxidant status of liver and kidney tissues. Our experimental evidence suggests that ATO exposure induces apoptotic cell deathby the activation of caspase-3 and reciprocal regulation of Bcl-2/Bax with the concomitant reduction of mitochondrial membrane potential and increased level of cytosolic cytochrome c, Apaf1, caspase-9. Besides, ATO markedly increased the phosphorylation of MAPKs, enhanced caspase-12 and calpain level. Histological studies and DNA fragmentation analysis also support the toxic effect of ATO in these organs pathophysiology. Post treatment with AA (at a dose of 20 mg/kg body weight for 4 days), however, reduced ATO-induced oxidative stress and suppressed all these apoptotic events.
CONCLUSIONS:
Results suggest that AA could effectively and extensively counteract these adverse effects and might protect liver and kidney from ATO-induced severe tissue toxicity.
J. Brazil. Chem. Soc., 2005, 16(6B):1309-12.
Arjunolic acid in the ethanolic extract of Combretum leprosum root and its use as a potential multi-functional phytomedicine and drug for neurodegenerative disorders: Anti-inflammatory and anticholinesterasic activities.[Reference:
WebLink
]
Combretum leprosum Mart. & Eicher (Combretaceae) leaves and roots ethanolic extracts were investigated by HRGC-MS and showed mono- and oligosaccharides, fatty acids and triterpenes as major compounds after derivatization with BSTFA/ TMCS. Arjunolic acid (1) was quantified on dried roots ethanolic extract (65%) by external standard. Anti-inflammatory, antinociceptive and anticholinesterasic (AChE and BuChE) activities were observed for roots ethanolic extract of C. leprosum and Arjunolic acid, suggesting both as promising targets for the development of innovative multi-functional medicines for Alzheimer desease treatment.
Curr Top Med Chem. 2014;14(8):1022-32.
Modes of action of arjunolic acid and derivatives on Trypanosoma cruzi cells.[Pubmed:
24660682
]
Chagas disease causes considerable morbimortality in the Americas, with circa 7 to 8 million infected people, causing at least 12,000 annual deaths and 100 million people at risk. Its chemotherapy is poorly selective and effective, associated to severe side effects and unresponsive cases. Thus, R&D on therapeutic alternatives is undoubtedly required.
METHODS AND RESULTS:
The Brazilian poorly studied biodiversity offers uncountable bioagents, which may be exploited for chemotherapy. The triterpene Arjunolic acid (AA), reduced the Trypanosoma cruzi epimastigote in vitro proliferation with an apparent IC₅₀ of 171 µM. Electron microscopy analysis revealed remarkable effects on the parasite surface and architecture. AA-treated parasites displayed minutely corrugated plasma membranes devoid of subpellicular microtubules as well as biogenesis of multiple basal bodies. As the AA effects appeared mainly restricted or originated at the parasite peripheral cytoplasm, including the cytoskeleton membrane linkage, we inferred that the compound targeted primarily the lipid bilayer; therefore, we performed synthetic modification to increase the molecule lipophilicity and thus membrane permeability. The methyl ester (MeAA) and tri-acetylated derivatives (3AcAA) had potentiated trypanocidal activity, producing IC₅₀ values of 21.9 and 15.8 µM, respectively. Both derivatives were able to produce remarkable ultrastructural alterations in the parasites, including inner compartments such as Golgi apparatus and the endocytic/autophagic pathway. Parasites cultured with both derivatives displayed numerous and large autophagic vacuoles, altered flagellar length and cell body connection.
CONCLUSIONS:
These data indicate that synthetically-modified natural products comprise valuable tools in antiparasitic chemotherapy and that electron microscopy may be useful not only in determining the mechanisms of action but also in directing such modifications for rational drug design.