7-Methoxy-4-methylcoumarin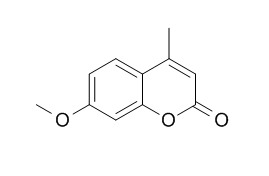 7-Methoxy-4-methylcoumarin is a coumarin derivative and fluorescent label, it displays good activity against B. subtilis.
Inquire / Order: manager@chemfaces.com
Technical Inquiries: service@chemfaces.com
Tel: +86-27-84237783
Fax: +86-27-84254680

Address:
1 Building, No. 83, CheCheng Rd., Wuhan Economic and Technological Development Zone, Wuhan, Hubei 430056, PRC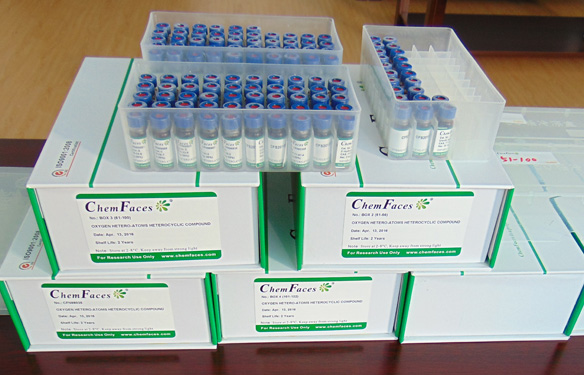 Providing storage is as stated on the product vial and the vial is kept tightly sealed, the product can be stored for up to
24 months(2-8C)
.
Wherever possible, you should prepare and use solutions on the same day. However, if you need to make up stock solutions in advance, we recommend that you store the solution as aliquots in tightly sealed vials at -20C. Generally, these will be useable for up to two weeks. Before use, and prior to opening the vial we recommend that you allow your product to equilibrate to room temperature for at least 1 hour.
Need more advice on solubility, usage and handling? Please email to: service@chemfaces.com
The packaging of the product may have turned upside down during transportation, resulting in the natural compounds adhering to the neck or cap of the vial. take the vial out of its packaging and gently shake to let the compounds fall to the bottom of the vial. for liquid products, centrifuge at 200-500 RPM to gather the liquid at the bottom of the vial. try to avoid loss or contamination during handling.
Srinagarind Medical Journal2019, 34(1)
Phytother Res.2019, 33(5):1490-1500
Food Res Int.2018, 106:909-919
Phytomedicine.2018, 38:45-56
Molecules.2019, 24(6):E1155
Exp Parasitol.2017, 183:160-166
Evid Based Complement Alternat Med.2015, 2015:165457
Biochem Biophys Res Commun.2019, 518(4):732-738
Nat Commun.2019, 10(1):5169
J Pharm Anal.2016, 6(6):363-373
Pak J Pharm Sci. 2015 May;28(3):819-23.
Potential antibacterial activity of coumarin and coumarin-3-acetic acid derivatives[Reference:
WebLink
]
Coumarin and coumarin-3-acetic acid derivatives were synthesized by reacting phenols with malic acid, ethyl acetoacetate and ethyl acetylsuccinate in appropriate reaction conditions.
METHODS AND RESULTS:
All synthesized compounds were subjected to test for their antimicrobial activities against variety of gram positive (Bacillus subtilis, Staphylococcus aureus) and gram negative bacterial stains (Shigella sonnei, Escherichia coli) by agar dilution method. Several of them exhibited appreciable good antibacterial activity against the different strains of gram positive and gram negative bacteria. These findings suggest a great potential of these compounds for screening and use as antibacterial agents for further studies with a battery of bacteria. Minimal inhibitory concentration values shows that experimental compounds were found less active in comparison to standard drug ciprofloxacin but showed parallel activity to moxifloxacin. From table 3, it can be concluded that all the compounds have displayed good activity against B. subtilis.
CONCLUSIONS:
Compounds were enough active against this bacterial strain especially 7-Methoxy coumarin (1), 7-Methyl coumarin (4), 6-methylcoumarin (5), 4,6-Dimethylcoumarin (7), 7-Methoxy-4-methylcoumarin (8) and 7-Methoxy-4-methylcoumarin-3- acetic acid (17). 6-Methylcoumarin (5), 7-methoxy-4- methylcoumarin (8) and 6-aminocoumarin-3-acetic acid (12) showed excellent activities against B. subtilis even better than standard drug amoxifloxacin.
Journal of Chromatography A, 1985 , 328 :111-20.
4-methyl-7-methoxycoumarin as a fluorescent label for high-performance liquid chromatographic analysis of dicarboxylic acids[Reference:
WebLink
]
4-methyl-7-methoxycoumarin(7-Methoxy-4-methylcoumarin) as a fluorescent label for high-performance liquid chromatographic analysis of dicarboxylic acids