Zingerone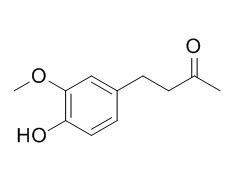 Zingerone has anti-mutagenic, anti-carcinogenic, anti-obesity,anti-oxidative and anti-inflammatory activities. Zingerone can be recommended as a supplement to shrimp feed to increase growth, immunity, and disease resistance against the pathogen, V.alginolyticus , use of zingerone as appetizer and immunostimulant in shrimp is promising. It could as potential phytotherapeutic agent which in future can be employed to formulate preventive strategies against biofilm associated infections caused by P.aeruginosa.
Inquire / Order: manager@chemfaces.com
Technical Inquiries: service@chemfaces.com
Tel: +86-27-84237783
Fax: +86-27-84254680

Address:
1 Building, No. 83, CheCheng Rd., Wuhan Economic and Technological Development Zone, Wuhan, Hubei 430056, PRC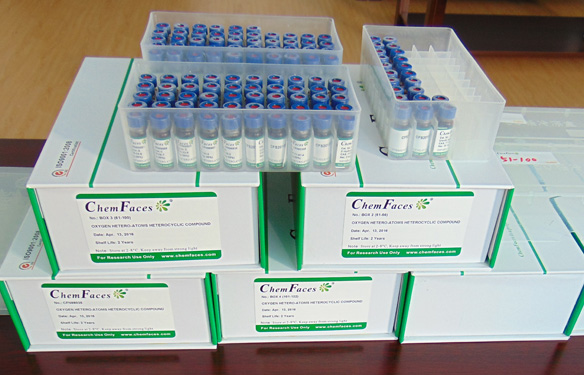 Providing storage is as stated on the product vial and the vial is kept tightly sealed, the product can be stored for up to
24 months(2-8C)
.
Wherever possible, you should prepare and use solutions on the same day. However, if you need to make up stock solutions in advance, we recommend that you store the solution as aliquots in tightly sealed vials at -20C. Generally, these will be useable for up to two weeks. Before use, and prior to opening the vial we recommend that you allow your product to equilibrate to room temperature for at least 1 hour.
Need more advice on solubility, usage and handling? Please email to: service@chemfaces.com
The packaging of the product may have turned upside down during transportation, resulting in the natural compounds adhering to the neck or cap of the vial. take the vial out of its packaging and gently shake to let the compounds fall to the bottom of the vial. for liquid products, centrifuge at 200-500 RPM to gather the liquid at the bottom of the vial. try to avoid loss or contamination during handling.
PLoS One.2018, 13(4):e0195642
Biochem Biophys Res Commun.2018, 505(1):261-266
Current Pharmaceutical Analysis2017, 13(5)
Evid Based Complement Alternat Med.2018, 2018:8565132
Srinagarind Medical Journal2017, 32(1)
J. Soc. Cosmet. Sci. Korea2016, 163-171
J Pharm Biomed Anal.2019, 164:119-127
Phytomedicine.2019, 59:152785
Aquaculture2019, 510:392-399
Braz J Med Biol Res. 2016, 49(7)
Life Sci. 2014 Nov 4;117(1):24-32.
Structural alterations in Pseudomonas aeruginosa by zingerone contribute to enhanced susceptibility to antibiotics, serum and phagocytes.[Pubmed:
25277943
]
Excessive use of antibiotics has led to evolutionary adaptation resulting in emergence of multidrug resistance in P. aeruginosa. The aim of the present study was oriented towards exploiting Zingerone (active component of ginger) in making P. aeruginosa more susceptible to killing with antibiotics, humoral/cellular defences and studying its underlying mechanism.
METHODS AND RESULTS:
Effect of Zingerone treatment on antibiotic susceptibility, serum, and phagocytic killing of P. aeruginosa was studied. The underlying mechanism was evaluated in terms of cell surface hydrophobicity, alginate and LPS production. TNF-α and MIP-2 cytokine production by mouse macrophages was also checked. Structural analysis was carried out using scanning electron microscopy (SEM) and liquid chromatography-mass spectrometry (LC-MS) analysis. Zingerone treated cells showed increased susceptibility to variety of antibiotics, serum as well as macrophages (p<0.05). Zingerone treatment significantly reduced cell surface hydrophobicity, alginate and LPS production (p<0.05). Zingerone treated cells showed significant decrease in TNF-α and MIP-2 cytokine production as compared to non-treated cells. Coupled with this, reduction in the production of extracellular protective matrix and modulation of chemical structure of LPS was also observed by scanning electron microscopy and liquid chromatography-mass spectrometric (LC-MS) respectively. Zingerone significantly influence surface structure of P. aeruginosa which contributes towards enhanced susceptibility to antibiotics and innate immune system.
CONCLUSIONS:
Use of phytochemicals may prove to be a novel therapeutic approach by enhancing susceptibility of pathogenic microorganisms to antibiotics and immune system. Zingerone has proved to be one such agent which can be employed as a potential anti-virulent drug candidate against P. aeruginosa infections.
Exp Gerontol. 2010 Jun;45(6):419-26.
Modulation of age-related NF-kappaB activation by dietary zingerone via MAPK pathway.[Pubmed:
20211236
]
Zingerone, a major component found in ginger root, has been known as anti-mutagenic and anti-carcinogenic activities that are often associated with its anti-oxidative and anti-inflammatory activities.
METHODS AND RESULTS:
In recent studies, we examined molecular mechanism of Zingerone treatment on pro-inflammatory NF-kappaB activation via the redox-related NIK/IKK and MAPK pathways. Action mechanism of Zingerone on NF-kappaB signaling was investigated in aged rat kidney and endothelial cells. The results showed that Zingerone had not only the antioxidant effect by constitutive suppression of ROS, but also anti-inflammatory effects by suppression of nuclear factor (NF)-kappaB activation in aged rat. In addition, Zingerone treatment suppressed gene activation of pro-inflammatory enzymes, COX-2 and iNOS, which were upregulated with aging through NF-kappaB activation and IKK/MAPK signaling pathway. These experiments strongly indicate that Zingerone treatment exerts a beneficial efficacy by suppressing both oxidative stress and age-related inflammation through the modulation of several key pro-inflammatory genes and transcription factors.
CONCLUSIONS:
Thus, the significance of our findings is that the Zingerone treatment may provide some preventive measure against chronic inflammatory conditions that underlie many age-related inflammatory diseases, such as metabolic syndrome, cardiovascular disease, dementia, arthritis, diabetes, osteoprosis, and cancers.
Fish Shellfish Immunol. 2012 Feb;32(2):284-90.
Dietary administration of zingerone to enhance growth, non-specific immune response, and resistance to Vibrio alginolyticus in Pacific white shrimp (Litopenaeus vannamei) juveniles.[Pubmed:
22173270
]
Zingerone, one of the active components of ginger, is a phenolic alkanone with antioxidant and anti-inflammatory properties. The effects of Zingerone supplementation on the growth, immunity, and disease resistance of Pacific white shrimp (Litopenaeus vannamei) juveniles were studied. Four experimental diets, including a control diet (without Zingerone enrichment) and 1, 2.5, and 5 mg Zingerone (kg diet)(-1) were used. After 56 days of culture, shrimp fed diets supplemented with 1, 2.5, and 5 mg Zingerone (kg diet)(-1) had significantly greater weight gain and feed efficiency than the controls. Furthermore, after 56 days of culture, shrimp fed all doses of the Zingerone diet had higher survival rates compared to the controls after 24-72 h of challenge by the pathogen, Vibrio alginolyticus. Significantly increased phenoloxidase levels were found in shrimp fed the Zingerone diets at all doses, and respiratory bursts, lysozyme and phagocytic activities of shrimp fed 2.5 and 5 mg Zingerone (kg diet)(-1) also significantly increased. Neither the total hemocyte count nor superoxide dismutase activity of the experimental and control groups revealed significant differences at any dose. The results indicate that Zingerone can be recommended as a supplement to shrimp feed to increase growth, immunity, and disease resistance against the pathogen, V. alginolyticus. Use of Zingerone as appetizer and immunostimulant in shrimp is promising.
Int.J.Pharmacol., 2011, 7(5):629-34.
Lipolytic Effects of Zingerone in Adipocytes Isolated from Normal Diet-Fed Rats and High Fat Diet-Fed Ra[Reference:
WebLink
]
Zingerone is a non-volatile pungent compound mostly found in ginger which is a herbal medicine used for various purposes. The anti-obesity actions of ginger and Zingerone have also been documented.
METHODS AND RESULTS:
This study was aimed to investigate the effects of Zingerone on adipocyte lipolysis in adipocytes isolated from Normal Pellet Diet (NPD)-fed rats and High Fat Diet (HFD)-fed rats. Adipocyte suspensions were prepared from the epididymal fat pads of male Wistar rats by using the collagenase digestion method. The concentrations of Free Fatty Acid (FFA) in the incubation media were used as an index of adipocyte lipolysis. Zingerone at the concentration of 1,000 mu M significantly increased both basal lipolysis and isoprenaline (0.1 mu M)-induced lipolysis in adipocytes derived from the NPD-fed rats with the FFA concentrations of 682.92 +/- 37.00 mu M mL(-1) Packed Cell Volume (PCV)/ h and 1,361.51 +/- 62.90uM mu L-1 PCV/ h, respectively (p<0.05; n = 4). In adipocytes derived from the HFD-fed rats, Zingerone at any concentration tested had no effect on the basal lipolysis. Zingerone only at the concentration of 100 mu M significantly stimulated the isoprenaline-induced lipolysis with the FFA concentration of 1,383.88 +/- 36.73 mu M mL(-1) PCV/ h (p<0.05; n = 4) in adipocytes derived from the HFD-fed rats.
CONCLUSIONS:
In conclusion, Zingerone appeared to produce less lipolytic actions in adipocytes derived from the HFD-fed rats. The reason for the lower lipolytic response to Zingerone in HFD-derived adipocytes should be investigated further, especially in the molecular aspects.
Int Immunopharmacol. 2014 Mar;19(1):103-9.
Zingerone attenuates lipopolysaccharide-induced acute lung injury in mice.[Pubmed:
24412620
]
Zingerone, one of the active components of ginger, is a phenolic alkanone with antioxidant and anti-inflammatory properties. In the present study, we analyzed the role of Zingerone against RAW 264.7 cells and acute lung injury induced by lipopolysaccharide (LPS) in mice. RAW cells or BALB/c mice were pretreated with Zingerone one hour before stimulated with LPS. We found that Zingerone significantly inhibited the production of LPS-induced proinflammatory cytokines in vitro and in vivo. When pretreated with Zingerone, pulmonary histopathologic changes, as well as alveolar hemorrhage and neutrophil infiltration were substantially suppressed in lung tissues, with evidence of reduced myeloperoxidase (MPO) activity in murine acute lung injury model. The lung wet-to-dry weight (W/D) ratios, as the index of pulmonary edema, were markedly decreased by Zingerone pretreatment. Furthermore, we demonstrated that Zingerone attenuates the mitogen-activated protein kinases (MAPK) and nuclear factor-kappaB (NF-κB) signaling pathways through blocking the phosphorylation of ERK, p38/MAPK and IκBα, NF-κB/P65. These results suggest that Zingerone may provide protective effects against LPS-induced ALI.
Eur J Cancer Prev. 2014 Sep;23(5):361-71.
Chemopreventive effect of zingerone against colon carcinogenesis induced by 1,2-dimethylhydrazine in rats.[Pubmed:
23903760
]
Animal Models: Male albino Wistar rats
Formulation: ---
Dosages:40 mg/kg
Administration: p.o.