Vaccarin
Vaccarin exhibits extensive biological activities including vascular endothelial cell protective effects, it can significantly promote neovascularization by enhancing protein expression of p-Akt , p‑Erk, and CD31, and selectively protect vascular endothelium from dysfunction induced by H2O2.
Inquire / Order: manager@chemfaces.com
Technical Inquiries: service@chemfaces.com
Tel: +86-27-84237783
Fax: +86-27-84254680

Address:
1 Building, No. 83, CheCheng Rd., Wuhan Economic and Technological Development Zone, Wuhan, Hubei 430056, PRC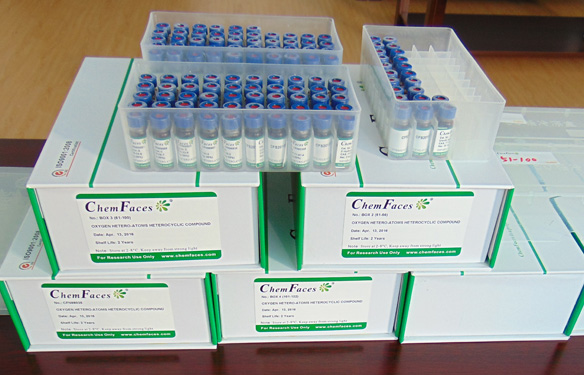 Providing storage is as stated on the product vial and the vial is kept tightly sealed, the product can be stored for up to
24 months(2-8C)
.
Wherever possible, you should prepare and use solutions on the same day. However, if you need to make up stock solutions in advance, we recommend that you store the solution as aliquots in tightly sealed vials at -20C. Generally, these will be useable for up to two weeks. Before use, and prior to opening the vial we recommend that you allow your product to equilibrate to room temperature for at least 1 hour.
Need more advice on solubility, usage and handling? Please email to: service@chemfaces.com
The packaging of the product may have turned upside down during transportation, resulting in the natural compounds adhering to the neck or cap of the vial. take the vial out of its packaging and gently shake to let the compounds fall to the bottom of the vial. for liquid products, centrifuge at 200-500 RPM to gather the liquid at the bottom of the vial. try to avoid loss or contamination during handling.
Appl. Sci.2020, 10(20),7374.
Phytomedicine.2021, 84:153501.
Korean Journal of Pharmacognosy.2020, 51(2):100-106
Research J. Pharm. and Tech.2020, 13(7):3059-3064.
Nat Prod Commun.2018, 10.1177
Universidade Estadual Paulista2017, 11449
Food Analytical Methods2017, 10:3225-3234
Evid Based Complement Alternat Med.2018, 2018:8565132
Mol Med Rep.2022, 25(1):8.
Plants (Basel).2021, 10(6):1119.
Mol Med Rep. 2015 Jul;12(1):1131-6.
Vaccarin promotes endothelial cell proliferation in association with neovascularization in vitro and in vivo.[Pubmed:
25815517
]
Angiogenesis is a major pathological component of several diseases, including traumatic vascular disease and coronary heart disease. The purpose of the present study was to determine the effects of Vaccarin on endothelial cell migration and neovascularization, which are important and necessary components of wound healing.
METHODS AND RESULTS:
The present study investigated and confirmed neovascularization induced by Vaccarin in vitro and in vivo. In vitro, the effects of Vaccarin (1.08 and 2.15 µM) on proliferation, migration and tube formation of human microvascular endothelial cells (HMEC)-1 were evaluated via sulforhodamine B assay and migration and tube formation assay, respectively. Furthermore, a mouse Matrigel plus model was used to detect capillary-like tube structures in vivo. Immunohistochemistry was used to detect the protein expression of cluster of differentiation 31 (CD31), p-AKT and p-extracellular-signal-regulated kinases (Erk). Vaccarin significantly promoted HMEC-1 proliferation and migration and tube formation of HMEC-1 at a dose of 2.15 µM. In vivo, Vaccarin delivered by daily oral administration significantly improved epidermal growth factor-induced angiogenesis in an intradermal inoculation mouse model.
CONCLUSIONS:
The mouse Matrigel model study also revealed that Vaccarin significantly promoted neovascularization via detection of CD31 levels and enhanced protein expression of p-Akt and p‑Erk. In addition, Vaccarin also promoted expression of CD31.
Int J Mol Med. 2015 Jan;35(1):135-42.
Vaccarin attenuates the human EA.hy926 endothelial cell oxidative stress injury through inhibition of Notch signaling.[Pubmed:
25352009
]
Endothelial cell injury is an essential component of atherosclerosis and hypertension. Atherosclerosis and other macrovascular diseases are the most common complications of diabetes. Vaccarin is a major flavonoid glycoside in Vaccariae semen, and is expected to be useful in the treatment of vascular diseases. The aim of the present study was to evaluate the possible effects of Vaccarin in human umbilical vein endothelial cells (EA.hy926) induced by hydrogen peroxide (H2O2) and its underlying mechanism in the prevention and treatment of H2O2 injury.
METHODS AND RESULTS:
In this study, the EA.hy926 cells were exposed to 250, 500 and 1000 µM H2O2 for 2 and 4 h in the absence or presence of Vaccarin, and the cell injury induced by H2O2 was examined via SRB. Cell migratory ability, lactate dehydrogenase (LDH) leakage, malondialdehyde (MDA) levels and decreasing superoxide dismutase (SOD) activity were evaluated by the wound healing assay and corresponding assay kits. Cell apoptosis was detected by flow cytometry with Annexin V-fluorescein isothiocyanate/propidium iodide Apoptosis Detection kit and Hoechst staining. Furthermore, western blot detected the protein expressions of Notch1, Hes1 and caspase-3. Following treatment with H2O2, it was found that H2O2 stimulated cell injury in a dose-dependent manner, including reducing cell viability and cell migratory ability, increasing LDH leakage and MDA levels, and decreasing SOD activity. H2O2 further accelerated cell apoptosis via activation of Notch1 and the downstream molecule Hes1. Preincubation with Vaccarin was found to protect EA.hy926 cells from H2O2-induced cell oxidative stress injury, which promoted cell viability and cell migratory ability, inhibited the level of LDH and MDA, but enhanced the activity of SOD. In particular, in addition to downregulation Notch signaling, Vaccarin treatments also downregulated caspase-3, a cell apoptotic pathway-related protein.
CONCLUSIONS:
These findings indicated that Vaccarin may be able to selectively protect vascular endothelium from dysfunction induced by H2O2.
Eur J Pharmacol . 2019 May 15;851:13-24.
Vaccarin ameliorates insulin resistance and steatosis by activating the AMPK signaling pathway[Pubmed:
30779918
]
Abstract Destructive glucose and lipid metabolism in the liver is a crucial characteristic of type 2 diabetes mellitus (T2DM), eventually leading to insulin resistance and subsequent hyperglycemia and hyperlipidemia. Vaccarin is an active flavonoid glycoside associated with various biological functions, but its effects on glucose and lipid metabolic disorder in T2DM are still unclear. In this study, glucosamine (GlcN) and free fatty acids (FFAs, oleate/palmitate, 2:1 ratio) were applied to mimic insulin resistance and lipid deposition in HepG2 cells, respectively. Type 2 diabetic mice were induced using a high-fat diet (HFD) together with streptozotocin (STZ). GlcN stimulation was found to upregulate glucose production and gluconeogenesis but downregulate glycogen synthesis and phosphorylation of adenosine 5'-monophosphate (AMP)-activated protein kinase (AMPK) in HepG2 cells, abnormal changes that were reversed by Vaccarin. Furthermore, lipid accumulation was enhanced, but AMPK was inactivated in FFAs-exposed HepG2 cells, issues that were rectified by Vaccarin treatment. These ameliorative effects of Vaccarin on insulin resistance and steatosis were eliminated by AMPK inhibitor Compound C. In type 2 diabetic mice, chronic Vaccarin administration decreased fasting blood glucose and lipid levels in both serum and the liver, and improved insulin sensitivity and steatosis in the liver. Taken together, these results suggest that Vaccarin attenuates insulin resistance and steatosis by activating the AMPK signaling pathway. Keywords: AMPK; Insulin resistance; Steatosis; T2DM; Vaccarin.
Zhongguo Zhong Yao Za Zhi. 2010 Aug;35(16):2072-4.
Determination of vaccarin in Vaccariae Semen by HPLC.[Pubmed:
21046731
]
To establish a HPLC method for the determination of Vaccarin in Vaccariae Semen.
METHODS AND RESULTS:
Analysis was carried out on an Alltima-C18 column (4.6 mm x 250 mm, 5 microm) eluted with methanol -0.3% phosphoric acid as mobile phase in gradient elution. The flow rate was 1.0 mL x min(-1) and detected wavelength was set at 280 nm. The peak areas and injection ammounts of Vaccarin showed a good linear relationship in the range of 0.102-1.539 microg, R2 = 0.9997. The average recovery was 100.4%, RSD was 0.81%. The results of the assay of 10 samples showed that the contents of Vaccarin varied in the range of 0.46%-0.57%.
CONCLUSIONS:
The method is simple, accurate, reproducible and specific. It can be used for the quality control of Vaccariae Semen.