Swertisin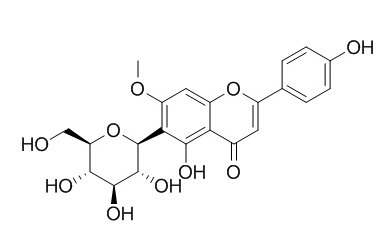 Swertisin, a novel herbal biomolecule, shows a strong antihyperglycemic action, it provides low cost and readily available differentiating agent that can be translated as a therapeutic tool for effective treatment in diabetes.
Inquire / Order: manager@chemfaces.com
Technical Inquiries: service@chemfaces.com
Tel: +86-27-84237783
Fax: +86-27-84254680

Address:
1 Building, No. 83, CheCheng Rd., Wuhan Economic and Technological Development Zone, Wuhan, Hubei 430056, PRC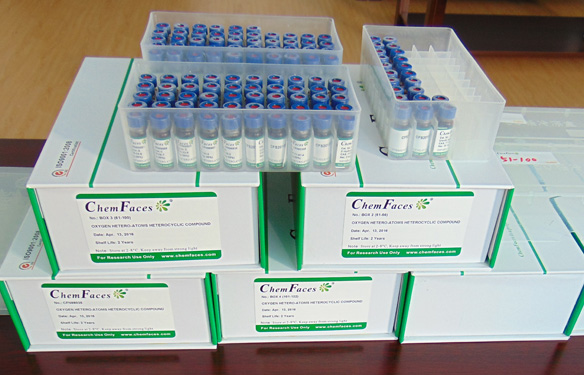 Providing storage is as stated on the product vial and the vial is kept tightly sealed, the product can be stored for up to
24 months(2-8C)
.
Wherever possible, you should prepare and use solutions on the same day. However, if you need to make up stock solutions in advance, we recommend that you store the solution as aliquots in tightly sealed vials at -20C. Generally, these will be useable for up to two weeks. Before use, and prior to opening the vial we recommend that you allow your product to equilibrate to room temperature for at least 1 hour.
Need more advice on solubility, usage and handling? Please email to: service@chemfaces.com
The packaging of the product may have turned upside down during transportation, resulting in the natural compounds adhering to the neck or cap of the vial. take the vial out of its packaging and gently shake to let the compounds fall to the bottom of the vial. for liquid products, centrifuge at 200-500 RPM to gather the liquid at the bottom of the vial. try to avoid loss or contamination during handling.
Mol Pharm.2017, 14(9):3164-3177
International Food Research Journal2018, 25(6):2560-2571
Biochem Pharmacol. 2020, 177:114014.
Molecules.2017, 22(11)
J Exp Bot.2016, 67(12):3777-88
Molecules.2020, 25(23):5556.
Nutrients.2019, 11(11):E2694
National University of Pharmacy2022, 1:73-76
ARPN Journal of Eng.& Applied Sci.2016, 2199-2204
Front Pharmacol.2021, 12:690113.
Evid Based Complement Alternat Med. 2013;2013:280392.
A Small Molecule Swertisin from Enicostemma littorale Differentiates NIH3T3 Cells into Islet-Like Clusters and Restores Normoglycemia upon Transplantation in Diabetic Balb/c Mice.[Pubmed:
23662125
]
Stem cell therapy is one of the upcoming therapies for the treatment of diabetes. Discovery of potent differentiating agents is a prerequisite for increasing islet mass. The present study is an attempt to screen the potential of novel small biomolecules for their differentiating property into pancreatic islet cells using NIH3T3, as representative of extra pancreatic stem cells/progenitors.
METHODS AND RESULTS:
To identify new agents that stimulate islet differentiation, we screened various compounds isolated from Enicostemma littorale using NIH3T3 cells and morphological changes were observed. Characterization was performed by semiquantitative RT-PCR, Q-PCR, immunocytochemistry, immunoblotting, and insulin secretion assay for functional response in newly generated islet-like cell clusters (ILCC). Reversal of hyperglycemia was monitored after transplanting ILCC in STZ-induced diabetic mice. Among various compounds tested, Swertisin, an isolated flavonoid, was the most effective in differentiating NIH3T3 into endocrine cells. Swertisin efficiently changed the morphology of NIH3T3 cells from fibroblastic to round aggregate cell cluster in huge numbers. Dithizone (DTZ) stain primarily confirmed differentiation and gene expression studies signified rapid onset of differentiation signaling cascade in Swertisin-induced ILCC. Molecular imaging and immunoblotting further confirmed presence of islet specific proteins. Moreover, glucose induced insulin release (in vitro) and decreased fasting blood glucose (FBG) (in vivo) in transplanted diabetic BALB/c mice depicted functional maturity of ILCC. Insulin and glucagon expression in excised islet grafts illustrated survival and functional integrity.
CONCLUSIONS:
Rapid induction for islet differentiation by Swertisin, a novel herbal biomolecule, provides low cost and readily available differentiating agent that can be translated as a therapeutic tool for effective treatment in diabetes.
Fitoterapia. 2010 Dec;81(8):1180-7.
Potential insulin secretagogue effects of isovitexin and swertisin isolated from Wilbrandia ebracteata roots in non-diabetic rats.[Pubmed:
20678557
]
The antihyperglycemic effect and mechanism of action of extracts, fractions and compounds from Wilbrandia ebracteata was studied.
METHODS AND RESULTS:
The crude extract reduced the glycemia, increased glycogen content and serum insulin in hyperglycemic rats. Also, a significant effect was observed with the n-butanol and metanol subfraction. However, the antihyperglycemic effect of the n-butanol fraction was not observed in diabetic rats. The C-glycosylflavones isovitexin and Swertisin showed a strong antihyperglycemic action compared with the extracts and fractions.
CONCLUSIONS:
These results show that the extracts, fractions, and isolated C-glycosylflavones have an antihyperglycemic action that was reinforced by the stimulation on in vivo insulin secretion.
J Psychopharmacol . 2017 Feb;31(2):250-259.
Swertisin ameliorates pre-pulse inhibition deficits and cognitive impairment induced by MK-801 in mice[Pubmed:
27729563
]
Abstract Swertisin, a plant-derived C-glucosylflavone, is known to have antidiabetic, anti-inflammatory and antioxidant effects. In the present study, we investigated in mice the effects of Swertisin on glutamatergic dysfunction induced by dizocilpine (MK-801), a non-competitive N-methyl-D-aspartate receptor antagonist. In the Acoustic Startle Response test, their MK-801-induced (given 0.2 mg/kg i.p.) pre-pulse inhibition deficit was significantly attenuated by the administration of Swertisin (30 mg/kg p.o.). In the Novel Object Recognition Test, the recognition memory impairments that were induced by MK-801 (0.2 mg/kg, given i.p.) were also reversed by administration of Swertisin (30 mg/kg p.o.). In addition, Swertisin normalized the MK-801-induced elevation of phosphorylation levels of Akt and GSK-3β signaling molecules in the prefrontal cortex. These results indicated that Swertisin may be useful in managing the symptoms of schizophrenia, including sensorimotor gating disruption and cognitive impairment, and that these behavioral outcomes may be related to Akt-GSK-3β signaling in the prefrontal cortex. Keywords: Cognitive impairment; mechanism of action; mouse study; pharmacological treatment; prepulse inhibition; schizophrenia; sensorimotor gating; startle response; Swertisin.