Tricin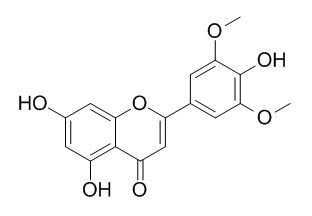 Tricin is evaluated as a type of tyrosinase inhibitor, it exerts anti-inflammatory effect via a mechanism involving the TLR4/NF-κB/STAT signaling cascade, tricin derivatives conveys allergy and inflammation treatment ability to Z. latifolia.Tricin is a novel compound with potential anti-HCMV activity and that CXCL11 is one of the chemokines involved in HCMV replication, it may be beneficial in HSC-targeting therapeutic or chemopreventive applications for hepatic fibrosis.
Inquire / Order: manager@chemfaces.com
Technical Inquiries: service@chemfaces.com
Tel: +86-27-84237783
Fax: +86-27-84254680

Address:
1 Building, No. 83, CheCheng Rd., Wuhan Economic and Technological Development Zone, Wuhan, Hubei 430056, PRC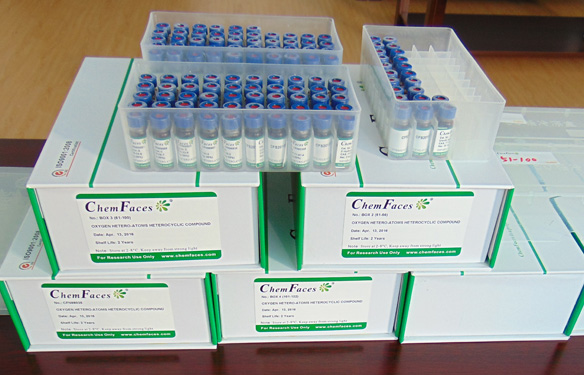 Providing storage is as stated on the product vial and the vial is kept tightly sealed, the product can be stored for up to
24 months(2-8C)
.
Wherever possible, you should prepare and use solutions on the same day. However, if you need to make up stock solutions in advance, we recommend that you store the solution as aliquots in tightly sealed vials at -20C. Generally, these will be useable for up to two weeks. Before use, and prior to opening the vial we recommend that you allow your product to equilibrate to room temperature for at least 1 hour.
Need more advice on solubility, usage and handling? Please email to: service@chemfaces.com
The packaging of the product may have turned upside down during transportation, resulting in the natural compounds adhering to the neck or cap of the vial. take the vial out of its packaging and gently shake to let the compounds fall to the bottom of the vial. for liquid products, centrifuge at 200-500 RPM to gather the liquid at the bottom of the vial. try to avoid loss or contamination during handling.
Toxins (Basel).2021, 13(12):898.
PLoS One.2017, 12(3):e0173585
Toxicol Rep.2021, 8:1131-1142.
Food Funct.2021, 12(4):1469-1481.
RSC Adv.2018, 32621-32636
Molecules.2017, 22(11)
South African J of Botany2020, 135:50-57
Pharmaceutical Chemistry Journal2019, 52(12):986-991
Evid Based Complement Alternat Med.2020, 2020:8582318.
Anal Bioanal Chem.2018, 410(5):1561-1569
Biosci Biotechnol Biochem. 2015 May;79(5):700-6.
Tricin derivatives as anti-inflammatory and anti-allergic constituents from the aerial part of Zizania latifolia.[Pubmed:
25559019
]

METHODS AND RESULTS:
Methanol extract of Zizania latifolia was partitioned with EtOAc, n-BuOH, and H2O. From the EtOAc layers, a new flavonolignan along with a known flavone and three known flavonolignans, Tricin (1), salcolin A (2), salcolin B (3), and salcolin C (4), were isolated through repeated silica gel and ODS column chromatography. The chemical structure of the new flavonolignan was determined to be Tricin-4'-O-[erythro-β-guaiacyl-(7″-O-methyl)-glyceryl] ether and was named salcolin D (5) based on physicochemical and spectroscopic data, including FT-NMR and ESI-MS. All compounds were isolated for the first time from this plant. Compounds 2-5, Tricin derivatives, all exhibited higher anti-inflammatory and anti-allergy activities than Tricin. In particular, salcolin D (5) was shown to have the strongest inhibitory activity against LPS-induced NO production in RAW 264.7 cells as well as β-hexosaminidase release in IgE-sensitized RBL-2H3 cells.
CONCLUSIONS:
These results suggest that the presence of Tricin derivatives conveys allergy and inflammation treatment ability to Z. latifolia.
Microbes Infect. 2012 Oct;14(12):1086-92.
Anti-cytomegalovirus effects of tricin are dependent on CXCL11.[Pubmed:
22683667
]
It has been reported that treatment with Tricin (4',5,7-trihydroxy-3',5'-dimethoxyflavone), a derivative of Sasa albo-marginata, after human cytomegalovirus (HCMV) infection significantly suppressed both infectious virus production and HCMV replication in the human embryonic fibroblast cell line MRC-5.
METHODS AND RESULTS:
In this paper, we examined the mechanisms for the anti-HCMV effects of Tricin in MRC-5 cells. Exposure of fibroblasts to Tricin inhibited infectious HCMV production, with concomitant decreases in levels of transcripts of the CXC chemokine IFN-inducible T cell alpha chemoattractant (I-TAC or CXCL11) gene. We also found that the transcripts of the HCMV immediate early (IE) gene and replication of HCMV were lower in CXCL11 gene-knockdown cells.
CONCLUSIONS:
These results suggest that Tricin is a novel compound with potential anti-HCMV activity and that CXCL11 is one of the chemokines involved in HCMV replication. In addition, it is possible that CXCL11 is the one of the targets of Tricin.
J Agric Food Chem . 2018 Jul 5;66(26):6708-6716.
Inhibition of the Proliferation and Invasion of C6 Glioma Cells by Tricin via the Upregulation of Focal-Adhesion-Kinase-Targeting MicroRNA-7[Pubmed:
29877083
]
Abstract Tricin, a natural flavonoid present in large amounts in rice bran, was investigated for the mechanisms by which it exhibited antiproliferation and anti-invasion in C6 glioma cells. The results indicated that treatment with 5, 10, 25, and 50 μM Tricin for 48 h significantly ( p < 0.05) inhibited cell numbers and colony numbers with values of 134.3 ± 5.5, 114.6 ± 2.5, 106.3 ± 3.2, and 57.3 ± 10.2, respectively. Tricin also inhibited C6-cell motility, migration, and invasion. Tricin changed the cytoskeletal organization, reduced matrix-metalloproteinase (MMP) expression, and upregulated E-cadherin. Tricin decreased FAK protein levels and suppressed focal-adhesion-kinase (FAK)-downstream-signal activation. Most importantly, Tricin dose-dependently upregulated microRNA-7 (miR-7). Transfection with an miR-7 inhibitor suppressed miR-7 expression, increased FAK expression, and promoted the proliferation and invasion in C6 cells. The data support a novel anticancer mechanism of Tricin that involves upregulation of FAK-targeting miR-7 in C6 glioma cells. Keywords: anticancer; focal-adhesion kinase; glioma; microRNA-7; Tricin.
Mol Immunol. 2015 Aug;66(2):229-39.
Mechanism of anti-inflammatory effect of tricin, a flavonoid isolated from Njavara rice bran in LPS induced hPBMCs and carrageenan induced rats.[Pubmed:
25839778
]
Njavara is an indigenous medicinal rice variety traditionally used in Ayurvedic system of medicine practiced in Kerala, India. Tricin is a bioflavonoid present in significantly higher levels in rice bran of Njavara. Present study attempted to identify the molecular target of Tricin in TLR mediated signaling pathways by using lipopolysaccharide (LPS) induced human peripheral blood mononuclear cells (hPBMCs) and carrageenan induced paw edema in rats as experimental models.
METHODS AND RESULTS:
Tricin acted upstream in the activation of inflammation cascade by interfering with TLR4 activation, preferably by blocking the LPS induced activation of TLR4, MYD88 and TRIF proteins in hPBMCs. Subsequently, Tricin significantly blocked the activation of downstream kinases like p38MAPK, JNK1/2 and IRF3. Thus the inhibitory effect of Tricin on NF-κB and IRF3 together confirms the specific inhibition of both MYD88 dependent and TRIF dependent pathways. Tricin treatment also inhibited the pro-inflammatory effect of LPS by blocking the TLR4 signaling mediated activation of cytosolic phospholipase A2 (cPLA2), which is confirmed by specific inhibition of COX-2. Results demonstrated that in addition to NF-κB, Tricin can prevent the activation of STAT proteins by significantly inhibiting the activation of both STAT1 and STAT3 via the down regulation of upstream phosphorylating enzymes like JAK1 and JAK2. The protective anti-inflammatory effect of Tricin was also confirmed by in vivo experiments.
CONCLUSIONS:
Thus, this study provides strong evidence that Tricin exerts its anti-inflammatory effect via a mechanism involving the TLR4/NF-κB/STAT signaling cascade.
Spectrochim Acta A Mol Biomol Spectrosc. 2013 Apr 15;107:235-40.
Molecular inhibitory mechanism of tricin on tyrosinase.[Pubmed:
23434549
]
Tricin was evaluated as a type of tyrosinase inhibitor with good efficacy compared to arbutin. Tricin functioned as a non-competitive inhibitor of tyrosinase, with an equilibrium constant of 2.30 mmol/L.
METHODS AND RESULTS:
The molecular mechanisms underlying the inhibition of tyrosinase by Tricin were investigated by means of circular dichroism spectra, fluorescence quenching and molecular docking. These assays demonstrated that the interactions between Tricin and tyrosinase did not change the secondary structure. The interaction of Tricin with residues in the hydrophobic pocket of tyrosinase was revealed by fluorescence quenching; the complex was stabilized by hydrophobic associations and hydrogen bonding (with residues Asn80 and Arg267).
CONCLUSIONS:
Docking results implied that the possible inhibitory mechanisms may be attributed to the stereospecific blockade effects of Tricin on substrates or products and flexible conformation alterations in the tyrosinase active center caused by weak interactions between tyrosinase and Tricin. The application of this type of flavonoid as a tyrosinase inhibitor will lead to significant advances in the field of depigmentation.