Sotetsuflavone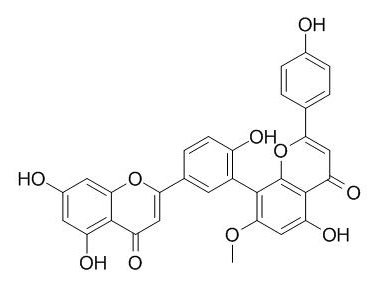 Sotetsuflavone is a potent inhibitor of DENV-NS5 RdRp (Dengue virus NS5 RNA-dependent RNA polymerase) with an IC50 of 0.16 uM, is the most active compound of this series.
Inquire / Order: manager@chemfaces.com
Technical Inquiries: service@chemfaces.com
Tel: +86-27-84237783
Fax: +86-27-84254680

Address:
1 Building, No. 83, CheCheng Rd., Wuhan Economic and Technological Development Zone, Wuhan, Hubei 430056, PRC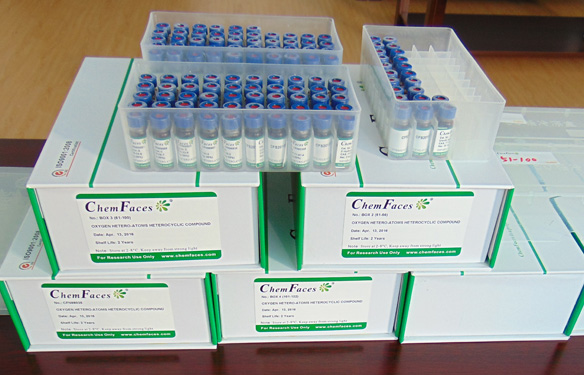 Providing storage is as stated on the product vial and the vial is kept tightly sealed, the product can be stored for up to
24 months(2-8C)
.
Wherever possible, you should prepare and use solutions on the same day. However, if you need to make up stock solutions in advance, we recommend that you store the solution as aliquots in tightly sealed vials at -20C. Generally, these will be useable for up to two weeks. Before use, and prior to opening the vial we recommend that you allow your product to equilibrate to room temperature for at least 1 hour.
Need more advice on solubility, usage and handling? Please email to: service@chemfaces.com
The packaging of the product may have turned upside down during transportation, resulting in the natural compounds adhering to the neck or cap of the vial. take the vial out of its packaging and gently shake to let the compounds fall to the bottom of the vial. for liquid products, centrifuge at 200-500 RPM to gather the liquid at the bottom of the vial. try to avoid loss or contamination during handling.
APMIS.2019, 127(10):688-695
Evid Based Complement Alternat Med.2017, 2017:1401279
Korean J of Crop Science2019, 452-458
Biol Pharm Bull.2020, 43(10):1534-1541.
Int J Immunopathol Pharmacol.2019, 33:2058738419857537
Food Res Int.2018, 106:909-919
Neuropharmacology2019, 151437
Food Engineering Progress2019, 23(3)209-216
J of Pharmaceutical Analysis2020, doi: 10.1016
Int J Mol Sci.2017, 18(5)
Planta Med. 2013 Sep;79(14):1313-8.
Structure-activity relationship study of biflavonoids on the Dengue virus polymerase DENV-NS5 RdRp.[Pubmed:
23929244
]
Dengue virus is the world's most prevalent human pathogenic arbovirus. There is currently no treatment or vaccine, and solutions are urgently needed. We previously demonstrated that biflavonoids from Dacrydium balansae, an endemic gymnosperm from New Caledonia, are potent inhibitors of the Dengue virus NS5 RNA-dependent RNA polymerase.
METHODS AND RESULTS:
Herein we describe the structure-activity relationship study of 23 compounds: biflavonoids from D. balansae (1-4) and from D. araucarioides (5-10), hexamethyl-amentoflavone (11), cupressuflavone (12), and apigenin derivatives (13-23). We conclude that 1) over the four different biflavonoid skeletons tested, amentoflavone (1) and robustaflavone (5) are the most promising ones for antidengue drug development, 2) the number and position of methyl groups on the biflavonoid moiety modulate their inhibition of Dengue virus NS5 RNA-dependent RNA polymerase, and 3) the degree of oxygenation of flavonoid monomers influences their antidengue potential.
CONCLUSIONS:
Sotetsuflavone (8), with an IC50 = 0.16 μM, is the most active compound of this series and is the strongest inhibitor of the Dengue virus NS5 RNA-dependent RNA polymerase described in the literature.
J Nat Prod. 2003 Jul;66(7):1002-5.
Chemical constituents from Amentotaxus yunnanensis and Torreyayunnanensis.[Pubmed:
12880325
]
In a chemical study of taxonomically related Taxaceae plants of Yunnan Province, China, seven compounds, including a new amentoflavone biflavonoid, 2,3-dihydro-7,7' '-dimethoxyamentoflavone (1), were isolated from Amentotaxus yunnanensis, and 12 isolates were obtained from Torreya yunnanensis. From the latter plant, a new abietane diterpene, torreyayunnin (7), is reported for the first time.
METHODS AND RESULTS:
The known isolates from A. yunnanensis have been identified as sequoiaflavone (3), Sotetsuflavone (4), 7,7' '-dimethoxyamentoflavone (5), lutein, beta-sitosterol, and sequoyitol. Amentoflavone (2), Sotetsuflavone (4), sciadopitysin (6), 12-hydroxydehydroabietinol, meridinol, balanophonin, (+)-pinoresinol monomethyl ether, (+)-pinoresinol monomethyl ether glucoside, erythro-1-(4-hydroxy-3-methoxyphenyl)-2-[4-[2-formyl-(E)-vinyl]-2- methoxyphenoxy]propane-1,3-diol, threo-1-(4-hydroxy-3-methoxyphenyl)-2- [4-[2-formyl-(E)-vinyl]-2-methoxyphenoxy] propane-1,3-diol, and (E)-2-butenedioic acid were identified as known isolates from T. yunnanensis.
CONCLUSIONS:
The presence of the amentoflavone biflavonoids (1, 3-5) in A. yunnanensis supports its placement in the Taxaceae. The occurrence of the biflavonoid Sotetsuflavone (4) in both A. yunnanensis and T. yunnanensis suggests that these two genera are closely related. The identification and structural elucidation of these isolates were based on spectral data analysis including 1D and 2D NMR.