Sophorabioside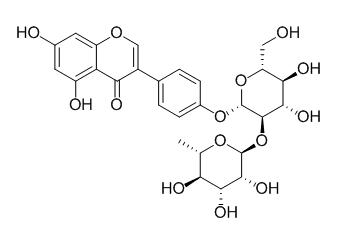 Sophorabioside is a natural product from Sophora japonica.
Inquire / Order: manager@chemfaces.com
Technical Inquiries: service@chemfaces.com
Tel: +86-27-84237783
Fax: +86-27-84254680

Address:
1 Building, No. 83, CheCheng Rd., Wuhan Economic and Technological Development Zone, Wuhan, Hubei 430056, PRC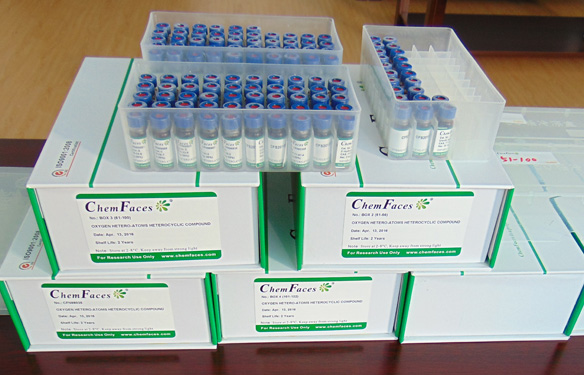 Providing storage is as stated on the product vial and the vial is kept tightly sealed, the product can be stored for up to
24 months(2-8C)
.
Wherever possible, you should prepare and use solutions on the same day. However, if you need to make up stock solutions in advance, we recommend that you store the solution as aliquots in tightly sealed vials at -20C. Generally, these will be useable for up to two weeks. Before use, and prior to opening the vial we recommend that you allow your product to equilibrate to room temperature for at least 1 hour.
Need more advice on solubility, usage and handling? Please email to: service@chemfaces.com
The packaging of the product may have turned upside down during transportation, resulting in the natural compounds adhering to the neck or cap of the vial. take the vial out of its packaging and gently shake to let the compounds fall to the bottom of the vial. for liquid products, centrifuge at 200-500 RPM to gather the liquid at the bottom of the vial. try to avoid loss or contamination during handling.
J Funct Foods2019, 54:449-456
Acta Pharmaceutica Hungarica2016, 86:35-40
Front Microbiol.2022, 13:835463.
ACS Nano.2018, 12(4):3385-3396
PLoS One.2017, 12(3):e0173585
Phytother Res.2019, 33(3):676-689
ACS Omega.2021, 6(36):23460-23474.
J Mol Med (Berl).2018, 96(7):661-672
Fitoterapia.2015, 100:179-86
Arch Pharm Res.2015, 38(6):1080-9
PLoS One. 2014 Jun 3;9(6):e98559.
Isolation of antiosteoporotic compounds from seeds of Sophora japonica.[Pubmed:
24892557
]
Chemical investigation of Sophora japonica seeds resulted in the isolation of seven metabolites identified as: genistin (1), sophoricoside (2), Sophorabioside (3), sophoraflavonoloside (4), genistein 7,4'-di-O-β-D-glucopyransoide (5), kaempferol 3-O-α-L-rhamnopyranosyl(1 → 6)β-D-glucopyranosyl(1 → 2)β-D-glucopyranoside (6) and rutin (7).
METHODS AND RESULTS:
Compounds 1, 2 and 5 showed significant estrogenic proliferative effect in MCF-7 cell in sub-cytotoxic concentration range. Compounds 1 and 2 showed minimal cell membrane damaging effect using LDH leakage assay. Accordingly, compound 2 (sophoricoside, (SPH)) was selected for further in-vivo studies as a potential anti-osteoporosis agent. The anti-osteoporotic effect of SPH was assessed in ovarectomized (OVX) rats after oral administration (15 mg/kg and 30 mg/kg) for 45 days compared to estradiol (10 µg/kg) as a positive control. Only in a dose of 30 mg/kg, SPH regained the original mechanical bone hardness compared to normal non-osteoporotic group. However, SPH (15 mg/kg) significantly increased the level of alkaline phosphatase (ALP) to normal level. Treatment with SPH (30 mg/kg) increased the level of ALP to be higher than normal group. SPH (15 mg/kg) did not significantly increase the serum level of osteocalcin (OC) compared to OVX group. On the other hand, treatment with SPH (30 mg/kg) significantly increased the level of OC to 78% higher than normal non-ovarectomized animals group. In addition, SPH (15 mg/kg) decreased the bone resorption marker, acid phosphatase (ACP) to normal level and SPH (30 mg/kg) further diminished the level of serum ACP.
CONCLUSIONS:
Histopathologically, sophoricoside ameliorated the ovarectomy induced osteoporosis in a dose dependent manner. The drug showed thicker bony trabeculae, more osteoid, and more osteoblastic rimming compared to OVX group.