Randaiol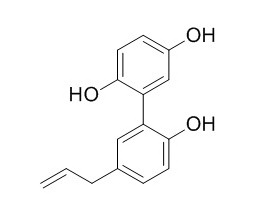 Randaiol is a natural product from Magnolia hypoleuca.
Inquire / Order: manager@chemfaces.com
Technical Inquiries: service@chemfaces.com
Tel: +86-27-84237783
Fax: +86-27-84254680

Address:
1 Building, No. 83, CheCheng Rd., Wuhan Economic and Technological Development Zone, Wuhan, Hubei 430056, PRC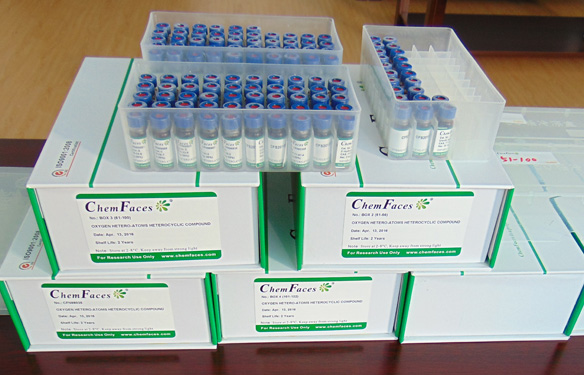 Providing storage is as stated on the product vial and the vial is kept tightly sealed, the product can be stored for up to
24 months(2-8C)
.
Wherever possible, you should prepare and use solutions on the same day. However, if you need to make up stock solutions in advance, we recommend that you store the solution as aliquots in tightly sealed vials at -20C. Generally, these will be useable for up to two weeks. Before use, and prior to opening the vial we recommend that you allow your product to equilibrate to room temperature for at least 1 hour.
Need more advice on solubility, usage and handling? Please email to: service@chemfaces.com
The packaging of the product may have turned upside down during transportation, resulting in the natural compounds adhering to the neck or cap of the vial. take the vial out of its packaging and gently shake to let the compounds fall to the bottom of the vial. for liquid products, centrifuge at 200-500 RPM to gather the liquid at the bottom of the vial. try to avoid loss or contamination during handling.
Food and Agriculture Org. Of the UN2019, 151-160
Sci Rep.2018, 8(1):12970
Molecules.2018, 23(3):E615
Korean J. Crop Sci.2018, 63(2):131-139
Exp Parasitol.2017, 183:160-166
University of Limpopo2016, 1-237
Molecules.2019, 25(1):E103
Aquaculture2017, 481:94-102
Plant Cell Tiss Org2020, 1-16
Sci Adv.2018, 4(10)
Planta Medica, 2011 , 77 (12):42.
New biphenyl derivatives and anti-inflammatory constituents from the stem bark of Magnolia officinalis[Reference:
WebLink
]
The stem bark of Magnolia officinalis Rehd. et Wils. (Magnoliaceae) has been used as a traditional medicine for the treatment of gastrointestinal disorders, bronchitis, and emphysema, in China, Taiwan, Japan, and Korea [1]. Chemical studies have revealed a variety of neo-lignans and alkaloids as constituents of this plant. Many of these compounds exhibit central depressant effect, muscle relaxation, and antigastric ulcer, antibacterial, antiallergic, vasorelaxant, and neurotrophic activities.
METHODS AND RESULTS:
Investigation on EtOAc-soluble fraction of the stem bark of M. officinalis has led to the isolation of three new biphenyls, 5-allyl-5'-(1-hydroxyallyloxy)biphenyl-2,2-diol (1), 5,5'-diallyl-2'-(allyloxy)biphenyl-2-ol (2), and 5,5'-diallyl-2'-(3-methylbut-2-enyloxy)biphenyl-2-ol (3), together with 12 known compounds, including four neolignans, magnolol (4), honokiol (5), (-)-monoterpenylmagnolol (6), and randainal (7), two norlignans, magnaldehyde D (8) and Randaiol (9), and six steroids, β-sitostenone (10), stigmasta-4,22-dien-3-one (11), β-sitosterol (12), stigmasterol (13), 3β-hydroxystigmast-5-en-7-one (14), and 3β-hydroxystigmasta-5,22-dien-7-one (15). The structure of new compounds (1-3) were determined through spectroscopic and MS analyses. Among the isolates, magnolol (4) and honokiol (5) exhibited potent inhibition against fMLP-induced superoxide production with IC50 values of 4.42±0.24 and 0.68±0.20μg/mL, respectively. In addition, magnolol (4) inhibited fMLP/CB-induced elastase release with an IC50 values of 1.45±0.20μg/mL.
Phytochemistry.1983;22(2):616–617.
Biphenyls from the heartwood of taiwan sassafras.[Reference:
WebLink
]
Two new biphenyls, randainal and Randaiol, have been isolated from the heartwood of Taiwan sassafras in addition to the known biphenyl magnolol which was found previously in the bark of Magnolia species.
METHODS AND RESULTS:
The two biphenyls were shown to be 2,2′-dihydroxy-5-allylbiphenyl-5′-propenal and 2,2′,5′-trihydroxy-5-allylbiphenyl on the basis of chemical and spectroscopic evidence.
Chinese Traditional & Herbal Drugs, 2013 , 44 (3) :260-264.
Chemical constituents in fractions with vasoactive activity from leaves of Magnolia officinalis[Reference:
WebLink
]
To study the chemical constituents in the fractions with vasoactive activity from the dried leaves of Magnolia officinalis.
METHODS AND RESULTS:
The compounds were isolated from the chloroform and n-butanol fractions by various chromatographic techniques and identified by spectroscopic methods.Sixteen compounds were obtained and identified as magnolol (1), magnaldehyde B (2), Randaiol (3), syringaresinol (4), 4, 4', 5-trihydroxy-1, 1'-di-2-propenylbiphenyl (5), lariciresinol (6), (7S, 8R) syringoylglycerol (7), coniferin (8), benzylic-β-D-allopyranoside (9), afzelin (10), isorhamnetin-3-O-β-D-glucoside (11), choerospondin (12), 5, 7-dihydroxy chromone-7-O-β-D-glucoside (13), erigeside C (14), tachioside (15), and uridine (16).
CONCLUSIONS:
Compounds 5-8 are isolated from this plant for the first time, and compounds 9-16 are isolated from this genus for the first time.