Piscidic acid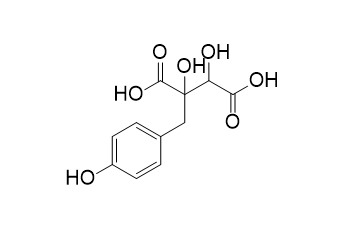 Piscidic acid acts as an inhibitor of cholesterol permeation through Caco-2 cell monolayers and as an inhibitor of 3-hydroxy-3-methylglutaryl-CoA reductase. Piscidic acid have antioxidant and antimicrobial properties.
Inquire / Order: manager@chemfaces.com
Technical Inquiries: service@chemfaces.com
Tel: +86-27-84237783
Fax: +86-27-84254680

Address:
1 Building, No. 83, CheCheng Rd., Wuhan Economic and Technological Development Zone, Wuhan, Hubei 430056, PRC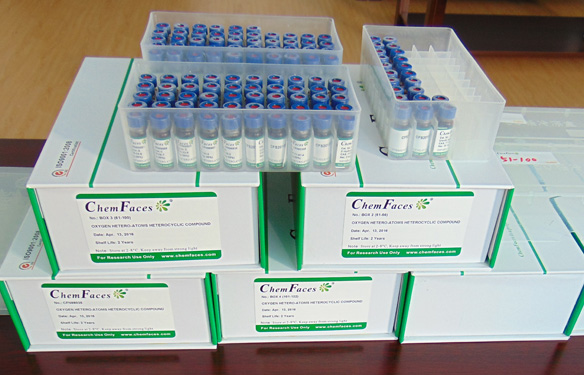 Providing storage is as stated on the product vial and the vial is kept tightly sealed, the product can be stored for up to
24 months(2-8C)
.
Wherever possible, you should prepare and use solutions on the same day. However, if you need to make up stock solutions in advance, we recommend that you store the solution as aliquots in tightly sealed vials at -20C. Generally, these will be useable for up to two weeks. Before use, and prior to opening the vial we recommend that you allow your product to equilibrate to room temperature for at least 1 hour.
Need more advice on solubility, usage and handling? Please email to: service@chemfaces.com
The packaging of the product may have turned upside down during transportation, resulting in the natural compounds adhering to the neck or cap of the vial. take the vial out of its packaging and gently shake to let the compounds fall to the bottom of the vial. for liquid products, centrifuge at 200-500 RPM to gather the liquid at the bottom of the vial. try to avoid loss or contamination during handling.
Biochemistry.2018, 57(40):5886-5896
Phytomedicine.2017, 24:77-86
Int J Mol Sci.2019, 20(23):E6071
Molecules.2018, 23(9):E2121
Molecules.2019, 24(16):E2985
Oxid Med Cell Longev.2022, 2022:9139338.
Phytother Res.2018, 32(12):2551-2559
Tumour Biol.2015, 36(12):9385-93
Analytical methods2019, 11(6)
Molecules.2020, 25(23):5609.
Arch Pharm Res . 2017 Nov;40(11):1278-1286.
Isorhamnetin derivatives and piscidic acid for hypercholesterolemia: cholesterol permeability, HMG-CoA reductase inhibition, and docking studies[Pubmed:
28936788
]
Bioactive compounds, such as isorhamnetin and Piscidic acid, were obtained from decoctions of cladodes (stem pads from Opuntia ficus-indica). The effect of these phenolic compounds, in a fiber-free extract, were evaluated as inhibitors of cholesterol permeation through a Caco-2 cell monolayer and as 3-hydroxy-3-methylglutaryl coenzyme A reductase inhibitor. A reduction of 38% in cholesterol permeation through the Caco-2 cell monolayer was obtained, and the phenolic compounds all permeated between 6 and 9%. A mixture of these compounds showed an IC50 of 20.3 μg/mL as an enzyme inhibitor, whereas Piscidic acid alone showed an IC50 of 149.6 μg/mL; this was slightly outperformed by the isorhamnetin derivatives. Docking studies confirmed that both Piscidic acid and isorhamnetin derivatives, present in the decoction, could adequately bind to the enzyme active site. These results reveal that O. ficus-indica, and cladodes derived there from, is a promising plant for use in the development of new functional foods and pharmaceutical products.
Molecules . 2021 Sep 24;26(19):5800.
Bio-Guided Fractionation of Retama raetam (Forssk.) Webb & Berthel Polar Extracts[Pubmed:
34641345
]
The fractionation of the methanolic extract (MeOH-E) of Retama raetam (Forssk.) Webb & Berthel and further analysis by thin layer chromatography resulted in four fractions (F1, F2, F3 and F4) that, in parallel with the MeOH-E, were screened for antioxidant, cytotoxic, antidiabetic and antibacterial properties. In addition, chemical characterization of their bioactive molecules was performed using LC-DAD-ESI/MSn. The results indicated that F3 was the most promising regarding antioxidant and cytotoxicity abilities, possibly due to its richness in flavonoids class, particularly isoflavones. In turn, F1 was characterized by the presence of the most polar compounds from MeOH-E (organic acids and Piscidic acid) and showed promising abilities to inhibit α-amylase, while F4, which contained prenylated flavonoids and furanoflavonoids, was the most active against the tested bacteria. The gathered results emphasize the distinct biological potentials of purified fractions of Retama raetam.
Molecules . 2020 May 6;25(9):2176.
Characterization of Micronutrients, Bioaccessibility and Antioxidant Activity of Prickly Pear Cladodes as Functional Ingredient[Pubmed:
32384787
]
The Opuntia ficus indica (L.) (OFI) is used as a nutritional and pharmaceutical agent in various dietary and value added products. This study underlines the possible use of native prickly pear cladode powder as a functional ingredient for health-promoting food production. To summarise, chemical characterization of polyphenols, minerals and soluble dietary fibre was performed; furthermore, the antioxidant activity and bioaccessibility of polyphenols and minerals were assessed. Eleven compounds between phenolic acids and flavonoids were identified, with Piscidic acid and isorhamnetin derivatives being the most abundant. Opuntia's dietary fibre was mainly constituted of mucilage and pectin, and was composed of arabinose, galactose, glucose, mannose, rhamnose, and xylose sugars. The polyphenols' bioaccessibility was very high: Piscidic acid at 200%, eucomic and ferulic acids >110% and flavonoids from 89% to 100%. The prickly pear cladode powder is also a source of minerals, as cations (calcium, sodium, potassium and magnesium) and anions (sulphate and chloride), with high magnesium bioaccessibilty (93%). OFI powder showed good capacity of radical scavenging measured by DPPH and ABTS methods, with 740 and 775 μmol Trolox/100 g OFI, respectively. Finally, the presented results allow the consideration of this natural product as a source of several essential nutrients, with a possible use in the food industry as a functional ingredient.
Foods . 2021 Mar 9;10(3):570.
Emergent Technologies for the Extraction of Antioxidants from Prickly Pear Peel and Their Antimicrobial Activity[Pubmed:
33803279
]
Phenolic compounds are important bioactive compounds identified in prickly pear peel that have important antioxidant and antimicrobial properties. However, conventional thermal extraction methods may reduce their bioactivity, and technologies such as high pressure (HP) and ohmic heating (OH) may help preserve them. In this study, both technologies were analyzed, individually and combined (250/500 MPa; 40/70 °C; ethanol concentration 30/70%), and compared with Soxhlet with regard to total phenolics, flavonoids, and carotenoids as well as antioxidant (ABTS, DPPH, ORAC), DNA pro-oxidant, and antimicrobial (inhibition halos, minimum inhibitory concentration (MIC), minimum bactericidal concentration (MBC), growth curves, and viable cells) activities of prickly pear peel extracts. Total phenolics extracted by each technology increased 103% (OH) and 98% (HP) with regard to Soxhlet, but the contents of total flavonoids and carotenoids were similar. Antioxidant activity increased with HP and OH (between 35% and 63%), and OH (70 °C) did not induce DNA degradation. The phenolic compound present in higher amounts was Piscidic acid, followed by eucomic acid and citrate. In general, their extraction was significantly favored by HP and OH. Antimicrobial activity against 7 types of bacteria showed effective results only against S. aureus, S. enteritidis, and B. cereus. No synergetic or additive effect was observed for HP/OH.
Zhongguo Zhong Yao Za Zhi . 2009 May;34(10):1238-1240.
[Studies on phenolic compounds from Sophora alopecuroides][Pubmed:
19673386
]
Objective: To study the chemical constituents of Sophora alopecuroides. Method: The non-alkaloid constituents on 95% ethanol extracts of S. alopecuroides were separated and purified with various chromatographic method after solvent extraction and their structures were elucidated by means of physical property and the analysis of their spectral data. Result: Seven compounds were isolated and identified as ferulic acid (1), butein (2), 7,3',4'-trihydroxyursaflavonoid (3), 7-hydroxy-3', 4'-methylenedioxyisoflavone (4), butein4-O-beta-D-glucopyranoside (5), Piscidic acid (6) and 7,3',4'-trihydroxyur-sadimethoxyflavan-7-O-beta-D-glucopyranoside (7). Conclusion: Seven compounds were obtained from this plant for the first time.