Physalin B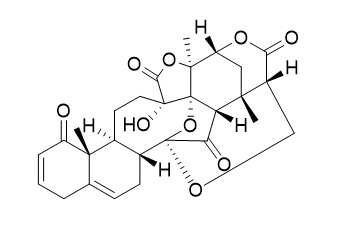 Physalin B shows antimalarial, anti-Trypanosoma cruzi, anti-bacterial, anti- leukemia activities, it has the potential to be developed as an effective chemotherapeutic lead compound for the treatment of malignant melanoma, it inhibits androgen-independent prostate cancer cell growth through activation of cell apoptosis and downregulation of androgen receptor expression. Physalin B exhibits a minimum inhibitory concentration value (MIC) against Mycobacterium tuberculosis H(37)Rv strain of 32 microg/mL. Physalin B also presents antinociceptive properties associated with central.
Inquire / Order: manager@chemfaces.com
Technical Inquiries: service@chemfaces.com
Tel: +86-27-84237783
Fax: +86-27-84254680

Address:
1 Building, No. 83, CheCheng Rd., Wuhan Economic and Technological Development Zone, Wuhan, Hubei 430056, PRC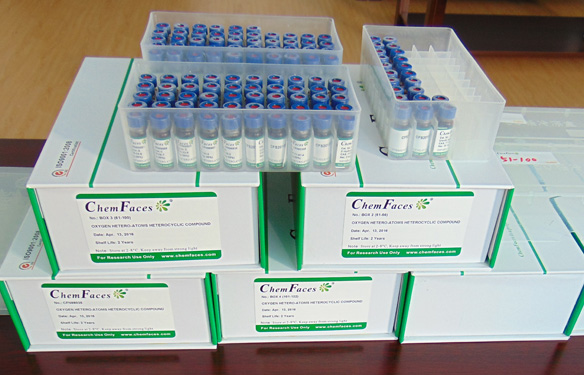 Providing storage is as stated on the product vial and the vial is kept tightly sealed, the product can be stored for up to
24 months(2-8C)
.
Wherever possible, you should prepare and use solutions on the same day. However, if you need to make up stock solutions in advance, we recommend that you store the solution as aliquots in tightly sealed vials at -20C. Generally, these will be useable for up to two weeks. Before use, and prior to opening the vial we recommend that you allow your product to equilibrate to room temperature for at least 1 hour.
Need more advice on solubility, usage and handling? Please email to: service@chemfaces.com
The packaging of the product may have turned upside down during transportation, resulting in the natural compounds adhering to the neck or cap of the vial. take the vial out of its packaging and gently shake to let the compounds fall to the bottom of the vial. for liquid products, centrifuge at 200-500 RPM to gather the liquid at the bottom of the vial. try to avoid loss or contamination during handling.
Processes2021, 9(5),831.
Eur J Pharmacol.2018, 832:96-103
Korean Herb. Med. Inf.2020, 8(2):205-213
Appl. Sci.2021, 11(19),9343.
Molecules.2020, 25(9):2111.
Pak J Pharm Sci.2019, 32(6):2879-2885
LWT2021, 147:111620.
Plants (Basel).2020, 9(11):1555.
Molecules.2021, 26(3):695.
Phytomedicine.2021, 2(82):153452
J Nat Prod. 2011 Oct 28;74(10):2269-72.
Antimalarial activity of physalins B, D, F, and G.[Pubmed:
21954931
]

METHODS AND RESULTS:
The antimalarial activities of Physalin B, physalin D, physalin F, and physalin G (1-4), isolated from Physalis angulata, were investigated. In silico analysis using the similarity ensemble approach (SEA) database predicted the antimalarial activity of each of these compounds, which were shown using an in vitro assay against Plasmodium falciparum. However, treatment of P. berghei-infected mice with 3 increased parasitemia levels and mortality, whereas treatment with 2 was protective, causing a parasitemia reduction and a delay in mortality in P. berghei-infected mice.
CONCLUSIONS:
The exacerbation of in vivo infection by treatment with 3 is probably due to its potent immunosuppressive activity, which is not evident for 2.
Anticancer Res. 1992 Jul-Aug;12(4):1155-62.
Inhibitory effects of physalin B and physalin F on various human leukemia cells in vitro.[Pubmed:
1503404
]

METHODS AND RESULTS:
Physalins B and F were isolated and characterized from the ethanolic extract of the whole plant of Physalis angulata L. (Solanaceae). Both Physalin B and physalin F inhibited the growth of several human leukemia cells: K562 (erythroleukemia), APM1840 (acute T lymphoid leukemia), HL-60 (acute promyelocytic leukemia), KG-1 (acute myeloid leukemia), CTV1 (acute monocytic leukemia) and B cell (acute B lymphoid leukemia). Physalin F showed a stronger activity against these leukemia cells than Physalin B, especially against acute myeloid leukemia (KG-1) and acute B lymphoid leukemia (B cell).
CONCLUSIONS:
From the structural features, the active site seems to be the functional epoxy group for physalin F and the double bond for Physalin B located at carbon 5 and 6; the former is much more active than the latter as regards anti-leukemic effects.
Parasitology. 2013 Dec;140(14):1811-21.
Physalins B and F, seco-steroids isolated from Physalis angulata L., strongly inhibit proliferation, ultrastructure and infectivity of Trypanosoma cruzi.[Pubmed:
24001147
]
We previously observed that physalins have immunomodulatory properties, as well as antileishmanial and antiplasmodial activities.
METHODS AND RESULTS:
Here, we investigated the anti-Trypanosoma cruzi activity of Physalin B, Physalin D, physalin F and physalin G. We found that Physalin B and physalin F were the most potent compounds against trypomastigote and epimastigote forms of T. cruzi. Electron microscopy of trypomastigotes incubated with Physalin B showed disruption of kinetoplast, alterations in Golgi apparatus and endoplasmic reticulum, followed by the formation of myelin-like figures, which were stained with MDC to confirm their autophagic vacuole identity. Physalin B-mediated alteration in Golgi apparatus was likely due to T. cruzi protease perturbation; however physalins did not inhibit activity of the trypanosomal protease cruzain. Flow cytometry examination showed that cell death is mainly caused by necrosis. Treatment with physalins reduced the invasion process, as well as intracellular parasite development in macrophage cell culture, with a potency similar to benznidazole. We observed that a combination of physalins and benznidazole has a greater anti-T. cruzi activity than when compounds were used alone.
CONCLUSIONS:
These results indicate that physalins, specifically B and F, are potent and selective trypanocidal agents. They cause structural alterations and induce autophagy, which ultimately lead to parasite cell death by a necrotic process.
Phytother Res. 2002 Aug;16(5):445-8.
Antimycobacterial physalins from Physalis angulata L. (Solanaceae).[Pubmed:
12203265
]
Crude extracts and fractions from aerial parts of Physalis angulata have been bioassayed for antimycobacterial activity.
METHODS AND RESULTS:
Fraction A1-29-12 containing Physalin B,physalin F and physalin D exhibited a minimum inhibitory concentration value (MIC) against Mycobacterium tuberculosis H(37)Rv strain of 32 microg/mL. Purified Physalin B and physalin D were also tested showing MIC values against Mycobacterium tuberculosis H(37)Rv strain of > 128 microg/mL and 32 microg/mL respectively, suggesting that physalin D plays a relevant role in the antimycobacterial activity displayed.
CONCLUSIONS:
Structural elucidation of both physalin D and Physalin B was based on detailed (13)C and (1)H NMR spectral analysis with the aid of 2D-correlation spectroscopy ((1)H-(1)H, COSY, HSQC and HMBC). The assignment of the (13)C chemical shift for physalin D is reported here for the first time.
Biol Pharm Bull. 2011;34(10):1584-8.
Physalins A and B inhibit androgen-independent prostate cancer cell growth through activation of cell apoptosis and downregulation of androgen receptor expression.[Pubmed:
21963499
]
Androgen deprivation therapy is a common treatment strategy for advanced prostate cancer. Though effective initially, the tumor often progresses to androgen independent stage in most patients eventually after a period of remission. One of the key factors of development of resistance is reflected in expression of androgen receptor (AR).
METHODS AND RESULTS:
In this study, we showed that two natural compounds, physalins A and B, both secosteriods from Physalisalkekengi var. franchetii, significantly inhibited the growth of two androgen-independent cell lines CWR22Rv1 and C42B, induced apoptosis via c-Jun N-terminal kinase (JNK) and/or extracellular signal-regulated kinase (ERK) activation, and decreased AR expression. In addition, physalin A and Physalin B down-regulated the expression of prostate specific antigen (PSA) in C42B cells which is a target gene of AR.
CONCLUSIONS:
Our results suggest that physalin A and Physalin B might be useful agents in preventing the growth of androgen-independent prostate cancer (AI-PCa).
Food Chem Toxicol. 2012 Mar;50(3-4):619-24.
Physalin B from Physalis angulata triggers the NOXA-related apoptosis pathway of human melanoma A375 cells.[Pubmed:
22245079
]
Melanoma is a lethal form of skin cancer that can metastasize rapidly. While surgery and radiation therapy provide palliative therapy for local tumor growth, systemic therapy is the mainstay of treatment for metastatic melanoma. However, limited chemotherapeutic agents are available for melanoma treatment. In this study, we investigated the anti-melanoma effect of Physalin B, the major active compound from a widely used herb medicine, Physalis angulata L.
METHODS AND RESULTS:
This study demonstrated that Physalin B exhibits cytotoxicity towards v-raf murine sarcoma viral oncogene homolog B1 (BRAF)-mutated melanoma A375 and A2058 cells (the IC50 values are lower than 4.6 μg/ml). Cytotoxicity is likely resulted from apoptosis since the apoptotic marker phosphatidylserine are detected immediately under Physalin B treatment and apoptotic cells formation. Further examination revealed that Physalin B induces expression of the proapoptotic protein NOXA within 2 h and later triggers the expression of Bax and caspase-3 in A375 cells.
CONCLUSIONS:
These results indicate that Physalin B can induce apoptosis of melanoma cancer cells via the NOXA, caspase-3, and mitochondria-mediated pathways, but not of human skin fibroblast cells and myoblastic cells. Thus, Physalin B has the potential to be developed as an effective chemotherapeutic lead compound for the treatment of malignant melanoma.
J Insect Physiol. 2009 Jun;55(6):532-7.
Physalin B inhibits Rhodnius prolixus hemocyte phagocytosis and microaggregation by the activation of endogenous PAF-acetyl hydrolase activities.[Pubmed:
19232405
]
The effects of Physalin B (a natural secosteroidal chemical from Physalis angulata, Solanaceae) on phagocytosis and microaggregation by hemocytes of 5th-instar larvae of Rhodnius prolixus were investigated. In this insect, hemocyte phagocytosis and microaggregation are known to be induced by the platelet-activating factor (PAF) or arachidonic acid (AA) and regulated by phospholipase A(2) (PLA(2)) and PAF-acetyl hydrolase (PAF-AH) activities.
METHODS AND RESULTS:
Phagocytic activity and formation of hemocyte microaggregates by Rhodnius hemocytes were strongly blocked by oral treatment of this insect with Physalin B (1mug/mL of blood meal). The inhibition induced by Physalin B was reversed for both phagocytosis and microaggregation by exogenous arachidonic acid (10microg/insect) or PAF (1microg/insect) applied by hemocelic injection. Following treatment with Physalin B there were no significant alterations in PLA(2) activities, but a significant enhancement of PAF-AH was observed.
CONCLUSIONS:
These results show that Physalin B inhibits hemocytic activity by depressing insect PAF analogous (iPAF) levels in hemolymph and confirm the role of PAF-AH in the cellular immune reactions in R. prolixus.
J Nat Prod. 2014 Nov 26;77(11):2397-403.
Antinociceptive properties of physalins from Physalis angulata.[Pubmed:
25396337
]
Pain is the most common reason a patient sees a physician. Nevertheless, the use of typical painkillers is not completely effective in controlling all pain syndromes; therefore further attempts have been made to develop improved analgesic drugs. The present study was undertaken to evaluate the antinociceptive properties of Physalin B (1), physalin D (2), physalin F (3), and physalin G (4) isolated from Physalis angulata in inflammatory and centrally mediated pain tests in mice.
METHODS AND RESULTS:
Systemic pretreatment with 1-4 produced dose-related antinociceptive effects on the writhing and formalin tests, traditional screening tools for the assessment of analgesic drugs. On the other hand, only 3 inhibited inflammatory parameters such as hyperalgesia, edema, and local production of TNF-α following induction with complete Freund's adjuvant. Treatment with 1, 3, and 4 produced an antinociceptive effect on the tail flick test, suggesting a centrally mediated antinociception. Reinforcing this idea, 2-4 enhanced the mice latency reaction time during the hot plate test. Mice treated with physalins did not demonstrate motor performance alterations.
CONCLUSIONS:
These results suggest that 1-4 present antinociceptive properties associated with central, but not anti-inflammatory, events and indicate a new pharmacological property of physalins.