Falcarindiol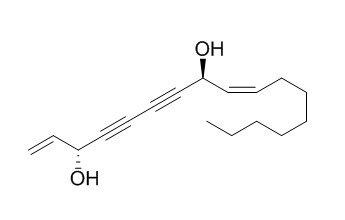 Falcarindiol has antimutagenic, neuroprotective, antifungal, anti-bacterial, and anticancer activities, it could be potentially used in food manufactures and cosmetology as preservative agents and biopesticides, or in medicine as new antibiotics. Falcarindiol has protective effects against CCl(4) toxicity, in part, the effects might be explained by anti-lipid peroxidation activity associated with the induction of the GSTs including GSTA4.
Inquire / Order: manager@chemfaces.com
Technical Inquiries: service@chemfaces.com
Tel: +86-27-84237783
Fax: +86-27-84254680

Address:
1 Building, No. 83, CheCheng Rd., Wuhan Economic and Technological Development Zone, Wuhan, Hubei 430056, PRC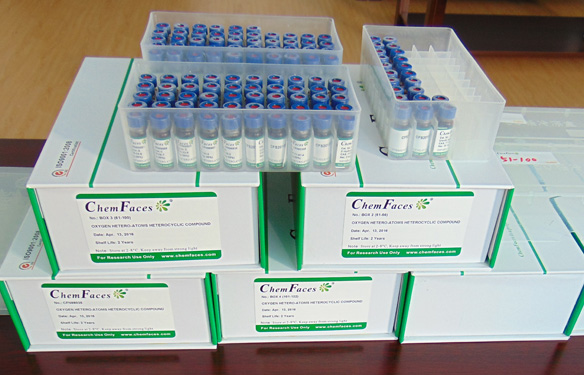 Providing storage is as stated on the product vial and the vial is kept tightly sealed, the product can be stored for up to
24 months(2-8C)
.
Wherever possible, you should prepare and use solutions on the same day. However, if you need to make up stock solutions in advance, we recommend that you store the solution as aliquots in tightly sealed vials at -20C. Generally, these will be useable for up to two weeks. Before use, and prior to opening the vial we recommend that you allow your product to equilibrate to room temperature for at least 1 hour.
Need more advice on solubility, usage and handling? Please email to: service@chemfaces.com
The packaging of the product may have turned upside down during transportation, resulting in the natural compounds adhering to the neck or cap of the vial. take the vial out of its packaging and gently shake to let the compounds fall to the bottom of the vial. for liquid products, centrifuge at 200-500 RPM to gather the liquid at the bottom of the vial. try to avoid loss or contamination during handling.
Front Pharmacol.2019, 10:1025
J Nat Med.2020, 74(1):65-75
Evid Based Complement Alternat Med.2019, 2019:2135351
J Nat Med.2020, 74(3):550-560.
Metabolites.2020, 10(11):440.
J Drug Target.2016, 24:1-28
J Ethnopharmacol.2017, 198:87-90
J Nat Sc Biol Med2019, 10(2):149-156
Biol Pharm Bull.2018, 41(11):1645-1651
Biochem Biophys Res Commun.2021, 534:802-807.
Cell Death Dis. 2012 Aug 23;3:e376.
The antitumor natural compound falcarindiol promotes cancer cell death by inducing endoplasmic reticulum stress.[Pubmed:
22914324
]
Falcarindiol (FAD) is a natural polyyne with various beneficial biological activities.
METHODS AND RESULTS:
We show here that FAD preferentially kills colon cancer cells but not normal colon epithelial cells. Furthermore, FAD inhibits tumor growth in a xenograft tumor model and exhibits strong synergistic killing of cancer cells with 5-fluorouracil, an approved cancer chemotherapeutic drug. We demonstrate that FAD-induced cell death is mediated by induction of endoplasmic reticulum (ER) stress and activation of the unfolded protein response (UPR). Decreasing the level of ER stress, either by overexpressing the ER chaperone protein glucose-regulated protein 78 (GRP78) or by knockout of components of the UPR pathway, reduces FAD-induced apoptosis. In contrast, increasing the level of ER stress by knocking down GRP78 potentiates FAD-induced apoptosis. Finally, FAD-induced ER stress and apoptosis is correlated with the accumulation of ubiquitinated proteins, suggesting that FAD functions at least in part by interfering with proteasome function, leading to the accumulation of unfolded protein and induction of ER stress. Consistent with this, inhibition of protein synthesis by cycloheximide significantly decreases the accumulation of ubiquitinated proteins and blocks FAD-induced ER stress and cell death.
CONCLUSIONS:
Taken together, our study shows that FAD is a potential new anticancer agent that exerts its activity through inducing ER stress and apoptosis.
J. Agr. Food Chem., 1996, 44(11): 3444-8.
Antimutagenic activity of falcarindiol from Peucedanum praeruptorum.[Reference:
WebLink
]
A methanol extract from Peucedanum praeruptorum showed a suppressive effect on umu gene expression of the SOS response in Salmonella typhimurium TA1535/pSK1002 against the mutagen 2-(2-furyl)-3-(5-nitro-2-furyl)acrylamide (furylfuramide).
METHODS AND RESULTS:
The methanol extract from P. praeruptorum was re-extracted with hexane, dichloromethane, n-butanol, and water, respectively. A suppressive compound in the hexane extract fraction was isolated by SiO2 column chromatography and identified as Falcarindiol by EI-MS, IR, and 1H and 13C NMR spectroscopy. Falcarindiol exhibited an inhibition of the SOS-inducing activity of furylfuramide in the umu test. Gene expression was suppressed 75% at less than 0.15 μmol/mL, and the ID50 value was 0.10 μmol/mL. The diacetate compound of Falcarindiol did not show any suppressive effect on the SOS induction of furylfuramide. Falcarindiol was also assayed with the mutagen 3-amino-1,4-dimethyl-5H-pyrido[4,3-b]indole (Trp-P-1), which requires liver-metabolizing enzymes, and showed a suppressive effect similar to that with furylfuramide. The Falcarindiol ID50 value versus Trp-P-1 was 0.096 μmol/mL.
CONCLUSIONS:
The antimutagenic activities of Falcarindiol and Falcarindiol diacetate against furylfuramide and Trp-P-1 were tested by an Ames test using S. typhimurium TA100, which indicated that Falcarindiol suppressed the mutagenicity of furylfuramide and Trp-P-1 and Falcarindiol diacetate suppressed the mutagenicity of Trp-P-1.
Planta Med., 1988, 54(1):36-7.
Isolation of the Antifungal Compounds Falcarindiol and Sarisan from Heteromorpha trifoliata[Reference:
WebLink
]
Leaves of Heteromorpha trifoliata (Umbelliferae) furnished the antifungal compounds Falcarindiol and sarisan after flash and low-pressure liquid chromatographies.
J Agric Food Chem. 2013 Aug 7;61(31):7515-21.
Inhibition of glycogen synthase kinase-3β by falcarindiol isolated from Japanese Parsley (Oenanthe javanica).[Pubmed:
23895038
]

METHODS AND RESULTS:
A new biological activity of Falcarindiol isolated from Japanese parsley (Oenanthe javanica) using the mutant yeast YNS17 strain (zds1Δ erg3Δ pdr1Δ pdr3Δ) was discovered as an inhibitor of glycogen synthase kinase-3β (GSK-3β). Falcarindiol inhibited GSK-3β in an ATP noncompetitive manner with a Ki value of 86.9 μM using a human enzyme and luminescent kinase assay platform. Falcarindiol also both suppressed gene expression of glucose-6-phosphatase (G6Pase) in rat hepatoma H4IIE cells and protected mouse neuroblastoma HT22 cells from glutamate-induced oxidative cell death at 10 μM. During an oral glucose tolerance test (OGTT), the blood glucose level was significantly decreased in the rats treated with oral administration of O. javanica extract containing Falcarindiol (15 mg/kg).
CONCLUSIONS:
These findings indicate that Japanese parsley could be a useful food ingredient against type-2 diabetes and Alzheimer's disease.
Biol Pharm Bull. 2011;34(3):371-8.
Dietary diacetylene falcarindiol induces phase 2 drug-metabolizing enzymes and blocks carbon tetrachloride-induced hepatotoxicity in mice through suppression of lipid peroxidation.[Pubmed:
21372387
]
Falcarindiol is a diacetylenic natural product containing unique carbon-carbon triple bonds.
METHODS AND RESULTS:
Mice were orally administrated Falcarindiol (100 mg/kg), and drug-metabolizing and antioxidant enzymes were monitored in several tissues of mice. Treatment with Falcarindiol was found to increase glutathione S-transferase (GST) and NAD(P)H: quinone oxidoreductase 1 activities in liver, small intestine, kidney, and lung. No changes were observed in cytochrome P450 (CYP) 1A known to activate procarcinogens. Western blot analysis revealed that various GST subunits including GSTA4, which plays an important role in the detoxification of alkenals produced from lipid peroxides, were induced in liver, small intestine, and kidney of Falcarindiol-treated mice. Additionally, we investigated the protective effects of Falcarindiol against hepatotoxicity induced by carbon tetrachloride (CCl(4)) and the mechanism of its hepatoprotective effect. Pretreatment with Falcarindiol prior to the administration of CCl(4) significantly suppressed both an increase in serum alanine transaminase/aspartate transaminase (ALT/AST) activity and an increase in hepatic thiobarbituric acid reactive substance levels without affecting CCl(4)-mediated degradation of CYP2E1. Formation of hexanoyl-lysine and 4-hydroxy-2(E)-nonenal-histidine adducts, lipid peroxidation biomarkers, in homogenates from the liver of CCl(4)-treated mice was decreased in the group of mice pretreated with Falcarindiol.
CONCLUSIONS:
These results suggest that the protective effects of Falcarindiol against CCl(4) toxicity might, in part, be explained by anti-lipid peroxidation activity associated with the induction of the GSTs including GSTA4.
BMC Res Notes . 2018 Jun 27;11(1):411.
Effect of the dietary polyacetylenes falcarinol and falcarindiol on the gut microbiota composition in a rat model of colorectal cancer[Pubmed:
29945666
]
Abstract Objectives: (3R)-Falcarinol (FaOH) and (3R,8S)-Falcarindiol (FaDOH) have previously been shown to reduce the number of neoplastic lesions and the growth rate of polyps in the colon of azoxymethane (AOM) treated rats. Based on previous investigations, it appears that different mechanisms of actions are involved in the antineoplastic effect of FaOH and FaDOH. One mechanism of action may be related to the antibacterial effect of FaOH and FaDOH and thus their effect on the gut microbiota. This study aimed to determine the effect of FaOH and FaDOH on gut microbiota composition of AOM treated rats. Results: Azoxymethane treated rats were fed either a standard rat diet or a rat diet supplemented with FaOH and FaDOH. The gut microbiota of AOM-induced rats was determined by 16S rRNA gene-amplicon sequencing. Analysis of fecal cecum samples demonstrated a significant gut microbiota change in rats receiving standard rat diet supplemented with FaOH and FaDOH compared with the control group that only received the rat diet. Comparison of the gut microbiota of rats who developed large neoplasms in the colon with rats without large neoplasms showed that the gut microbiota was significantly different in rats who developed large colon neoplasms compared to rats with no macroscopic colon neoplasms. Keywords: Carrots; Colorectal cancer; Falcarindiol; Falcarinol; Microbiota; Polyacetylenes; Rat model.
Neuroreport. 2003 Oct 27;14(15):1941-4.
Falcarindiol inhibits nitric oxide-mediated neuronal death in lipopolysaccharide-treated organotypic hippocampal cultures.[Pubmed:
14561925
]
Excessive nitric oxide (NO) release from activated microglia has a predominant role in neuronal death.
METHODS AND RESULTS:
This study investigated the effect of Falcarindiol, which was isolated from Cnidium officinale Makino, on the NO-mediated neuronal death in lipopolysaccharide (LPS)-treated organotypic hippocampal cultures. Falcarindiol dose-dependently reduced inducible NO synthase (iNOS)-mediated NO production without cytotoxic effects on LPS-activated BV-2 and microglia. Predictably, Falcarindiol inhibited neuronal death by reducing NO production in the LPS-treated organotypic hippocampal cultures. N-monomethyl-L-arginine (NMMA), an iNOS inhibitor, also inhibited neuronal death at 500 microM. In contrast, massive neuronal death was induced by excessive NO production in the LPS-treated alone cultures.
CONCLUSIONS:
These results suggest that excessive NO production plays an important role in the neurotoxic effect, and Falcarindiol is a potential inhibitor in NO-mediated neuronal death.
Chem Pharm Bull (Tokyo). 1999 Jan;47(1):96-100.
Antiproliferative constituents from umbelliferae plants. V. A new furanocoumarin and falcarindiol furanocoumarin ethers from the root of Angelica japonica.[Pubmed:
9987830
]

METHODS AND RESULTS:
The CHCl3 extract of the root of Angelica japonica showed high inhibitory activity against human gastric adenocarcinoma (MK-1) cell growth. From this extract, a new furanocoumarin named japoangelone and four furanocoumarin ethers of Falcarindiol, named japoangelols A-D, were isolated together with caffeic acid methyl ester, four polyacetylenic compounds (panaxynol, Falcarindiol, 8-O-acetylFalcarindiol, and (9Z)-1,9-heptadecadiene-4,6-diyne-3,8,11-triol), eight coumarins (osthol, isoimperatorin, scopoletin, byakangelicin, xanthotoxin, bergapten, oxypeucedanin methanolate, and oxypeucedanin hydrate), and two chromones (3'-O-acetylhamaudol, and hamaudol).
CONCLUSIONS:
The structures of the new isolates were determined based on spectral evidence. The ED50 of isolates against MK-1, HeLa, and B16F10 cell lines are reported.