Huzhangoside B
Reference standards.
Inquire / Order: manager@chemfaces.com
Technical Inquiries: service@chemfaces.com
Tel: +86-27-84237783
Fax: +86-27-84254680

Address:
1 Building, No. 83, CheCheng Rd., Wuhan Economic and Technological Development Zone, Wuhan, Hubei 430056, PRC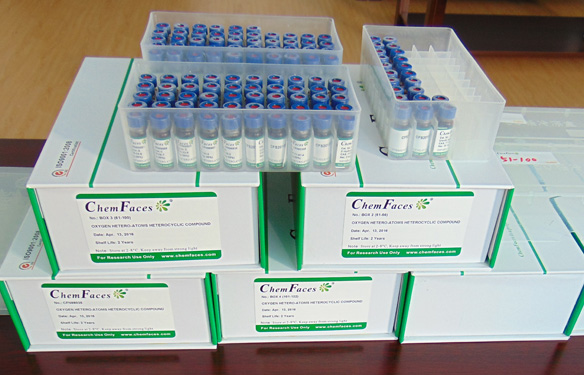 Providing storage is as stated on the product vial and the vial is kept tightly sealed, the product can be stored for up to
24 months(2-8C)
.
Wherever possible, you should prepare and use solutions on the same day. However, if you need to make up stock solutions in advance, we recommend that you store the solution as aliquots in tightly sealed vials at -20C. Generally, these will be useable for up to two weeks. Before use, and prior to opening the vial we recommend that you allow your product to equilibrate to room temperature for at least 1 hour.
Need more advice on solubility, usage and handling? Please email to: service@chemfaces.com
The packaging of the product may have turned upside down during transportation, resulting in the natural compounds adhering to the neck or cap of the vial. take the vial out of its packaging and gently shake to let the compounds fall to the bottom of the vial. for liquid products, centrifuge at 200-500 RPM to gather the liquid at the bottom of the vial. try to avoid loss or contamination during handling.
Anticancer Res.2020, 40(10):5529-5538.
Front Pharmacol.2021, 12:607403.
Separations2021, 8(6),80.
J AOAC Int.2021, 104(6):1634-1651.
Nutrients.2020, 12(12):3638.
J of Food Quality2020, 8851285.
Front Pharmacol.2021, 12:764297.
Acta Agriculturae Scandinavica2015, 381-383
Bioorg Med Chem.2020, 28(12):115553.
Pharmaceuticals (Basel).2020, 13(10):302.
Biochemical Systematics & Ecology, 2010, 38(5):1018-1025.
Distribution of the triterpenoid saponins and chemotaxonomy of the genus Clematis L. by high-performance liquid chromatography–mass spectrometry.[Reference:
WebLink
]

METHODS AND RESULTS:
Selected species of the genus Clematis (Ranunculaceae) have been screened for occurrence of triterpenoid saponins by qualitative HPLC-MSn analysis of root and rhizome materials from 18 Clematis samples as well as the whole plant materials of Clematis puberula var. ganpiniana and Clematis terniflora. The HPLC-MSn analysis allowing the detection of 17 oleanolic acid or hederagenin saponins was carried out in the negative selected ion monitoring (SIM) mode. Triterpenoid saponin profiles of these taxa were used for phylogenetic studies, and results are presented as a dendrogram.
CONCLUSIONS:
Huzhangoside B could be unambiguously identified in all analyzed Clematis taxa, as well as in the investigated Ranunculus taxa. The distribution and chemotaxonomic importance of the triterpenoid saponin profile within this genus are discussed.
Chem Pharm Bull (Tokyo). 1998 Dec;46(12):1891-900.
Studies on the constituents of Clematis species. VII. Triterpenoid saponins from the roots of Clematis terniflora DC. var. robusta Tamura.[Pubmed:
9880908
]

METHODS AND RESULTS:
From the roots of Clematis terniflora, nine new oleanolic acid 3,28-O-bisdesmosides called clematernosides A, B, E, F, G, H, I, J and K, and two new hederagenin 3,28-O-bisdesmosides called clematernosides C and D, have been isolated together with two known saponins, Huzhangoside B and clematichinenoside C. The structures of the new saponins have been elucidated based on chemical and spectral evidence.
METHODS AND RESULTS:
Among the new spaonins, clematernosides I and J have a nonasaccharide moiety and a total of twelve monosaccharide moieties in the molecule. This is the first report of the isolation and structure elucidation of such "big" glycosides.