Kaempferol 7-O-rhamnoside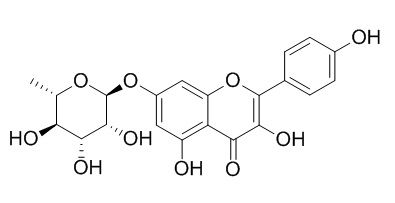 Kaempferol 7-O-rhamnoside is a natural product from Maytenus hookeri.
Inquire / Order: manager@chemfaces.com
Technical Inquiries: service@chemfaces.com
Tel: +86-27-84237783
Fax: +86-27-84254680

Address:
1 Building, No. 83, CheCheng Rd., Wuhan Economic and Technological Development Zone, Wuhan, Hubei 430056, PRC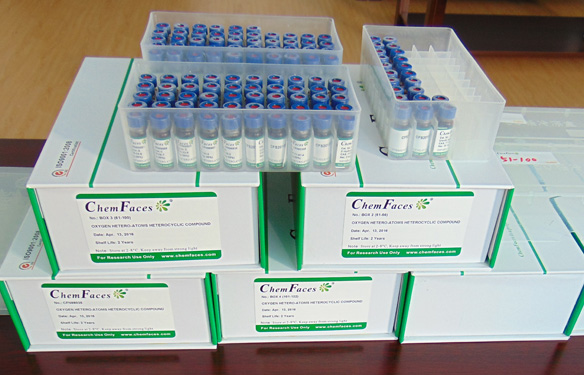 Providing storage is as stated on the product vial and the vial is kept tightly sealed, the product can be stored for up to
24 months(2-8C)
.
Wherever possible, you should prepare and use solutions on the same day. However, if you need to make up stock solutions in advance, we recommend that you store the solution as aliquots in tightly sealed vials at -20C. Generally, these will be useable for up to two weeks. Before use, and prior to opening the vial we recommend that you allow your product to equilibrate to room temperature for at least 1 hour.
Need more advice on solubility, usage and handling? Please email to: service@chemfaces.com
The packaging of the product may have turned upside down during transportation, resulting in the natural compounds adhering to the neck or cap of the vial. take the vial out of its packaging and gently shake to let the compounds fall to the bottom of the vial. for liquid products, centrifuge at 200-500 RPM to gather the liquid at the bottom of the vial. try to avoid loss or contamination during handling.
PLoS One.2018, 13(4):e0195642
Pharmacogn Mag.2015, 11(43):562-6
Exp Neurobiol.2018, 27(3):200-209
Applied Biological Chem. 2020, 26(63).
Appl Microbiol Biotechnol.2016, 100(9):3965-77
Biotechnol Bioeng.2020, 117(7):2198-2208.
Saudi Pharm J2020, 10.1016
Int J Oncol.2016, 49(4):1497-504
Evid-Based Compl Alt2020, 7202519:13
J Ginseng Res.2020, 44(4):611-618.
International Journal of Biological Macromolecules, 2017,98:829-36.
Constituent analysis of the ethanol extracts of Chimonanthus nitens Oliv. leaves and their inhibitory effect on α-glucosidase activity.[Pubmed:
28223131
]
The ethanol extracts of Chimonanthus nitens Oliv. leaves were prepared sequentially by ethanol gradient elution and tested for their α-glucosidase inhibitory.
METHODS AND RESULTS:
The fraction of 50% ethanol eluate (EE) exhibited the notable inhibition with IC50 of 0.376mg/mL. Also, 50% EE was chemically characterized by liquid chromatography-mass spectrometry (LC-MS) analysis. Eight compounds including rutin (1), hyperin (2), isoquercitrin (3), luteoloside (4), astragalin (6), quercetin (13), naringenin (14), kaempferol (15) were identified by compared with standard substances as well as proper luteolin-5-O-glucoside (5), Kaempferol 7-O-rhamnoside (9), 5,7,8-trihydroxy-2-methoxyl-flavone-7-O-glucoside (10), kaempferol-7-O-acetyl-galactoside (11). The experiments of ultra-filtration combined with liquid chromatography-mass spectrometry (UF-LC-MS) guided quercetin and kaempferol as the key factors for 50% EE showing highly inhibitory activity on α-glucosidase. Quercetin and kaempferol inhibited yeast α-glucosidase in a mixed-type manner with IC50 of 66.8 and 109μg/mL, respectively.
CONCLUSIONS:
These results would provide theoretical underpinning for the C. nitens Oliv. leaves ethanol extracts used as nutraceutical health supplement in the management of type 2 diabetes.
Planta Med 2013; 79 - PJ5
Flavonoids from the leaves of Physalis angulata Linn.[Reference:
WebLink
]
Plants from the genus Physalis are particularly rich in secondary metabolites. Physalis angulata is a widely distributed annual plant belonging to the nightshade family Solanaceae. Physalis angulata have been used for centuries as medicinal herbs in the treatment of urinary tract infection, skin diseases, gonnorhea, ulcers, sores and as vermicidal drug [1,2].
METHODS AND RESULTS:
The main purpose of this present study is to screen the leaves of this plant for phytochemical constituents that may be responsible for some of these biological activities. The dried leaves of Physalis angulata were sequentially extracted with dichloromethane and 70% methanol. The aqueous methanol extract was partitioned between ethyl acetate and n-butanol. From the n-butanol fraction, four Flavonoids were isolated through column chromatography over silica gel G and sephadex LH-20. Based on the spectroscopic data which include NMR and mass spectroscopy, the chemical structures were determined as quercetin (1), quercetin 3-O-methyl ether (2) isoquercetrin (3) and Kaempferol 7-O-rhamnoside (4).
CONCLUSIONS:
The structures were elucidated using spectroscopic technique and compared with literature [3 – 4]. Anti-oxidant activity using DPPH and anti-bacterial activity of the flavonoids were also investigated. These compounds were isolated for the first time from the leaves of this plant.