Isovitexin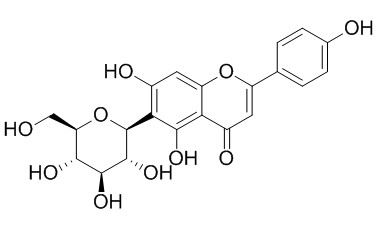 Isovitexin, a food phytochemical contained in dietary rice products, it exhibits in vivo α-glucosidase inhibition, it possesses antihyperglycemic, neuroprotective, anti-inflammatory and anti-oxidant activities. Isovitexin inhibited xanthine oxidase with an IC50 value of 15.2 microM, it may protect cells from oxidative stress. It inhibited JNK, MAPK and NF-κB and activated HO-1/Nrf2 pathways.
Inquire / Order: manager@chemfaces.com
Technical Inquiries: service@chemfaces.com
Tel: +86-27-84237783
Fax: +86-27-84254680

Address:
1 Building, No. 83, CheCheng Rd., Wuhan Economic and Technological Development Zone, Wuhan, Hubei 430056, PRC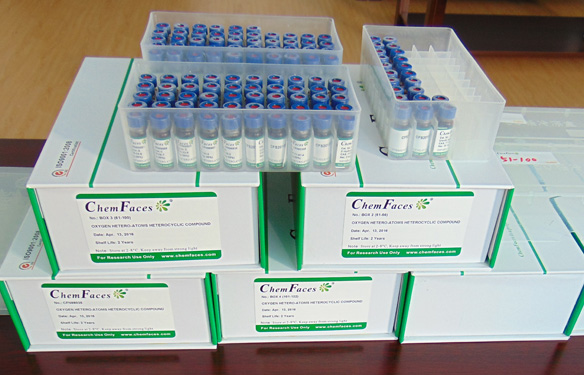 Providing storage is as stated on the product vial and the vial is kept tightly sealed, the product can be stored for up to
24 months(2-8C)
.
Wherever possible, you should prepare and use solutions on the same day. However, if you need to make up stock solutions in advance, we recommend that you store the solution as aliquots in tightly sealed vials at -20C. Generally, these will be useable for up to two weeks. Before use, and prior to opening the vial we recommend that you allow your product to equilibrate to room temperature for at least 1 hour.
Need more advice on solubility, usage and handling? Please email to: service@chemfaces.com
The packaging of the product may have turned upside down during transportation, resulting in the natural compounds adhering to the neck or cap of the vial. take the vial out of its packaging and gently shake to let the compounds fall to the bottom of the vial. for liquid products, centrifuge at 200-500 RPM to gather the liquid at the bottom of the vial. try to avoid loss or contamination during handling.
FASEB J.2019, 33(2):2026-2036
Lab Chip.2018, 18(6):971-978
J of Applied Pharmaceutical Science2020, 10(1):077-082
Asian J Beauty Cosmetol2019, 17(3):287-294
J of the Society of Cosmetic Scientists of Korea2018, 44(4):407-417
Am J Chin Med.2015, 30:1-22
ACS Nano.2018, 12(4):3385-3396
The Malaysian journal of pathology2019, 41(3):243-251
Phytochemistry.2017, 141:162-170
Korean Journal of Pharmacognosy2018, 49(1):76-83
J Pharm Pharmacol. 2016 Feb;68(2):282-91.
Passiflora actinia hydroalcoholic extract and its major constituent, isovitexin, are neuroprotective against glutamate-induced cell damage in mice hippocampal slices.[Pubmed:
26800497
]
To investigate whether Passiflora actinia hydroalcoholic extract and its major constituent, Isovitexin, protect mice hippocampal brain slices from glutamate-induced neurotoxicity.
METHODS AND RESULTS:
Neuroprotective effect of the extract against glutamate-induced excitotoxicity (10 mm) was evaluated through cell viability of hippocampal slices. The extract or its flavonoids were directly applied to hippocampal slices and then subjected to glutamate-induced toxicity. Alternatively, hippocampal slices from extract-treated mice were also subjected to the same toxicity protocol. Mice supplementation with the extract protected hippocampal slices from in-vitro neurotoxicity. When directly applied to hippocampal slices, the extract showed a higher neuroprotective potential than a commercial dry extract of Passiflora incarnata, which was related to P. actinia extract which had higher Isovitexin and total flavonoid content expressed as Isovitexin. Isovitexin, but not apigenin, induced a similar neuroprotective response when applied alone, at a concentration equivalent to that found in the extract.
CONCLUSIONS:
This study highlights new neuropharmacological activity of the Passiflora genus, suggesting that it can act as modulator of the glutamatergic system. The search for improved pharmacotherapies with novel mechanisms of action has been shown of great importance for the treatment of resistant neurological and psychiatric disorders.
Planta Med. 2005 Aug;71(8):748-53.
Isovitexin suppresses lipopolysaccharide-mediated inducible nitric oxide synthase through inhibition of NF-kappa B in mouse macrophages.[Pubmed:
16142640
]
Isovitexin exhibits potent antioxidant activities. In this study, the activity of nitric oxide synthase (iNOS) in lipopolysaccharide (LPS)-activated RAW264.7 macrophages after incubation with Isovitexin was investigated.
METHODS AND RESULTS:
Isovitexin was able to reduce the production of hydrogen peroxide induced by LPS in mouse macrophage RAW264.7 cells. The cells incubated with Isovitexin had markedly reduced LPS-stimulated NO production with an IC (50) value of 58.5 microM. The expression of iNOS was also inhibited when the cells were treated with Isovitexin. A transient transfection experiment showed that Isovitexin suppressed the iNOS promoter and NF-kappaB-dependent transcriptional activities. It was also found to inhibit IKK kinase activity and prevent the degradation of IkappaBalpha in activated RAW264.7 cells. Additionally, Western blotting analysis revealed that Isovitexin prevented the translocation of NF-kappaB from the cytoplasm to the nucleus.
CONCLUSIONS:
Our results indicate that its ROS scavenger and IKK inhibitory activities also contribute to the suppression of ROS-mediated NF-kappaB activity. These results suggest that Isovitexin, a food phytochemical contained in dietary rice products, might have biological significance.
J Ethnopharmacol. 2012 Aug 1;142(3):776-81.
Vitexin and isovitexin from the Leaves of Ficus deltoidea with in-vivo α-glucosidase inhibition.[Pubmed:
22683902
]
The leaves of Ficus deltoidea are used as a traditional medicine by diabetes patients in Malaysia. The objective of the study is to identify and evaluate bioactive constituents with in vivo α-glucosidase inhibition.
METHODS AND RESULTS:
The partitioned extracts, subfractions and pure bioactive constituents were subjected to α-glucosidase inhibition assay. The identified bioactive constituents were administered orally to sucrose loaded normoglycemic mice and induced diabetic rats. The postprandial blood glucose levels were monitored at 30 min interval. Acute toxicity was evaluated in both normoglycemic mice and induced diabetic rats. Bioactivity guided fractionation led to the isolation of both vitexin (1) and Isovitexin (2). Oral administration of 1mg/kg of either vitexin (1) or Isovitexin (2) significantly (p<0.05) reduced the postprandial blood glucose level in sucrose loaded normoglycemic mice at 30 min. The percentage of postprandial blood glucose reduction was highest in sucrose loaded induced diabetic rats administered orally with 200mg/kg of vitexin (1) or 100mg/kg of Isovitexin (2). Both vitexin (1) and Isovitexin (2) did not exert any signs of toxicity at the highest dose of 2g/kg administered orally to normoglycemic mice and induced diabetic rats.
CONCLUSIONS:
Both the C-glycosyl bioflavonoids, namely, vitexin (1) and Isovitexin (2) exhibited in vivo α-glucosidase inhibition.
Int J Biol Sci. 2016 Jan 1;12(1):72-86.
Isovitexin Exerts Anti-Inflammatory and Anti-Oxidant Activities on Lipopolysaccharide-Induced Acute Lung Injury by Inhibiting MAPK and NF-κB and Activating HO-1/Nrf2 Pathways.[Pubmed:
26722219
]
Oxidative damage and inflammation are closely associated with the pathogenesis of acute lung injury (ALI). Thus, we explored the protective effect of Isovitexin (IV), a glycosylflavonoid, in the context of ALI.
METHODS AND RESULTS:
To accomplish this, we created in vitro and in vivo models by respectively exposing macrophages to lipopolysaccharide (LPS) and using LPS to induce ALI in mice. In vitro, our results showed that IV treatment reduced LPS-induced pro-inflammatory cytokine secretion, iNOS and COX-2 expression and decreased the generation of ROS. Consistent findings were obtained in vivo. Additionally, IV inhibited H2O2-induced cytotoxicity and apoptosis. However, these effects were partially reversed following the use of an HO-1 inhibitor in vitro. Further studies revealed that IV significantly inhibited MAPK phosphorylation, reduced NF-κB nuclear translocation, and upregulated nuclear factor erythroid 2-related factor 2 (Nrf2) and heme oxygenase 1 (HO-1) expression in RAW 264.7 cells. In vivo, pretreatment with IV attenuated histopathological changes, infiltration of polymorphonuclear granulocytes and endothelial activation, decreased the expression of ICAM-1 and VCAM-1, reduced the levels of MPO and MDA, and increased the content of GSH and SOD in ALI. Furthermore, IV treatment effectively increased Nrf2 and HO-1 expression in lung tissues.
CONCLUSIONS:
Therefore, IV may offer a protective role against LPS-induced ALI by inhibiting MAPK and NF-κB and activating HO-1/Nrf2 pathways.
Planta Med. 2002 Apr;68(4):365-7.
Prevention of cellular ROS damage by isovitexin and related flavonoids.[Pubmed:
11988866
]
The antioxidant properties of Isovitexin and related flavonoids were studied.
METHODS AND RESULTS:
Isovitexin inhibited xanthine oxidase with an IC50 value of = 15.2 microM. The flavonoid analogues, apigenin, kaempferol, quercetin, myricetin, and genistein also inhibited xanthine oxidase with IC50 values of 0.58, 2.18, 1.09, 9.90, and 4.83 microM, respectively. Isovitexin protected DNA from the Fenton reaction-induced breakage in a dose-dependent manner with an IC50 value of 9.52 microM. Isovitexin also protected HL-60 cells from the ROS damage induced by the xanthine/xanthine oxidase reaction. Isovitexin exhibited the lowest cytotoxicity toward HL-60 cells (LD50 >400 microM) compared to the other flavonoids examined. In addition, excess hydrogen peroxide induced by cadmium in A2780 ovarian cells was significantly suppressed by Isovitexin.
CONCLUSIONS:
These results suggest that Isovitexin in rice may protect cells from oxidative stress.
J Agric Food Chem. 2012 Oct 31;60(43):10844-9.
Enzymatic acylation of isoorientin and isovitexin from bamboo-leaf extracts with fatty acids and antiradical activity of the acylated derivatives.[Pubmed:
23057589
]

METHODS AND RESULTS:
This study enzymatically acrylates two flavonoids from bamboo-leaf extracts, isoorientin and Isovitexin, with different fatty acids as acyl donors using Candida antarctica lipase B (CALB). The conversion yield ranged from 35 to 80% for fatty acids with different chain lengths. Higher isoorientin and Isovitexin conversion yields (>75%) were obtained using lauric acid in tert-amyl-alcohol as the reaction medium. (1)H and (13)C nuclear magnetic resonance spectroscopy analysis showed that, in the presence of CALB, acylation occurred at the isoorientin and Isovitexin primary hydroxyl group of glucose moiety and only monoesters were detected.
CONCLUSIONS:
Introducing an acyl group into isoorientin and Isovitexin significantly improved their lipophilicity but reduced their antiradical activity.