Isocudraniaxanthone A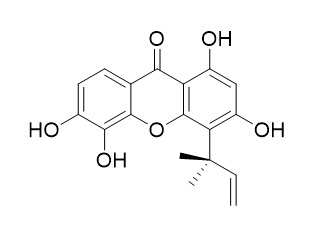 Isocudraniaxanthone A may have antimalarial activity.
Inquire / Order: manager@chemfaces.com
Technical Inquiries: service@chemfaces.com
Tel: +86-27-84237783
Fax: +86-27-84254680

Address:
1 Building, No. 83, CheCheng Rd., Wuhan Economic and Technological Development Zone, Wuhan, Hubei 430056, PRC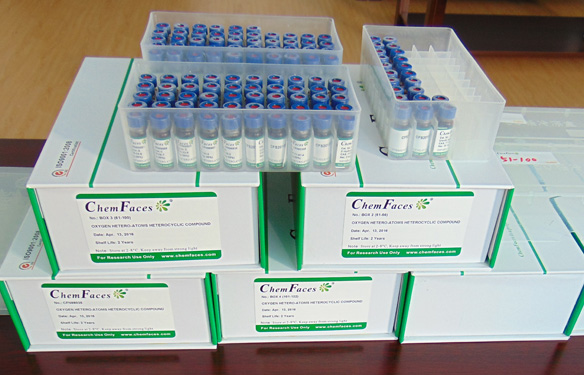 Providing storage is as stated on the product vial and the vial is kept tightly sealed, the product can be stored for up to
24 months(2-8C)
.
Wherever possible, you should prepare and use solutions on the same day. However, if you need to make up stock solutions in advance, we recommend that you store the solution as aliquots in tightly sealed vials at -20C. Generally, these will be useable for up to two weeks. Before use, and prior to opening the vial we recommend that you allow your product to equilibrate to room temperature for at least 1 hour.
Need more advice on solubility, usage and handling? Please email to: service@chemfaces.com
The packaging of the product may have turned upside down during transportation, resulting in the natural compounds adhering to the neck or cap of the vial. take the vial out of its packaging and gently shake to let the compounds fall to the bottom of the vial. for liquid products, centrifuge at 200-500 RPM to gather the liquid at the bottom of the vial. try to avoid loss or contamination during handling.
ACS Nano.2018, 12(4):3385-3396
Biomolecules.2021, 11(10):1537.
J Ethnopharmacol.2022, 289:115018.
J Nat Med.2017, 71(2):457-462
Molecules.2019, 24(16):E3003
J Sep Sci.2018, 41(11):2488-2497
Molecules.2018, 23(11):E2837
Molecules.2018, 23(7):E1659
Ind Crops Prod.2015, 67:185-191
Bull. Pharm. Sci., Assiut University2020, 43(2):149-155.
Chem Pharm Bull (Tokyo). 1997 Oct;45(10):1615-9.
Indonesian medicinal plants. XXI. Inhibitors of Na+/H+ exchanger from the bark of Erythrina variegata and the roots of Maclura cochinchinensis.[Pubmed:
9353889
]
Through bioassay-guided separation of the methanol extracts of Indonesian medicinal plants, three inhibitors of the Na+/H+ exchange system, erythrinin B (2), euchrenone b10 (3), and 1,3,5-trihydroxy-4-(3-methylbut-2-enyl)xanthen-9-one (4), were isolated from the bark of Erythrina variegata (Fabaceae) (for 2) and the roots of Maclura cochinchinensis (Moraceae) (for 2, 3, 4).
METHODS AND RESULTS:
Compounds 2, 3, and 4 significantly inhibited the Na+/H+ exchange system of arterial smooth muscle cells, with minimum inhibitory concentrations of 1.25, 1.25, and 10 micrograms/ml, respectively. Three new prenylated xanthones named isocudraniaxanthone B (5) and Isocudraniaxanthone A (7) and isoalvaxanthone (9) were also isolated from M. cochinchinensis and the chemical structures were elucidated on the bases of their chemical and physicochemical properties.
Life Sci. 2004 Nov 5;75(25):3077-85.
Antimalarial xanthones from Calophyllum caledonicum and Garcinia vieillardii.[Pubmed:
15474559
]
The antimalarial activity of 22 xanthones against chloroquino-resistant strains of Plasmodium falciparum was evaluated.
METHODS AND RESULTS:
Natural caloxanthone C (1), demethylcalabaxanthone (2), calothwaitesixanthone (3), calozeyloxanthone (4), dombakinaxanthone (5), macluraxanthone (6), and 6-deoxy-gamma-mangostin (7) were isolated from Calophyllum caledonicum. 1,6-dihydroxyxanthone (8), pancixanthone A (9), isocudraniaxanthone B (10), Isocudraniaxanthone A (11), 2-deprenylrheediaxanthone B (12) and 1,4,5-trihydroxyxanthone (13) were isolated from Garcinia vieillardii. Moreover, synthetic compounds (14-22) are analogues or intermediates of xanthones purified from Calophyllum caledonicum (Oger J.M., Morel C., Helesbeux J.J., Litaudon M., Seraphin D., Dartiguelongue C., Larcher G., Richomme P., Duval O. 2003. First 2-Hydroxy-3-Methylbut-3-Enyl substituted xanthones isolated from Plants: structure elucidation, synthesis and antifungal activity. Natural Product Research 17(3), 195-199; Helesbeux J.J., Duval O., Dartiguelongue C., Seraphin D., Oger J.M., Richomme P., 2004. Synthesis of 2-hydroxy-3-methylbut-3-enyl substituted coumarins and xanthones as natural products. Application of the Schenck ene reaction of singlet oxygen with ortho-prenylphenol precursors. Tetrahedron 60(10), 2293-2300). The relationship between antimalarial activity and molecular structure of xanthones has also been explored.
CONCLUSIONS:
The most potent xanthones (2), (3) and (7) (IC50 = c.a. 1.0 microg/mL) are 1,3,7 trioxygenated and prenylated on the positions 2 and 8.