Hinokiflavone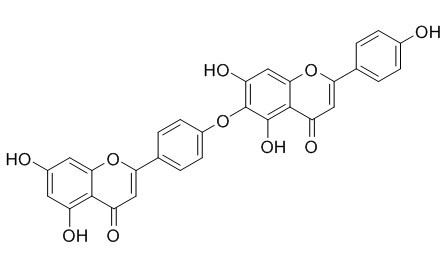 Hinokiflavone has significant cytotoxicity, it has inhibition of MMP-9.
Inquire / Order: manager@chemfaces.com
Technical Inquiries: service@chemfaces.com
Tel: +86-27-84237783
Fax: +86-27-84254680

Address:
1 Building, No. 83, CheCheng Rd., Wuhan Economic and Technological Development Zone, Wuhan, Hubei 430056, PRC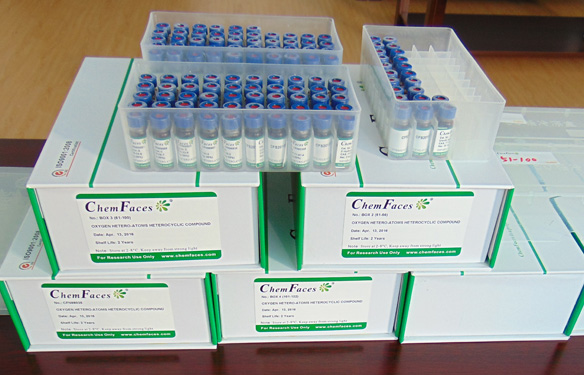 Providing storage is as stated on the product vial and the vial is kept tightly sealed, the product can be stored for up to
24 months(2-8C)
.
Wherever possible, you should prepare and use solutions on the same day. However, if you need to make up stock solutions in advance, we recommend that you store the solution as aliquots in tightly sealed vials at -20C. Generally, these will be useable for up to two weeks. Before use, and prior to opening the vial we recommend that you allow your product to equilibrate to room temperature for at least 1 hour.
Need more advice on solubility, usage and handling? Please email to: service@chemfaces.com
The packaging of the product may have turned upside down during transportation, resulting in the natural compounds adhering to the neck or cap of the vial. take the vial out of its packaging and gently shake to let the compounds fall to the bottom of the vial. for liquid products, centrifuge at 200-500 RPM to gather the liquid at the bottom of the vial. try to avoid loss or contamination during handling.
Nat Prod Commun.2014, 9(5):679-82
Food Res Int.2020, 128:108778
Phytochemistry.2017, 141:162-170
Korean J. Medicinal Crop Sci.2018, 26(2):148-156
Molecules.2019, 24(6):E1155
Exp Parasitol.2017, 183:160-166
Int J Mol Sci.2015, 16(8):18396-411
Curr Eye Res.2018, 43(1):27-34
Korean J of Crop Science2019, 452-458
JPC-Journal of Planar Chromatography 2017, 30(4)
Planta Med. 1989 Apr;55(2):166-8.
Hinokiflavone, a cytotoxic principle from Rhus succedanea and the cytotoxicity of the related biflavonoids.[Pubmed:
2526343
]
Hinokiflavone (1) was isolated as the cytotoxic principle from the drupes of Rhus succedanea L.
METHODS AND RESULTS:
A comparison of the cytotoxicity of 1 and other related biflavonoids, including amentoflavone (2), robustaflavone (3), agathisflavone (4), rhusflavone (5), rhusflavanone (6) and its hexaacetate (7), succedaneaflavanone (8) and its hexaacetate (9), cupressuflavone (10), neorhusflavanone (11), volkensiflavone (12) and its hexamethyl ether (13), spicataside (14) and its nonaacetate (15), morelloflavone (16) and its heptaacetate (17) and heptamethyl ether (18), GB-1a (19) and its hexamethyl ether (20) and 7"-O-beta-glucoside (21), and GB-2a (22), indicates that an ether linkage between two units of apigenin as seen in 1 is structurally required for significant cytotoxicity. Compounds 13 and 20 also demonstrated significant cytotoxicity.
J Mol Graph Model. 2014 Apr;49:25-37.
Discovery of potent inhibitor for matrix metalloproteinase-9 by pharmacophore based modeling and dynamics simulation studies.[Pubmed:
24473069
]
Matrix metalloproteinase-9 (MMP-9) is an attractive target for anticancer therapy.
METHODS AND RESULTS:
In the present study ligand based pharmacophore modeling was performed to elucidate the structural elements for a diverse class of MMP-9 inhibitors. The pharmacophore model was validated through Güner-Henry (GH) scoring method. The final pharmacophore model consisted of three hydrogen bond acceptors (HBA), and two ring aromatic regions (RA). This model was utilized to screen the natural compound database to seek novel compounds as MMP-9 inhibitors. The identified hits were validated using molecular docking and molecular dynamics simulation studies. Finally, one compound named Hinokiflavone from Juniperus communis had high binding free energy of -26.54kJ/mol compared with the known inhibitors of MMP-9. Cytotoxicity for Hinokiflavone was evaluated by MTT assay. Inhibition of MMP-9 in the presence of Hinokiflavone was detected by gelatin zymography and gelatinolytic inhibition assay.
CONCLUSIONS:
Results revealed that the natural compounds derived based on the developed pharmacophore model would be useful for further design and development of MMP-9 inhibitors.