Heraclenin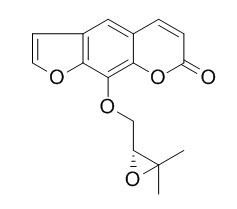 Heraclenin has anticoagulant, and anti-inflammatory activities, it also has mutagenicity in Chlamydomonas reinhardii. Heraclenin can induce apoptosis in Jurkat leukemia cells, it has a strong clastogenic effect . (+)-Heraclenin displays significant levels of antiplasmodial and moderate levels of antimicrobial activities.
Inquire / Order: manager@chemfaces.com
Technical Inquiries: service@chemfaces.com
Tel: +86-27-84237783
Fax: +86-27-84254680

Address:
1 Building, No. 83, CheCheng Rd., Wuhan Economic and Technological Development Zone, Wuhan, Hubei 430056, PRC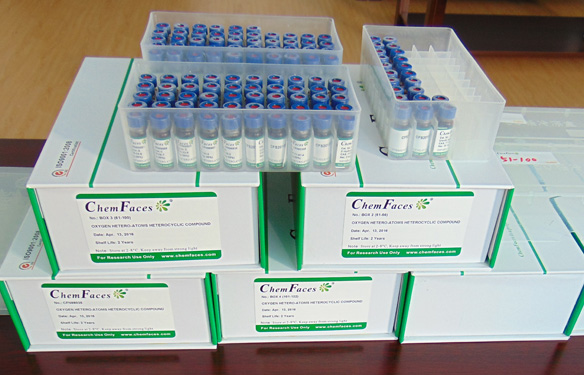 Providing storage is as stated on the product vial and the vial is kept tightly sealed, the product can be stored for up to
24 months(2-8C)
.
Wherever possible, you should prepare and use solutions on the same day. However, if you need to make up stock solutions in advance, we recommend that you store the solution as aliquots in tightly sealed vials at -20C. Generally, these will be useable for up to two weeks. Before use, and prior to opening the vial we recommend that you allow your product to equilibrate to room temperature for at least 1 hour.
Need more advice on solubility, usage and handling? Please email to: service@chemfaces.com
The packaging of the product may have turned upside down during transportation, resulting in the natural compounds adhering to the neck or cap of the vial. take the vial out of its packaging and gently shake to let the compounds fall to the bottom of the vial. for liquid products, centrifuge at 200-500 RPM to gather the liquid at the bottom of the vial. try to avoid loss or contamination during handling.
Chemistr of plant2016, 2016021195
Primary and Industrial.2018, 52(11)
J Basic Clin Physiol Pharmacol.2016, 27(1):1-8
J of the Korean Society of Cosmetics and Cosmetology2018, 399-406
J of L. Chroma.&Related Tech2017, 252-258
Food Chem.2019, 276:768-775
J Food Biochem.2019, 43(9):e12970
Biochem Biophys Res Commun.2018, 495(1):1271-1277
Nat Prod Sci.2019, 25(3):238
J Pharmaceut Biomed2020, 182:113110
Mutat Res. 1986 Jan-Feb;169(1-2):51-4.
Chromosome-damaging effects of heraclenin in human lymphocytes in vitro.[Pubmed:
3945237
]

METHODS AND RESULTS:
Heraclenin, a furocoumarin with an epoxide group in its side chain, was analyzed to see if it induced structural chromosome aberrations and sister-chromatid exchanges (SCEs) in human lymphocytes in vitro. The results were compared directly with those of imperatorin, which differs from Heraclenin only in lacking an epoxide group. An equally strong clastogenic effect was found for both Heraclenin and imperatorin: the number of metaphases with breaks was increased in both cases by approximately a factor of 6. Heraclenin produced a considerable dose-dependent increase in the SCE rate, i.e., by about 60 induced SCEs/metaphase, whereas imperatorin induced only about 4 SCEs/metaphase.
CONCLUSIONS:
The results are discussed with respect to the occurrence of structural aberrations, which are primarily due to the basic furocoumarin structure itself, whereas the large increase in the SCE rate produced by Heraclenin is most probably significantly influenced by its epoxide group.
Mutat Res. 1986 Jan-Feb;169(1-2):47-50.
Mutagenicity of a furocoumarin epoxide, heraclenin, in Chlamydomonas reinhardii.[Pubmed:
3945236
]
Treatment of arg- or strd mutant cells of Chlamydomonas reinhardii with a furocoumarin epoxide, Heraclenin, plus UV-A resulted in a decrease in survival and a UV-A dose-dependent increase in induced Arg+ or Strs revertants.
METHODS AND RESULTS:
Imperatorin, a furocoumarin with a very similar structure but lacking an epoxide group showed a very similar phototoxic and photomutagenic activity in these mutant strains. Treating the mutant cells with Heraclenin or imperatorin in the dark neither influenced survival nor mutation induction. The results are discussed with respect to the involvement of the epoxide moiety of Heraclenin in mutagenicity.
Curr. Sci., 2011, 100(11):1706-11.
Microbial transformation of (+)-heraclenin by Aspergillus niger and evaluation of its antiplasmodial and antimicrobial activities[Reference:
WebLink
]

METHODS AND RESULTS:
Microbial transformation of (+)-Heraclenin (1) by Aspergillus niger was studied in growth media to assess its antiplasmodial and antimicrobial activities. It was transformed to (-)-heraclenol (2) as the sole product in a stereospecific manner. The in vitro antiplasmodial activity of compounds 1 and 2 was tested with chloroquine-sensitive and chloroquine-resistant strains of Plasmodium falciparum. Further, the in vitro antibacterial activity of 1 and 2 against three Grampositive bacteria, Bacillus subtilis, Bacillus sphaericus and Staphylococcus aureus, and three Gram-negative bacteria, Pseudomonas aeruginosa, Escherichia coli and Chromobacterium violaceum was analysed using agar-plate diffusion assay. The same method was employed for the evaluation of antifungal activity against five pathogenic strains of fungi, A. niger, Rhizopus oryzae, Aspergillus flavus, Candida albicans and Saccharomyces cerevisiae.
CONCLUSIONS:
Both furanocoumarins 1 and 2 displayed significant levels of antiplasmodial and moderate levels of antimicrobial activities against the tested pathogenic strains. Compound 2 exhibited two-fold less potent antiplasmodial activity (IC50 = 6.0 μg/ml) than the parent compound 1 (IC50 = 2.5 μg/ml), whereas no difference was observed in the antimicrobial activity of both furanocoumarins. The oxirane ring was found to be beneficial in terms of antiplasmodial activity.
Planta Med. 2000 Apr;66(3):279-81.
Anti-inflammatory activity of coumarins from Decatropis bicolor on TPA ear mice model.[Pubmed:
10821059
]

METHODS AND RESULTS:
From the aerial parts of Decatropis bicolor, Heraclenin (1), seselin (2), psoralen (3), imperatorin (4), skimmianine (5), and heraclenol (6), were isolated. This is the first time that coumarin-like compounds are isolated from Decatropis genus. The anti-inflammatory properties of compounds 1-6 were examined against the ear edema in mice produced by TPA.
CONCLUSIONS:
The results suggest that the anti-inflammatory activity of each compound depends of its individual substitution on the aromatic ring rather than the coumarin skeleton itself.
Indian J Physiol Pharmacol. 1969 Jul;13(3):153-5.
Anticoagulant activity of Heraclenin.[Pubmed:
5362630
]

METHODS AND RESULTS:
Anticoagulant activity of Heraclenin.
J Nat Prod. 2004 Apr;67(4):532-6.
Coumarins from Opopanax chironium. New dihydrofuranocoumarins and differential induction of apoptosis by imperatorin and heraclenin.[Pubmed:
15104479
]

METHODS AND RESULTS:
Opopanax chironium is a rich source of furano- and dihydrofuranocoumarins, whose accumulation in all plant parts and especially the roots is presumably responsible for the poisonous properties of the species. The presence of two distinct chemotypes was evidenced, with the one from Sicily affording the new dihydrofuranocoumarins 5d and 5e, while extracts from the Sardinian chemotype showed powerful apoptotic activity, which was traced to the prenylated furanocoumarins Heraclenin (2a) and imperatorin (2b).
CONCLUSIONS:
Despite a close structural similarity, compounds 2a and 2b induced apoptosis in Jurkat leukemia cells in mechanistically different ways.