Ganoderic acid C2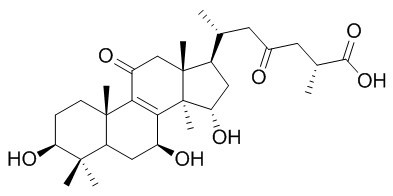 Ganoderic acid C2 has anti-inflammatory,and anti-tumor-promoting activities. Ganoderic acid C2 can inhibit histamine release, it also has inhibitory effects on the induction of Epstein-Barr Virus early antigen.
Inquire / Order: manager@chemfaces.com
Technical Inquiries: service@chemfaces.com
Tel: +86-27-84237783
Fax: +86-27-84254680

Address:
1 Building, No. 83, CheCheng Rd., Wuhan Economic and Technological Development Zone, Wuhan, Hubei 430056, PRC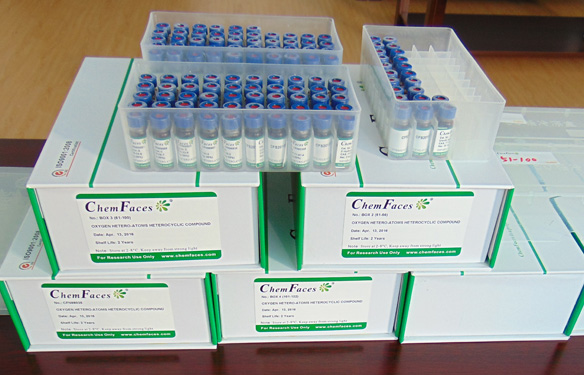 Providing storage is as stated on the product vial and the vial is kept tightly sealed, the product can be stored for up to
24 months(2-8C)
.
Wherever possible, you should prepare and use solutions on the same day. However, if you need to make up stock solutions in advance, we recommend that you store the solution as aliquots in tightly sealed vials at -20C. Generally, these will be useable for up to two weeks. Before use, and prior to opening the vial we recommend that you allow your product to equilibrate to room temperature for at least 1 hour.
Need more advice on solubility, usage and handling? Please email to: service@chemfaces.com
The packaging of the product may have turned upside down during transportation, resulting in the natural compounds adhering to the neck or cap of the vial. take the vial out of its packaging and gently shake to let the compounds fall to the bottom of the vial. for liquid products, centrifuge at 200-500 RPM to gather the liquid at the bottom of the vial. try to avoid loss or contamination during handling.
Hum Exp Toxicol.2017, 36(11):1169-1176
J Ethnopharmacol.2017, 196:75-83
Front Pharmacol.2018, 9:236
Universidade Estadual Paulista2017, 42785
Food Chem.2018, 252:207-214
Evid Based Complement Alternat Med.2018, 2018:1073509
Aquaculture2019, 510:392-399
Chem Biol Interact.2019, 315:108910
Int J Oncol.2019, 55(1):320-330
Exp Parasitol.2015, 153:160-4
J Pharm Biomed Anal. 2013 Mar 5;75:64-73.
Structural characterization of minor metabolites and pharmacokinetics of ganoderic acid C2 in rat plasma by HPLC coupled with electrospray ionization tandem mass spectrometry.[Pubmed:
23312386
]

METHODS AND RESULTS:
The metabolites and pharmacokinetics of Ganoderic acid C2 (GAC2), a bioactive triterpenoid in Ganoderma lucidum in rat plasma were investigated by high-performance liquid chromatography coupled with electrospray ionization tandem mass spectrometry (HPLC-ESI-MS/MS). Totally, ten minor phase I metabolites of GAC2 were characterized after oral administration of GAC2, on the basis of their mass fragmentation pathways or direct comparison with authentic compounds by high-performance liquid chromatography coupled with diode array detection and electrospray ion trap tandem mass spectrometry (HPLC-DAD-ESI-MS(n)), and liquid chromatography coupled with electrospray ionization hybrid ion trap and time-of-flight mass spectrometry (LC-ESI-IT-TOF/MS) methods. Moreover, a rapid and specific method for quantification of GAC2 in rat plasma after oral administration was developed by using a liquid-liquid extraction procedure and HPLC-ESI-MS/MS analysis.
CONCLUSIONS:
It is the first time to report the metabolites and pharmacokinetics of GAC2.
Planta Med. 2010 Oct;76(15):1691-3.
Inhibition of aldose reductase in vitro by constituents of Ganoderma lucidum.[Pubmed:
20379959
]
CHCl(3) extract of the fruiting body of Ganoderma lucidum was found to show inhibitory activity on human aldose reductase in vitro. From the acidic fraction, potent human aldose reductase inhibitors, Ganoderic acid C2 (1) and ganoderenic acid A (2), were isolated together with three related compounds. It was found that the free carboxyl group of Ganoderic acid C2 and ganoderenic acid A is essential in eliciting the inhibitory activity considering the much lower activity of their methyl esters.
Bioorg Med Chem Lett. 2011 Dec 15;21(24):7295-7.
Structure-activity relationships of ganoderma acids from Ganoderma lucidum as aldose reductase inhibitors.[Pubmed:
22047696
]
A series of lanostane-type triterpenoids, known as ganoderma acids were isolated from the fruiting body of Ganoderma lucidum. Some of these compounds were identified as active inhibitors of the in vitro human recombinant aldose reductase. To clarify the structural requirement for inhibition, some structure-activity relationships were determined.
METHODS AND RESULTS:
Our structure-activity studies of ganoderma acids revealed that the OH substituent at C-11 is an important feature and the carboxylic group in the side chain is essential for the recognition of aldose reductase inhibitory activity. Moreover, double bond moiety at C-20 and C-22 in the side chain contributes to improving aldose reductase inhibitory activity. In the case of Ganoderic acid C2, all of OH substituent at C-3, C-7 and C-15 is important for potent aldose reductase inhibition.
CONCLUSIONS:
These results provide an approach to understanding the structural requirements of ganoderma acids from G. lucidum for aldose reductase inhibitor. This understanding is necessary to design a new-type of aldose reductase inhibitor.