Ganoderic acid D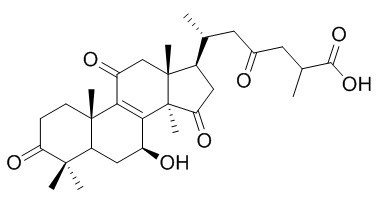 Ganoderic acid D treatment for 48h inhibits the proliferation of HeLa human cervical carcinoma cells with an IC(50) value of 17.3 +/- 0.3 microM.
Inquire / Order: manager@chemfaces.com
Technical Inquiries: service@chemfaces.com
Tel: +86-27-84237783
Fax: +86-27-84254680

Address:
1 Building, No. 83, CheCheng Rd., Wuhan Economic and Technological Development Zone, Wuhan, Hubei 430056, PRC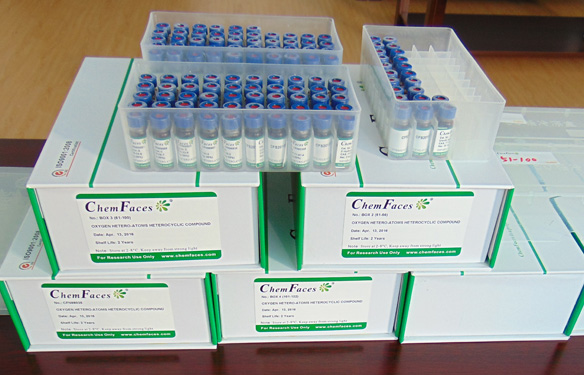 Providing storage is as stated on the product vial and the vial is kept tightly sealed, the product can be stored for up to
24 months(2-8C)
.
Wherever possible, you should prepare and use solutions on the same day. However, if you need to make up stock solutions in advance, we recommend that you store the solution as aliquots in tightly sealed vials at -20C. Generally, these will be useable for up to two weeks. Before use, and prior to opening the vial we recommend that you allow your product to equilibrate to room temperature for at least 1 hour.
Need more advice on solubility, usage and handling? Please email to: service@chemfaces.com
The packaging of the product may have turned upside down during transportation, resulting in the natural compounds adhering to the neck or cap of the vial. take the vial out of its packaging and gently shake to let the compounds fall to the bottom of the vial. for liquid products, centrifuge at 200-500 RPM to gather the liquid at the bottom of the vial. try to avoid loss or contamination during handling.
Am J Chin Med.2016, 44(6):1255-1271
Molecules.2019, 24(6):E1155
Nutrients2020, 12(2):488
Molecules.2016, 21(6)
Industrial Crops and Products2019, 140:111612
J Sci Food Agric.2018, 98(3):1153-1161
Planta Med.2019, 85(3):217-224
J Chromatogr B Analyt Technol Biomed Life Sci.2019, 1124:323-330
Mediators Inflamm.2016, 2016:7216912
Eur J Pharmacol.2018, 832:96-103
Mol Cell Proteomics. 2008 May;7(5):949-61.
Proteomics characterization of the cytotoxicity mechanism of ganoderic acid D and computer-automated estimation of the possible drug target network.[Pubmed:
18166740
]
Triterpenes isolated from Ganoderma lucidum could inhibit the growth of numerous cancer cell lines and were thought to be the basis of the anticancer effects of G. lucidum. Ganoderic acid D (GAD) is one of the major components in Ganoderma triterpenes. GAD treatment for 48 h inhibited the proliferation of HeLa human cervical carcinoma cells with an IC(50) value of 17.3 +/- 0.3 microM. Flow cytometric analysis and DNA fragmentation analysis indicated that Ganoderic acid D induced G(2)/M cell cycle arrest and apoptosis.
METHODS AND RESULTS:
To identify the cellular targets of Ganoderic acid D, two-dimensional gel electrophoresis was performed, and proteins altered in expressional level after Ganoderic acid D exposure of cells were identified by MALDI-TOF MS/MS. The regulation of proteins was also confirmed by Western blotting. The cytotoxic effect of Ganoderic acid D was associated with regulated expression of 21 proteins. Furthermore these possible Ganoderic acid D target-related proteins were evaluated by an in silico drug target searching program, INVDOCK. The INVDOCK analysis results suggested that Ganoderic acid D could bind six isoforms of 14-3-3 protein family, annexin A5, and aminopeptidase B. The direct binding affinity of Ganoderic acid D toward 14-3-3 zeta was confirmed in vitro using surface plasmon resonance biosensor analysis. In addition, the intensive study of functional association among these 21 proteins revealed that 14 of them were closely related in the protein-protein interaction network. They had been found to either interact with each other directly or associate with each other via only one intermediate protein from previous protein-protein interaction experimental results. When the network was expanded to a further interaction outward, all 21 proteins could be included into one network.
CONCLUSIONS:
In this way, the possible network associated with Ganoderic acid D target-related proteins was constructed, and the possible contribution of these proteins to the cytotoxicity of Ganoderic acid D is discussed in this report.
Drug Metab Dispos. 2012 Dec;40(12):2307-14.
Identification of metabolites of ganoderic acid D by ultra-performance liquid chromatography/quadrupole time-of-flight mass spectrometry.[Pubmed:
22942320
]
Ganoderic acid D (GD) is the major active triterpenoid in Ganoderma lucidum, a medicinal fungus used daily. However, the metabolic fate of Ganoderic acid D remains unknown. To know whether Ganoderic acid D is extensively metabolized, we first investigated the metabolism of Ganoderic acid D in vitro and in vivo.
METHODS AND RESULTS:
The metabolic profiles of the bile samples obtained from rats in vivo were almost the same as those obtained in vitro. Using ultra-performance liquid chromatography/quadrupole time-of-flight mass spectrometry, a total of 25 metabolites were identified from the bile sample. Few metabolites were found in the urine samples. These results indicated that biliary rather than renal clearance was the major route of excretion. The major metabolites were identified by comparison with the standard reference compounds. Metabolites at low concentrations were identified by interpreting the mass spectra. Both phase I and phase II metabolites were observed. The metabolic transformation included reduction, monohydroxylation, dihydroxylation, trihydroxylation, oxidation, desaturation, sulfation, and glucuronidation. The main metabolic soft spots in the chemical structure of Ganoderic acid D were the 3-carbonyl group, angular methyl groups, the 7-hydroxy group, and the 26-carboxylic acid moiety.
CONCLUSIONS:
Overall, this study gives us an insight into the metabolism of Ganoderic acid D, an active oxygenated tetracyclic triterpenoid.