Ganoderenic acid A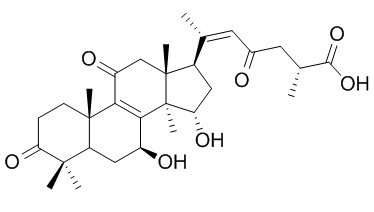 Ganoderenic acid A has a potent hepatoprotective, and cytotoxic effects, it shows inhibitory activity on human aldose reductase in vitro.
Inquire / Order: manager@chemfaces.com
Technical Inquiries: service@chemfaces.com
Tel: +86-27-84237783
Fax: +86-27-84254680

Address:
1 Building, No. 83, CheCheng Rd., Wuhan Economic and Technological Development Zone, Wuhan, Hubei 430056, PRC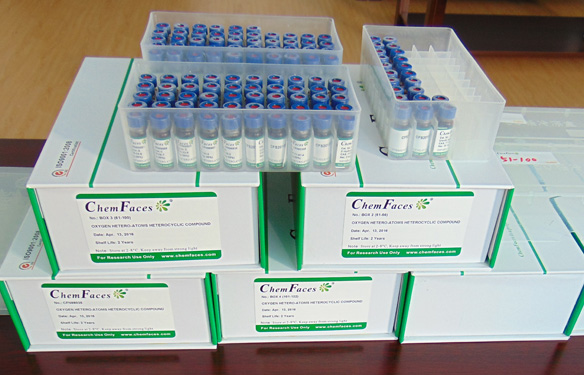 Providing storage is as stated on the product vial and the vial is kept tightly sealed, the product can be stored for up to
24 months(2-8C)
.
Wherever possible, you should prepare and use solutions on the same day. However, if you need to make up stock solutions in advance, we recommend that you store the solution as aliquots in tightly sealed vials at -20C. Generally, these will be useable for up to two weeks. Before use, and prior to opening the vial we recommend that you allow your product to equilibrate to room temperature for at least 1 hour.
Need more advice on solubility, usage and handling? Please email to: service@chemfaces.com
The packaging of the product may have turned upside down during transportation, resulting in the natural compounds adhering to the neck or cap of the vial. take the vial out of its packaging and gently shake to let the compounds fall to the bottom of the vial. for liquid products, centrifuge at 200-500 RPM to gather the liquid at the bottom of the vial. try to avoid loss or contamination during handling.
Sci Rep.2018, 8(1):12970
Mol Pharm.2018, 15(8):3285-3296
Korean Journal of Pharmacognosy2018, 49(4):349-361
Food Chem.2016, 191:81-90
Current Pharmaceutical Analysis2017, 13(5)
Molecules.2019, 24(6):E1155
Korean Journal of Pharmacognosy.2019, 50(1):65-71
Acta Pharmaceutica Hungarica2016, 86:35-40
Molecules.2018, 23(12):E3103
Food and Chemical Toxicology2020, 111221
Planta Med. 2010 Oct;76(15):1691-3.
Inhibition of aldose reductase in vitro by constituents of Ganoderma lucidum.[Pubmed:
20379959
]
CHCl(3) extract of the fruiting body of Ganoderma lucidum was found to show inhibitory activity on human aldose reductase in vitro.
METHODS AND RESULTS:
From the acidic fraction, potent human aldose reductase inhibitors, ganoderic acid C2 (1) and Ganoderenic acid A (2), were isolated together with three related compounds.
CONCLUSIONS:
It was found that the free carboxyl group of ganoderic acid C2 and Ganoderenic acid A is essential in eliciting the inhibitory activity considering the much lower activity of their methyl esters.
Biol Pharm Bull. 1999 Feb;22(2):162-4.
Beta-glucuronidase-inhibitory activity and hepatoprotective effect of Ganoderma lucidum.[Pubmed:
10077435
]
To prove the relationship between the fluctuation in serum beta-glucuronidase level and hepatotoxicity, an inhibitor of beta-glucuronidase from G. lucidum was isolated and its hepatoprotective activity was investigated.
METHODS AND RESULTS:
The ether fraction of G. lucidum, which had potent beta-glucuronidase-inhibitory activity, protected against CCl4-induced liver injury. From this ether fraction, Ganoderenic acid A, was isolated as the potent inhibitor of beta-glucuronidase. It had a potent hepatoprotective effect against CCl4-induced liver injury.
CONCLUSIONS:
These results suggest that the beta-glucuronidase seems to be closely related to liver injury, which could be prevented by beta-glucuronidase inhibitors.